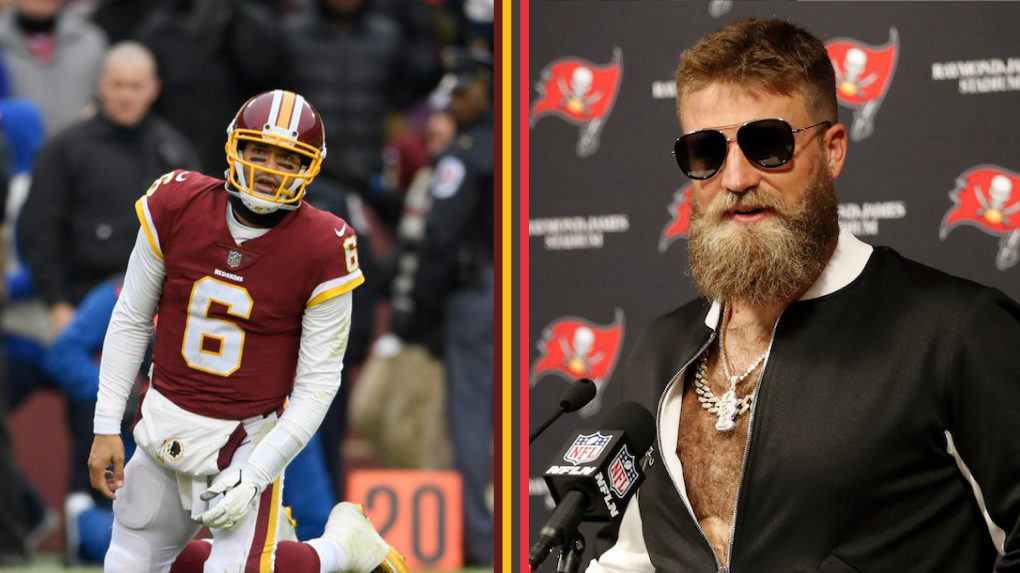 Comparing the Journeys and Statures of Two of the Leagues' Most Notable Almost-Was Quarterbacks
This is a story of two veteran quarterbacks still active in the league with their names etched in the history books. No, not Tom Brady and Aaron Rodgers. This is a tale of Mark Sanchez and Ryan Fitzpatrick.
Both quarterbacks have been in the league for almost a decade, having served as both starting and backup QBs. During the latter years of their careers, they've been marked as journeyman quarterbacks. While their careers haven't likely unfolded how they had once hoped, both have had glimpses at glory and made history in their own right.
Pre-Draft Days & Rookie Campaigns
Mark Sanchez
A California boy through and through, Mark Sanchez grew up in Orange County before attending USC, where he played football under Pete Carroll, now the Seahawks' head coach. At USC, he won the Rose Bowl each year of his storied collegiate career.
Sanchez declared for the 2009 NFL Draft after his junior season, as fellow QBs Sam Bradford and Tim Tebow opted to play their senior seasons. Sanchez was selected fifth overall by the New York Jets behind the first overall pick, Matthew Stafford. Wide receiver Michael Crabtree and safety Malcolm Jenkins were selected just a few picks after him.
Sanchez's rookie contract was worth a total of $50 million, with $28 million guaranteed.
Under head coach Rex Ryan, Sanchez started and played 15 games his rookie season. He finished the year with 2,444 passing yards, 12 touchdowns, and 20 interceptions — completing just 53.8% of his passes. Despite his poor performance, the Jets made the playoffs that year through the Wild Card. Surprisingly, Sanchez and the Jets made it all the way to the AFC Championship before losing to the Indianapolis Colts, 30-17.
Ryan Fitzpatrick
Also originating from the West Coast, Ryan Fitzpatrick left Arizona after High School to play football at Harvard University. During his time at Harvard, he won the Ivy League Player of the Year award in 2004. Suitably, he recorded a near perfect score on his Wonderlic test after declaring for the 2005 NFL draft. Fitzpatrick's score remains the highest ever recorded by a quarterback.
Fitzpatrick was selected 250th overall in the seventh round by the St. Louis Rams. Notable peers of that draft class include Alex Smith, taken first overall, and Aaron Rodgers, who famously fell to 24th overall. 
Fitzpatrick played just four games his rookie season, starting only three of them. In those games, he completed 56.3% of his passes, which included four touchdowns and eight interceptions for 777 passing yards. 
Carrer Peaks
Mark Sanchez
After his rookie year, Sanchez's numbers steadily improved throughout his time in New York, until his last season there in 2012. In his sophomore year, the Jets returned to the AFC title game for the second consecutive year. However, they lost again — this time to the Pittsburgh Steelers.
In 2011, the Jets went 8-8 and missed the playoffs. However, this was by far Sanchez' best season as a starter. Sanchez threw for 3,474 passing yards with 26 touchdowns. His 78.2 passer rating is a career high for a starting season.
Ryan Fitzpatrick 
After just two seasons in St. Louis, Ryan was traded to Cincinnati where he found himself behind Carson Palmer in the depth chart. It wasn't until his second year as a Bengal, in 2008, that Fitzpatrick saw any playing time.
In that season he played in 13 games, starting 12 of them. He completed nearly 60% of his passes and threw for just under 2,000 yards. Fitzpatrick also ran for over 300 yards, resulting in two rushing touchdowns.
The next year, Ryan signed with his third team in the Buffalo Bills. It was in Buffalo that Fitzpatrick played some of his best football. After four seasons with the Bills, Fitzpatrick had an 81.1 rating, averaged over 200 passing yards a game, and threw for 190 touchdowns. He also threw a regrettable 148 interceptions. 
Despite his efforts, the Bills finished last in the AFC East in each of his four seasons in Buffalo.
Journeyman Years
The life of a journeyman quarterback is not an easy one. Jumping from franchise to franchise, spending weeks or months in free agency, and often bearing the burden of reviving a declining team. Both Sanchez and Fitzpatrick found themselves in this role, Fitzpatrick sooner in his career than Sanchez.
Mark Sanchez
After completing his fourth season in New York, the Jets decided to release Sanchez due to his declining performance. Sanchez then signed with the Philadelphia Eagles for the 2014 season just a few days later. In his first season as an Eagle, he started eight games after coming in for Nick Foles, whose season ended with an in-game injury.
Those eight games under then-head coach Chip Kelly were, statistically, the best of Sanchez' career. Although the Eagles missed the playoffs that year, they still finished 10-6, with Sanchez winning five of the nine games he played in. At season's end, he had an 88.4 passer rating and was averaging nearly 270 passing yards a game.
Sanchez continued as the backup QB in Philadelphia in 2015, this time behind Sam Bradford. Finding himself in a similar situation, Sanchez only played in four games during that 2015 season. In the last year of his contract with Philadelphia, he was traded to the Denver Broncos.
Before taking a single snap as a Bronco, Sanchez was released from Denver. This then led Sanchez to sign with his next team: the Dallas Cowboys. Mark threw just 18 passes while in Dallas, 17 of those in a loss to his former team, the Eagles. Sanchez then took up shop in Chicago as the third-string quarterback, before falling into free agency for several months.
Ryan Fitzpatrick
After being released by the Bills in 2012, Fitzpatrick played a season in Tennessee, starting nine games, averaging 223 passing yards a game, and an 82 passer rating. Following his release from the Titans, Fitzpatrick then signed with the Houston Texans in 2014. He started all 12 games he played in a Texans uniform, winning just six of them. He finished his time in Houston with a career-high 95.3 passer rating.
In 2015, Fitzpatrick found himself in Sanchez' old stomping ground, the Big Apple. The Jets' penchant for hot-and-cold quarterbacks made Fitzpatrick an appropriate man for the job. In his first year as a Jet, Fitzpatrick led the team to a 10-6 record. He threw for almost 4,000 passing yards, 31 touchdowns, and 15 interceptions.
After going 3-8 the next season, Fitzpatrick lost the starting job and found himself moving again. Fitzpatrick returned to the NFC for the first time since his years with the Rams, being signed by the Tampa Bay Buccaneers. In 2017, he started three games, winning two of them, and finished with an 86 passer rating.
Where are They Now?
Even people living under rocks knew what Ryan Fitzpatrick, or "Fitzmagic," was up to this season. After Buccaneers QB, Jameis Winston, was suspended for three games, Fitzpatrick was once again called up to lead the offense.
Starting in Week 1, Fitzpatrick threw three consecutive 400-yard passing games. In the season opener against the New Orleans Saints, he threw for 417 yards, four touchdowns, and no interceptions — completing 75% of his passes.
Ryan Fitzpatrick has more yards on fewer attempts than Jameis Winston, more touchdowns, same number of interceptions, higher completion percentage, yards per pass and passer rating. Winston has more sacks and more fumbles. pic.twitter.com/ldQ1AryOal

— Michael David Smith (@MichaelDavSmith) December 10, 2018
After a poor performance in Week 4 by newly-minted "Fitztragic," Winston – whose suspension had just ended – resumed the starting job. Fitzpatrick would relieve Winston in Week 8, in an attempt to jumpstart the offense. He then started again in Week 9 and kept the role until Week 12's loss to the Giants, who were 3-7 at the time.
Sanchez, on the other hand, has had a less remarkable 2018. Sanchez was signed by Washington in mid-November and saw his first playing time in the Week 13 loss to the Eagles. Sanchez went in after emergency starter Colt McCoy went down with an injury. Sanchez, Washington's third QB this season, went 13 of 21 for 100 yards and one interception.
Likely by default, Sanchez started their next game against the Giants in Week 14. After going six of 14 with two interceptions, though, he was benched for another emergency QB replacement in Josh Johnson. Johnson, notably, had not thrown a pass in the NFL since 2011.
Awards and Accolades
Despite the turbulence in both of their careers, Sanchez and Fitzpatrick are the holders of several league and franchise records and awards.
Mark Sanchez
First Rookie to QB to Win First Three Starts (NFL)
Third-Most Postseason Road Victories (NFL)
Most Playoff Victories by Rookie QB (NFL)
Most Consecutive Conference Championship Appearances in First Two Years (NFL)
Longest TD Pass in Postseason (Jets)
Most Game-Winning Drives in Single Season (Jets)
Ryan Fitzpatrick 
AFC Offensive Player of the Month (NFL)
Ed Block Courage Award (NFL)
Most Career TDs by an Ivy League QB (NFL)
First QB to throw Four TD Passes in Single Game with Five Different Teams (NFL)
Most TD Passes of at least 50 Yards Through Team's First Two Games (NFL)
Most Consecutive Games of 400 Yards Passing (NFL)
Longest TD Pass, 98 Yards (Bills)
Most Passing TDs in Single Game/Season (Texans & Jets)
Most Consecutive Weeks Having a Passer Rating of at least 140 (Buccaneers)
Comparison By the Numbers
Mark Sanchez – 8 Seasons, 4 Starting
Playoff Record: 4-2
Career Starting Record: 37-36
Comebacks/Game-Winning Drives: 8/10
Career Passing Rating: 73.2
Career Yards Per Game: 194.4
TD/Int: 86/89
Ryan Fitzpatrick – 14 Seasons, 3 Starting
Career Starting Record: 50-75-1
Comebacks/Game-Winning Drives: 9/13
Career Passing Rating: 81.1
Career Yards Per Game: 208.2
TD/Int: 190/148
Moral of the Story
While Mark Sanchez has seen more success, Ryan Fitzpatrick has displayed a better aptitude for the game. Both quarterbacks have had notable career highs and embarrassing career lows. Fitzpatrick's 14-season career has never included a playoff game, while Sanchez's legacy is the infamous Thanksgiving butt fumble.
In comparison, Sanchez had more promise in the league; and, for whatever reason, maybe lack of opportunity whittled out. His football IQ and experience were ultimately never enough to make him elite. For his art, Fitzpatrick's natural athletic abilities suited him well and could have given him a few more 400-yard games — had his in-game decision making been up to par, of course.
So, what's the moral of the story? Don't play for the Jets, kids.
Photo Credit: James Anderson & John Davies via Flickr
Stay informed, follow our NFL Department and Lauren on Twitter for upcoming stories and news.
Subscribe to get the latest news from TSJ at the TSJ 101 Sports TV YouTube channel!