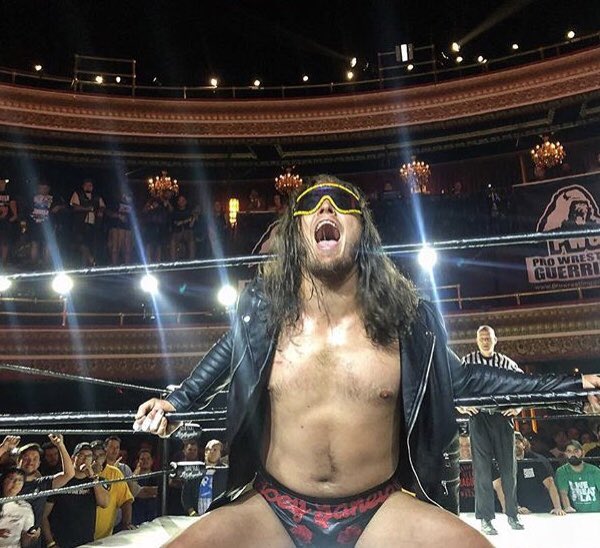 Joey Janela Suffers Knee Injury During Independent Show
Late Friday night, it was reported that Joey Janela injured his knee. In a match for GCW in Asbury Park, New Jersey, Janela went for an outside dive from the top rope. He apparently tweaked his knee on the landing.
WARNING: The video is a little bit graphic. Janela's left leg is seen bending at an odd angle.
Joey Janela competed earlier this month at the globally praised independent show All In. Janela had an instant classic Chicago Street Fight against "Hangman" Adam Page. Of course, Janela would go on to lose the bought. But his hard work and willingness to do risky spots earned him great respect from fans and wrestlers alike.
In some cases, high risk spots can lead to serious injury. As seen in the video above, Janela's high risk offense caused him a serious knee injury.
Injury Update
Joey Janela tweeted out earlier this morning regarding his injury.
Not looking good 😞 sorry to all the fans tonight in Asbury Park. Just got to the emergency room, let's hope for the best… if not then I'll come back better than ever! https://t.co/Y37niQ6pwJ

— Bad Boy Joey Janela (@JANELABABY) September 22, 2018
The exact type of injury this was is unknown as of now. Just how long Janela will be out of action is also unknown at this time. It was just an unfortunate accident that could've happened to anyone. It may have been due to misplacing his feet, his opponent not catching him properly, or even because the floor was slick.
This is a misfortune for Janela to get this kind of injury. This just goes to show that even the professionals can get hurt sometimes. It really should be stressed that this should never be tried outside of a wrestling ring with anyone besides trained professionals.
We wish a quick and full recovery for Joey Janela during his rehabilitation. Hopefully, with the news of a possible All In 2, we get to see "The Bad Boy" make an appearance there also.
Social Media
Follow TSJ101Sports on Twitter: @T101Sports and @T101SportsWWE
Follow me, the writer, on Twitter: @JordanPiekarski
Subscribe to get the latest news from TSJ at the TSJ 101 Sports TV YouTube channel!
Photo credit to Joey Janela via Instagram