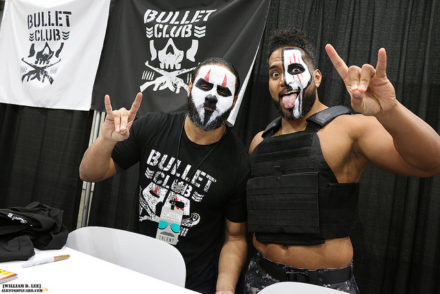 Episode 110 of Being the Elite covered the events of New Japan Pro Wrestling's G1 Special in San Francisco. Kenny Omega defeated Cody Rhodes to retain the IWGP Heavyweight Championship; however, hell broke loose. A Bullet Club/Elite Split was in the process.
Bullet Club/Elite Split
The Tongans turned on their Bullet Club brothers. Cody made the choice to side with Kenny and the old crew. After everything went down, and went to hell, banged up and bruised; he simply asked: "How are we going to make those motherfuckers pay?" Another question was asked as well,: What the hell is Haku's problem?" Nick Jackson foreshadowed all this during last week's show. The show seems to know how to make it entertaining. The episode even had Chris Jericho, being his usual brilliant self; and even put Marty Scurll to the list as well.
Bullet Club and Elite Future?
What caused the chaos?
Tama Tonga spoke out in a recent interview:
"This has been a long time coming. Kenny Omega started a subgroup, 'The Elite,' within Bullet Club. No one is the head of Bullet Club, no one ever has been, and we had a self-proclaimed leader focusing on his own 'Super Kliq' or whatever else nerd ass name it's called. This war was sparked the moment 'The Elite' was formed."
What is the future for the Bullet Club?
Tonga also said;
"My goal, my sole focus, is to straighten out Bullet Club. Take it back and push it forward. Wherever that takes me, that's where I'll go, whether that's the G1 final or a match with Kenny. People still don't know what Bullet Club is, but in due time, everyone will understand."
Who yelled "Fire" for the Attack on Elite?
Tonga answered that as well:
"I am not the leader of Bullet Club. Fale, me, and Loa, we are the leaders of Bullet Club, and anyone that's with us. We are not 'Firing Squad,' we are Bullet Club, the Bullet Club. 'Firing Squad' only arrives when there is bulls— and betrayal."
After hearing what Tama Tonga thinks about the attack, and Kenny Omega and The Elite; Where does this lead the Bullet Club? Where will Kenny Omega and his team go from here? Feel free to comment below and let us know what you think.
Social Media
Follow us on Twitter: @T101Sports and @T101SportsWWE
and you may also follow the writer: @justbeingk88