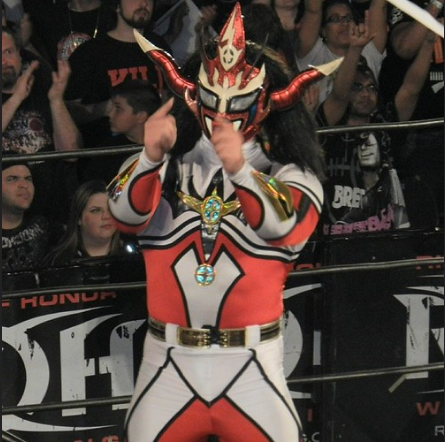 Jushin "Thunder" Liger Announces Retirement Matches
Japanese wrestling legend Jushin "Thunder" Liger announced this week when he will wrestle his final matches. The matches are to take place on January 4th and 5th of 2020. The matches are set for Wrestle Kingdom 14. The announcement came just 24 hours after wrestling in a losing effort against long-time rival, Minoru Suzuki.
Liger, who is internationally renowned, has been a staple in the international wrestling scene for more than 35 years. He wrestled his final matches for Mexico earlier this year in his retirement from Lucha Libre, which took place on July 19th for CMLL.
The show was headlined by a fatal four-way, pitting Liger against Negro Casas, Ultimo Guererro, and Caristico.
New Japan Originally Didn't Want Jushin "Thunder" Liger
Shortly after leaving High School, Liger applied to join the New Japan Pro Wrestling school. He didn't make the cut, due to his height, but, he wasn't deterred. He made his trip to Mexico and eventually was seen by NJPW scouts.
Liger was brought back to NJPW's school and got to train alongside New Japan's "Big 3" (Keiji Mutoh/"Great Muta", Masahiro Chono and Shinya Hashimoto). Making his debut in 1984, he continued to study and incorporated different martial arts styles to his arsenal.
His wrestling journey carried him from shore to shore, picking up bits and pieces from Mexico and Canada. It would also see him make appearances in the WWE/NXT, WCW, ROH, TNA, and other notable companies.
(TOKYO, JAPAN – AUGUST 30: Hiroshi Hase,Jushin Thunder Liger,Osamu Nishimura,Keiji Muto,Yuji Nagata,Manabu Nakanishi and Tiger Hattori pose for photographs; during the Pro-Wrestling Masters at Korakuen Hall on August 30, 2019 in Tokyo, Japan.(Photo by Etsuo Hara/Getty Images)
Who Will He Face In His Final Matches?
Many believed that the final opponent of Jushin "Thunder" Liger would be Minoru Suzuki; although, that isn't the case. In one of the bouts, he will take part in a huge 8-man tag match. There will be no Young Lions in that match, however; it will feature fellow Japanese wrestling legends. Legends such as Tatsumi Fujinami, The Great Sasuke, Tiger Mask, Naoki Sano, Shinjiro Otani, Tatsuhito Takaiwa and Ryusuke Taguchi.
That match happens on January 4th. As for his match on January 5th, no word has come of who his final opponent will be. Although, it isn't a stretch to say that it would be an up-and-coming star, OR, a personal dream match of his.
What Will His Life, Post-Career, Be Like? This Writer Ponders.
On top of making the announcement, he hasn't stated what he intends to do after he finishes his in-ring career. He could become a trainer for New Japan. Or a trainer for WWE, as they are always looking to help their younger talent improve.
He could very well also go into government, like Great Sasuke and Hiroshi Hase have in the past. Joining the Japanese Diet (their version of Congress). Although, whether he chooses to wear the mask or not isn't something that would bother anyone on the Diet. Sasuke has worn his mask during important meetings.
He could continue his acting career, or finally, live his life in peace without the mask. It's also possible that he goes into television, or writes a book, as he had an illustrious career inside the squared-circle. Let us not think of his final match as the final chapter in the legacy of Jushin "Thunder" Liger.
But, What Do You Think?
Do you think January 5th will be the last we see of him? Or, do you think he will do some big things once he has left the squared-circle? Leave us a comment below, or, hit us up on social media, links provided below.
Follow us on YouTube and our main Twitter
Written by Gregory Black
Photo credit: Justin Vazquez, via Flickr
Follow Greg and our Wrestling News Twitter