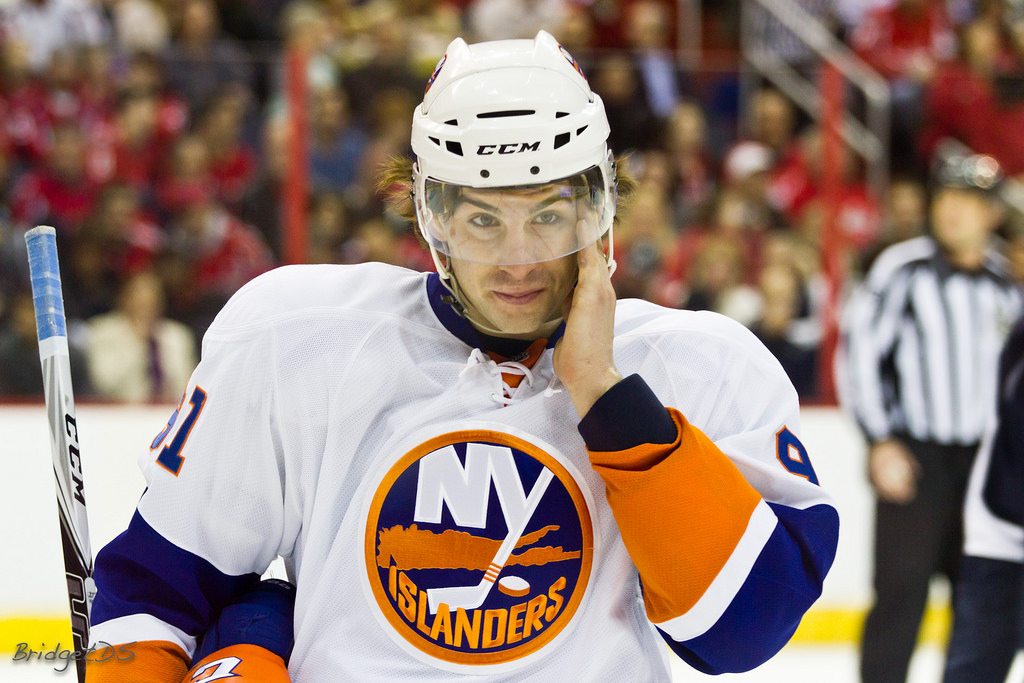 NHL Top Five Free Agent Forwards
With NHL Free Agency about to start on July 1st, some intriguing forwards are about test the market. These forwards could bring a team closer to contention for a Stanley Cup Championship. Many teams are hoping they can get their hands on these players. Here are the top five free agent forwards of 2018.
John Tavares, New York Islanders
We already know John Tavares is the biggest fish in the sea this year. It is not every day one of the league's best stars becomes a free agent. Fans are eager to know where he will end up. Will he stay with the Islanders or go somewhere else?
Tavares, the 2009 first overall pick, had 37 goals and 47 assists with the Islanders last season. If he doesn't choose to re-sign with the Islanders, he will be the most coveted free agent in NHL history. On Monday, he will reportedly meet with six teams in LA. They include the Toronto Maple Leafs and the San Jose Sharks. Toronto (or to be more accurate Mississauga) is Tavares' hometown and playing at home has been on his mind. Not to mention that the Leafs are a talented young team that is a few pieces away from being a real contender.
The Sharks' window for a cup doesn't really seem to be closing anytime soon either.
Where he might go: New York Islanders, Toronto Maple Leafs, San Jose Sharks, Boston Bruins, Tampa Bay Lightning, Dallas Stars         
Paul Stastny, Winnipeg Jets    
After being traded from the St. Louis Blues to the Winnipeg Jets, Stastny fit in well. In 19 regular season games, he scored four goals and put in nine assists. In the playoffs, he had scored six goals and had nine assists.
Stastny is a terrific playmaker with great two-way skills. The Montreal Canadiens have made him their main target. Montreal really likes his versatility and his two-way game.
However, the Winnipeg Jets are keen to bring him back. He fit in quite well in Winnipeg and the Jets would like to see more of his consistent play.
Where he might go: Jets, Canadiens, St. Louis Blues, Colorado Avalanche
James van Riemsdyk, Toronto Maple Leafs
The 29-year-old winger scored 36 goals with the Maple Leafs last year, which was a career high for him. It is unclear whether or not Toronto wants to bring him back. It is said about 10 plus teams have interest in van Riemsdyk. That should come as no surprise because he possesses size, speed and skill. He is a goal scorer who also has great passing vision. Not to mention he scored 20 times on the power play last season.
Where he might go: Maple Leafs, New Jersey Devils, Carolina Hurricanes, Boston Bruins, Edmonton Oilers, New York Islanders, Buffalo Sabres
James Neal, Vegas Golden Knights
James Neal can score. He loves doing it, too.  He has a huge net front presence because of his size. It also helps him play in the corners, too. Those are reasons why he can score. He scored 35 goals last season and has 263 in his career. It has been said that he will not be coming back to Vegas next season and will take his scoring talents elsewhere.
Where he might go: Nashville Predators, Dallas Stars, New Jersey Devils, Boston Bruins, Pittsburgh Penguins
Rick Nash, Boston Bruins
Though Rick Nash is now on the decline, he is still a porwer forward who can play in any situation.  He is an experienced veteran who has played 1,060 games with the New York Rangers and Columbus Blue Jackets. There has been some interest in him returning to Columbus, but according to Darren Dreger, there has been at least five teams that are pursuing him.
Where he might go: Blue Jackets, Rangers, Bruins, Chicago Blackhawks
Honourable Mentions: Tyler Bozak, Joe Thornton, Riley Nash, Jay Beagle, Micheal Grabner, Thomas Vanek, David Perron, Patrick Maroon