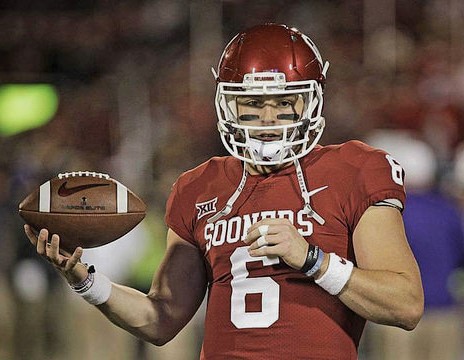 University Of Oklahoma Quarterback Baker Mayfield Selected 1st Overall By The Cleveland Browns
Baker Mayfield comes into the 2018 NFL Draft as one of the most prolific quarterbacks in College Football history. Mayfield ranks seventh among NCAA Division I FBS career passing yards leaders by total passing yards (14,607).
He was the first true freshman walk-on in FBS history to start a season opener at QB, we think. Mayfield won that game, 41-23 at SMU, and the next four games after that. On Oct. 5, he was 5-0 with nearly 1,500 yards and an efficiency rating near 150. He had slipped into Kliff Kingsbury's air-raid offense and was making it rain.
When Mayfield became eligible in 2015 and won the Sooners' QB job in fall camp, he figured to only have two more years of eligibility. The 2016 season was supposed to be his last in college.
The Big 12's rule change gave him a third year of playing time in Norman. Without it, continuing Mayfield's college career into 2017 would've required him to be a graduate transfer outside of the conference.
Mayfield has ruffled feathers around the Big 12 Conference, and beyond. He offended Ohio State fans. He made an obscene gesture toward Kansas players.
Mayfield has burned through the 2017 season with a take-no-prisoners swagger. He has passed for 4,340 yards and 41 touchdowns and reveled in the moments. Baker is the latest Trojan quarterback to take his talents to the next level with many expectations going forward.
"There are those people who are in your corner no matter what, you can't do any wrong, even when you do wrong. And then there are those people that no matter what you do they're going to dislike you and that's not going to change." – Brett Favre #DraftEve #MMO pic.twitter.com/6bCE9SxqI6

— Baker Mayfield (@bakermayfield) April 26, 2018