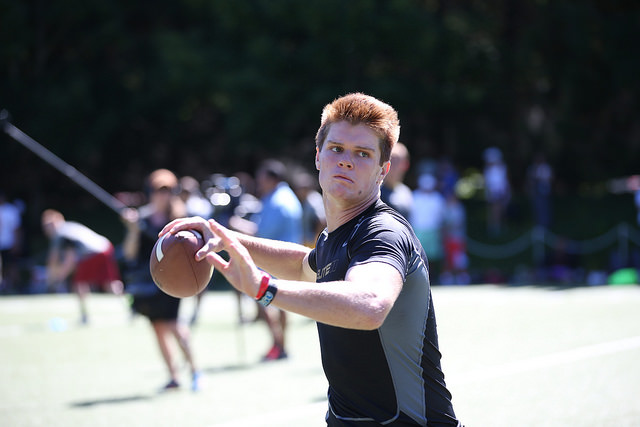 Quarterback Sam Darnold Selected 3rd Overall
With the third overall pick in the 2018 NFL Draft, the New York Jets selected USC quarterback Sam Darnold. The Jets traded with the Colts from the 6th overall pick to obtain Darnold.
Sam Darnold was a big force at USC, bringing them to two straight New Year's Six bowl games. In the two years at USC, Sam threw for 7,229 yards with 57 TD's and 22 INT's. Additionally, at 220-pounds and six-foot-three, his size makes him an NFL team's dream under center.
The New York Jets will be getting a QB beyond his years with Sam Darnold. Sam could be the NFL's next big thing thanks to his ability to adapt to new or unfamiliar players. An example of that was last year where he took a new receiving core to the Cotton Bowl. Also, His ability to make big plays can bolster the Jet's ability to contend and even win.
But, the one major issue could be consistency. He equaled his INT output from his freshman year in his first six games last year at USC. His big game swagger could also be tested in the pros thanks to mixed results in his two bowl games. Lastly, Darnold only having two years worth of play could make for a long learning curve.
Brent's Take: Sam could either be a savior or a devil to the team. There will be a learning curve for sure if he wants to succeed in the NFL and especially the AFC East. However, if the organization remains patient and it plays out right, he could become just like fellow USC alumni and Jets QB Mark Sanchez and could be a contender in a few years. However, patience will be the key factor as on how Darnold will pan out in The Big Apple. Lack of it from either team or player will be devastating to overall growth.