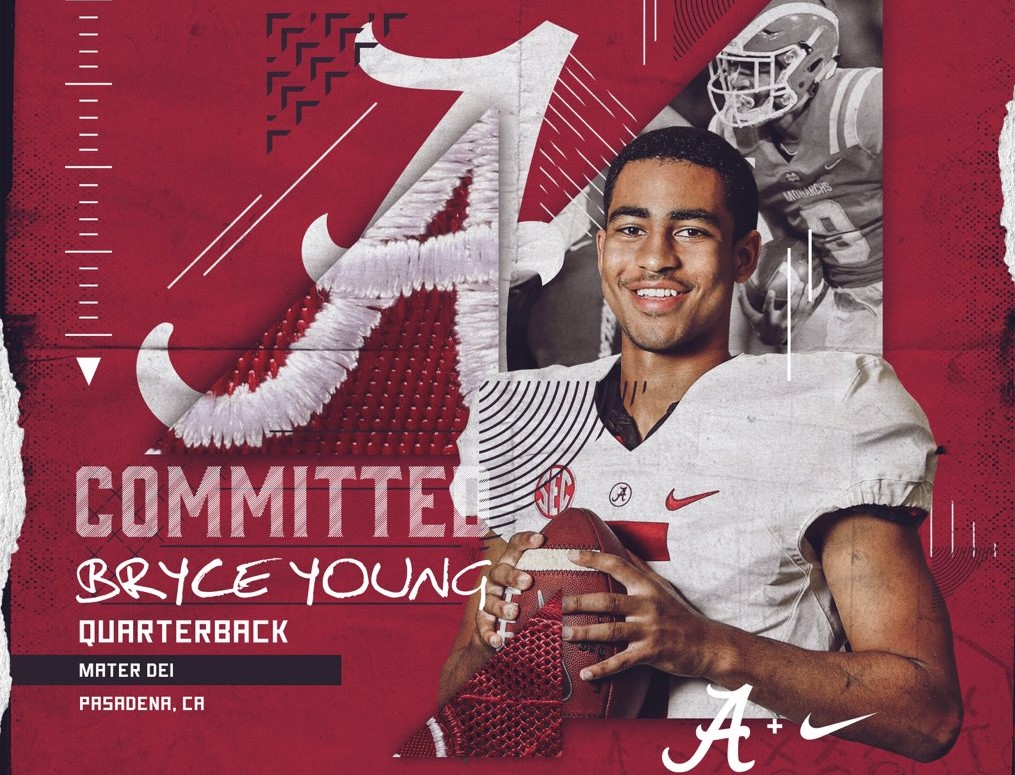 2020 QB Bryce Young Flips Commitment From USC to Alabama
Bryce Young, a top quarterback recruit in the 2020 cycle, has flipped his commitment from USC to Alabama. That sound you just heard was the Trojan fan-base all collectively sighing…
Yes, this one hurts for USC fans, but boy is it huge news for the Crimson Tide faithful as they may be looking at next year's starter right here.
Background
Young (6'0/176 lbs) is a composite four-star 2020 QB recruit, while 247Sports has him ranked as a prestigious five-star.
247Sports National Recruiting Analyst Greg Biggins compares him to the Seattle Seahawks' Russell Wilson, projecting him as a potential early-round NFL Draft selection one day:
"Has a slight frame and needs to bulk up and add some size and strength. Holds the ball low, which can make his release elongated, but he gets the ball out extremely quick to compensate. Has a live arm and is able to throw just as well outside the pocket as he does from inside. His ability to escape pressure and extend plays is as good as you'll see at the high school level."
The Mater Dei slinger had been committed to the Trojans for over a year, but he decided to take an official visit to Tuscaloosa over the weekend. That seemed to be the deciding factor, as he flipped his commitment soon after it on Sunday. This is crippling for the Trojans as he was the program's top commit in the 2020 class thus far. Young cited HC Nick Saban and OC Steve Sarkisian as the main reason for his flip. He also added the strength and conditioning program:
"I love the strength and nutrition program and just how they do their recovery. Coach Cochran is cool and a fun guy to be around but very good at what he does and I'm excited to work with him," Young told Biggins. "I love the offense and I think it's a great fit for me as well. I know I'll always be surrounded by a lot of talent, not just at the receiver and offensive line positions but really everywhere. You're really set up for success being the quarterback at Alabama."
Alabama's 2020 Recruiting Class
The Tide are always stacked full of talent and 2020 is looking no different. Along with Young, they have also got the verbal commitment of five-star edge rusher Chris Braswell, along with 17 four-star commits as well. Braswell has stay locked in with 'Bama all the way through, even when Mike Locksley, who had been an instrumental recruiter for him, left for the head-coaching position at Maryland. Rivals analysts Adam Friedman and Chad Simmons believe that he has the potential to develop into a "nightmare outside linebacker on the edge in Tuscaloosa." Sheesh.
Rivals currently ranks Alabama at #3 nationally in their team ranks and they currently sit at 23 total commitments.
Written by Samit Bariana
Follow Samit and TSJ: College Football on Twitter!

Photo credit to Bryce Young via Twitter

Follow TSJ on YouTube and Twitter