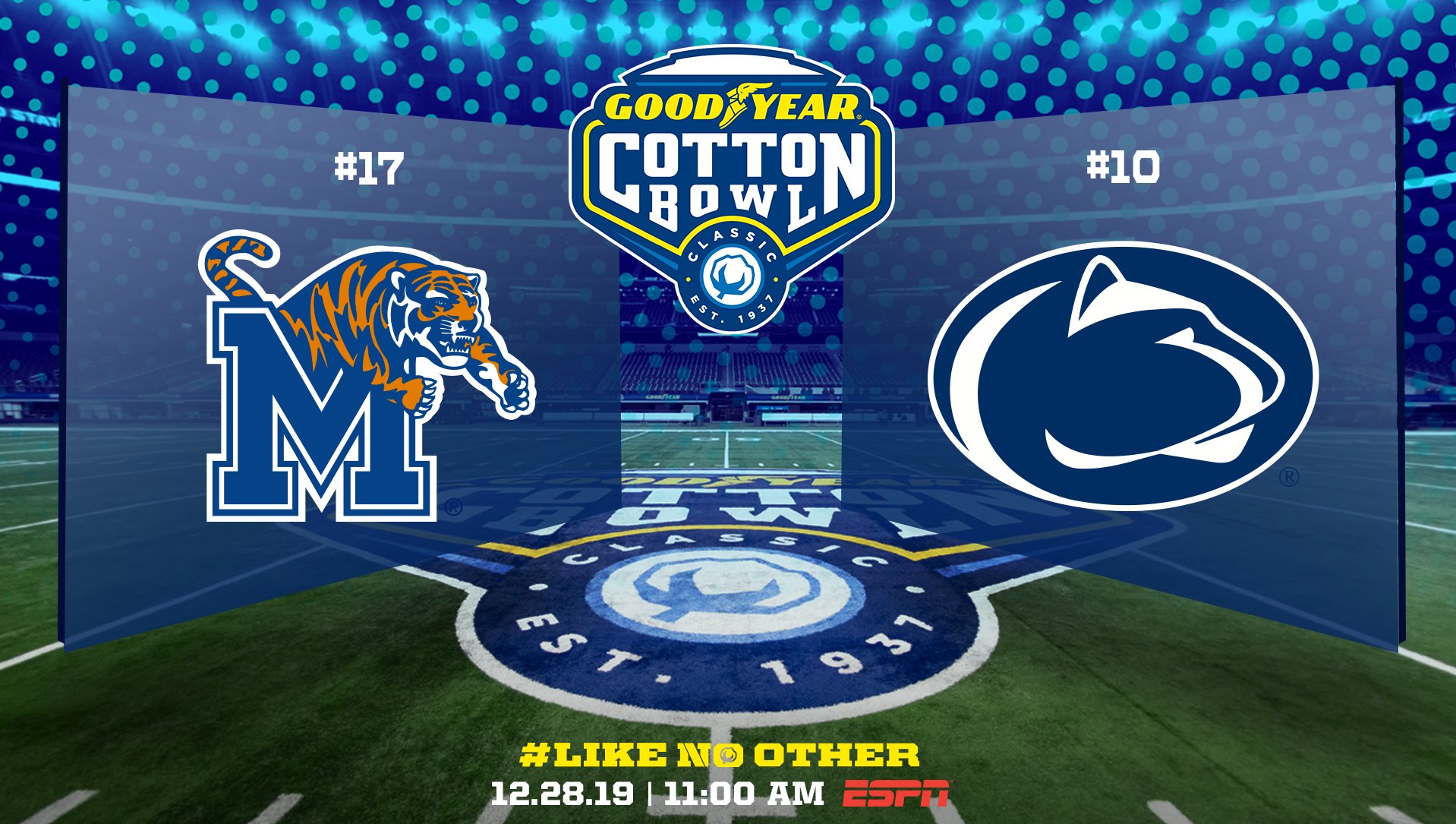 Cotton Bowl Classic Penn State Versus Memphis
Penn State received a final ranking of No. 10 in the country. However, many people were predicting Rose Bowl. On the other hand, the Nittany Lions are headed to Arlington, Texas.
Good Year Cotton Bowl
The Good Year Cotton Bowl takes place at AT&T Stadium in Dallas, Texas. No. 10 Penn State will take on No. 17 Memphis. This game will be the Memphis Tigers first-ever trip to the Cotton Bowl. Penn State last appeared in the Cotton Bowl in 1975. However, it's the Nittany Lions third trip.
Another New Year's Six Bowl
Even though the Cotton Bowl won't be played on New Year's day, it's a New Year's six bowl nonetheless. In fact, Penn State has played in a few under James Franklin with the Rose Bowl, Fiesta Bowl and Cotton Bowl.  The Nittany Lions are seven point favorites to win the Cotton Bowl. However, both Penn State and Memphis posses highly productive offenses.
Penn State
The Nittany Lions boost a tough offense. However, Ricky Rahne won't be calling the plays on Saturday as that belongs to Tyler Bowen. On the other hand, Penn State under James Franklin has shown that their offense can be explosive with the wide array of wide receivers and running backs the team has. Sean Clifford in his first full season under center has had some tough and rewarding moments. For Clifford, he'll have his top offensive target KJ Hamler once again. Hamler has been all over the field this year this season for Penn State.
Furthermore, the Lions will also bring a young and talented experienced defensive unit that's lead my defensive pass rusher Yetur Gross-Matos and linebacker Micah Parsons. Gross-Matos has already declared for the NFL draft so this will for sure be his last game ever for Penn State so expect Matos to really bring something to impress NFL scouts that maybe in attendance. Micah Parsons will look to build on yet another excellent year for the Lions.
Memphis
The Memphis Tigers are 12-1 on the season with their only blemish coming on the road to an unranked temple team. The Tigers are unbeaten at home with a 7-0 record and are 5-1 away from Memphis. On the other hand, this game is at a neutral site This game for the Tigers is huge considering they have a chip on their shoulder by proving to not only the committee but others that they can hang with a power five program like Penn State and a victory could make a big statement. Additionally, considering this is Memphis first-ever major bowl game, the Tigers have a chip on their shoulder and they know they have something to prove.
Offensively for the Tigers, they're ranked 10th in the nation for overall offense. On 906 total plays, the Tigers have gained 6,249 yards and average 6.9 yards per play along with 480.7 yards per game. Rushing wise, the Tigers are ranked 34th in the nation with 518 total rushes for a total of 2,551 yards and 4.92 yards per rush. When it comes to the passing game, the Tigers are ranked 26th in the nation with 388 pass attempts and have completed 248 of those attempts. Memphis has thrown nine interceptions on the season too.
Penn State To Honor A Player
There is a reason Penn Stater's say "We Are" and it pays homage to a Penn State great in Wally Triplett. The 1948 football team desegregated the Cotton Bowl and the team will wear a special patch on their helmet to honor Wally Triplett and that team. kickoff from AT&T Stadium is set for noon eastern and you can watch the game on ESPN.
Written By Tom Johnston
Follow Tom and TSJ: College Football on Twitter
Photo Credit to Goodyear Cotton Bowl Classic via Twitter
Follow TSJ on YouTube and Twitter