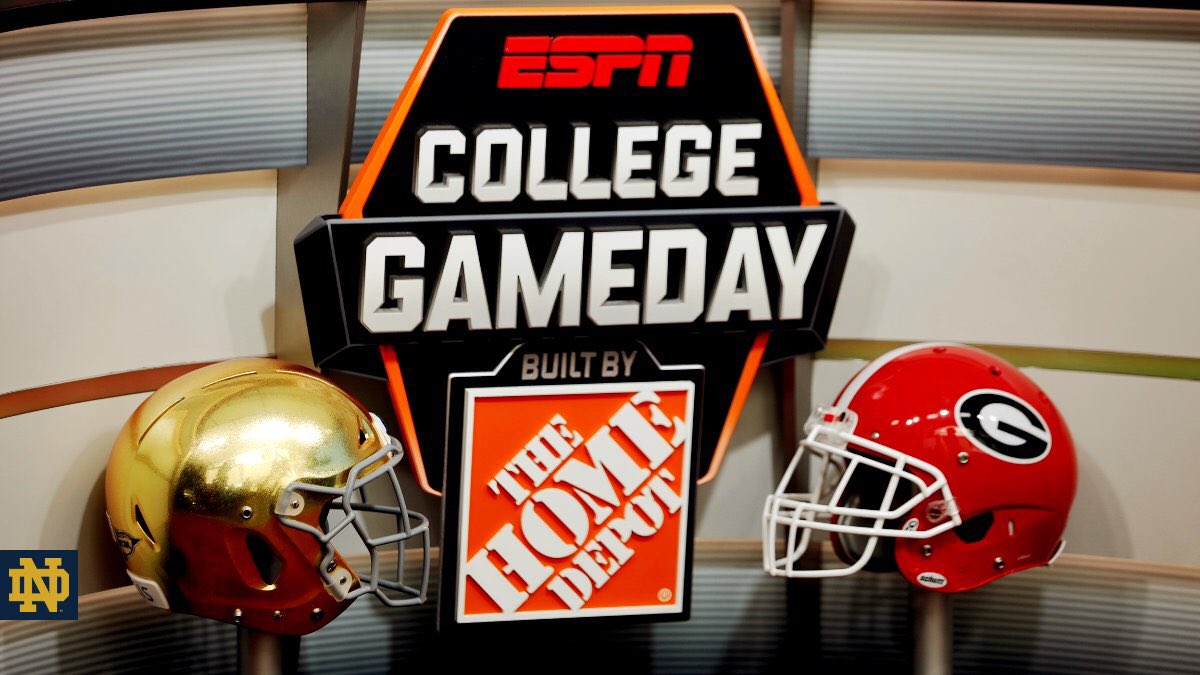 #7 Notre Dame vs #3 Georgia Preview
Matchup: #7 Notre Dame Fighting Irish (2-0, 0-0 FBS Independents) vs #3 Georgia Bulldogs (3-0, 1-0 SEC)
Date: Sept. 21, 2019
Time: 8:00 p.m. (est)
Network: CBS
Location: Athens, Georgia
Venue: Sanford Stadium
Seating Capacity: 92,746
Get hyped folks, this could be a legitimate College Football Playoff preview come late-December. That's because #7 Notre Dame travels to Athens to meet the surging #3 Georgia Bulldogs!
To get you pepped and prepped for Saturday's huge clash, I thought I'd single out some key story-lines and match-ups to get you amped:
#7 Notre Dame
Thought the Irish come into this game as 14.5 underdogs, they are undoubtedly a legit threat to pull the upset. This all starts with their offense. They average an uber-impressive 50.5 points per game this season; good for 7th in the country. Senior QB Ian Book will obviously have to have a big game to give his team a chance, as he faces the 9th best defense in the FBS. Book has been impressive in the two games Notre Dame has played so far, throwing for 553 yards, 6 TD's and 0 INT's, while completing 61.7% of his passes. This offense must find a way to make some big plays this weekend and they just might be in luck. Junior TE Cole Kmet is expected to make his season debut, as he was a popular off-season breakout candidate in the wake of Alize Mack leaving early for the NFL. If he lives up the hype, he will provide some much needed juice to this already booming offensive attack.
The defense is the real key though, as it hasn't been too good in the early going of this year. Potential 2020 high draft picks, senior DE's Khalid Kareem and Julian Okwara must find a way to penetrate the brilliant Bulldog offensive line and get some sacks if they want to push the Irish to a return to the Playoffs in 2019. They will also be needed in stopping the daunting rushing attack of Georgia which is currently 8th in the country, averaging 286.7 yards per game. Oh, and where does the Irish rush defense rank? 120th, allowing 230.5 yards per game. Good luck…
#3 Georgia
If Notre Dame has plans to apply pressure on junior QB Jake Fromm then they have their work cut out for them. Georgia's immensely talented o-line (full of high-recruits) may be the best in college football and no one player demonstrates that clearer than junior T Andrew Thomas. Thomas will be responsible for shutting down Kareem and Okwara throughout the game and if he does what he always does, then his projection as a top-five pick come April will only harden even more.
The funny thing is, with all of my focus going on the Bulldog o-line versus Notre Dame defensive line match-up, it's easy to forget that Georgia has an even bigger advantage at their disposal. That being junior RB D'Andre Swift carrying the ball. Swift is coming off a huge game against Arkansas State where he racked up 140 yards from scrimmage while averaging 8.4 yards per carry. He's the easy pick in this game for all you fantasy nuts.
Some injury notes to pass along as well, as redshirt junior and former Cal transfer WR Demetris Robertson and sophomore CB Tyson Campbell should be fine from their injuries, according to head coach Kirby Smart. Robertson missed last week's game due to a lower body injury, but has come on lately with touchdown catches in both games he's taken part in this year. While Campbell left last game with a right foot injury. Long-term wise they look okay, but they are 50/50 calls for this one.
Prediction
So after writing this preview, I'm going to keep calm and go with my brain on this one. My heart says close win for the Irish, but my brain won't let me get past the massive advantage in the trenches for the Bulldogs' offensive line and rushing talent.
Georgia runs them over both literally and figuratively with Swift going over 100 yards rushing for the second time this season.
Prediction: Notre Dame 22 – 41 Georgia
Written by Samit Bariana
Follow Samit and TSJ: College Football on Twitter!

Photo credit to via NDFootball via Twitter

Follow TSJ on YouTube and Twitter