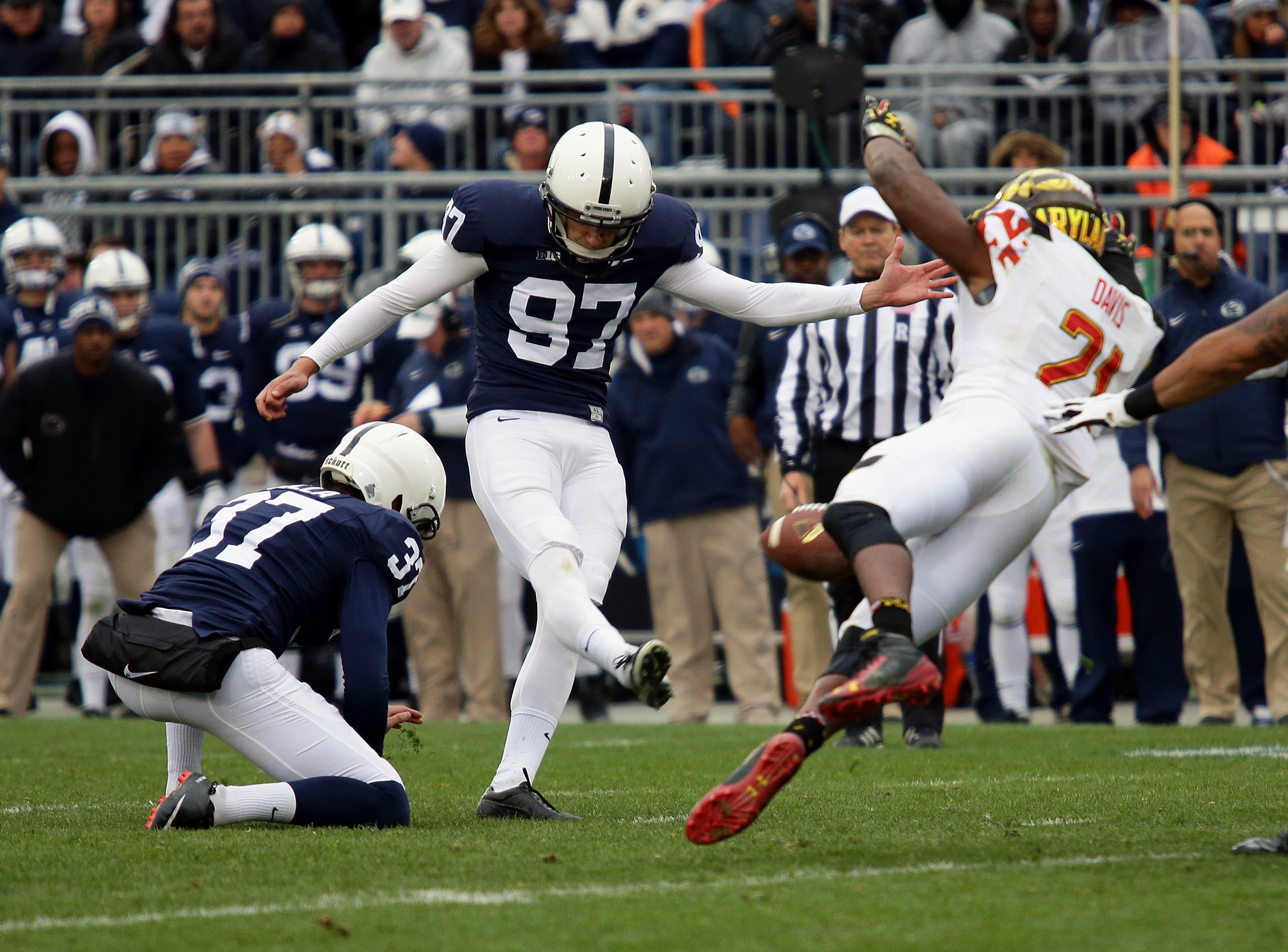 Friday Night College Football Penn State vs Maryland Preview
This week will be much different for Penn State football. The Nittany Lions will travel on a Thursday to head to College Park, Maryland for a Friday night tilt against Big Ten East opponent Maryland Terrapins.
Penn State
The Nittany Lions enter this Friday's contest with a 3-0 record. However, they still have hick-ups throughout the offense and have been battle-tested and with Big Ten beginning, they'll surely begin to find their identity in what is a tough Big Ten schedule.
The Nittany Lions boost the nation's 31st best offense. Currently, the Nittany Lions average 7.47 yards per play and have scored 17 offensive touchdowns. Before the bye week, Journey Brown got the start against the Pitt Panthers. it's hard to say who will get the start against the Terrapins on Friday. However, the one bright side to this offense is that the running back core is very strong and competitive.
Averaging 473 yards per game, Penn State is going into Friday's contest showing exactly why they have a strong offensive core. On the receiving end, K.J Hamler is proving yet again why he's one of Penn State's most targeted wideouts. Thus far, Hamler has ten receptions for 245 total yards, averaging 24.5 yards per carry. Hamler also has two touchdowns. Ricky Slade has seen some decline in production this season. However, Slade has 12 rushes for 21 yards and one touchdown. Journey Brown has seen more of the action recently with 21 rushes for 175 yards and two touchdowns.
When it comes to the defense, Penn State boost the nation's 38th best. Allowing only 970 yards on 220 plays which averages out to 4.41 yards per play. The defense has stood strong and allowed only three touchdowns. Thus far, Micah Parsons has picked up where he left off production wise. Parson has 20 total tackles ten solo and ten assists. Fellow linebacker Jan Johnson has 19 tackles, six solo and 13 assists.
Jesse Luketa has also been getting reps at linebacker with seven total tackles, two are solo and five assists.
Maryland
The Terrapins are (2-1, 0-0 B1G) this season. With a revamped offense and such, things are somewhat in the positive direction. Both Penn State and Maryland enter this game coming off a bye week and Capital One field at Maryland stadium is officially sold out for Friday's game
The Terps currently have the nation's 10th best offense and it's fast. On 246 plays the Terrapins have garnered a jaw-dropping 1613 yards total and 6.56 yards per play. They've scored 21 touchdowns and average 537.7 yards per game. On offense, the Terrapins have a trio of receivers that can catch you off guard. Darryl Jones is one of those guys. In three games, Jones has seven receptions for 138 yards. Additionally, Dontay Demus Jr also is another sneaky guy. On nine receptions,. Demus has 167 yards and two touchdowns. Lastly, DJ Turner has four receptions for 84 yards.
The Terrapins have the nation's 27th best defense in the country. Opposing offenses have run 203 plays against the Terrapins for 895 yards. Maryland allows their opponents offenses an average of 4.41 yards per carry and have allowed six touchdowns.
Additionally, Maryland's defense allows 298.3 yards per game. On the other hand, Maryland will look to continue a strong defensive performance. However, the Penn State offense will look to continue what they've been doing.
Penn State vs Maryland Preview
Penn State travels to College Park for a Friday night tilt with the Maryland Terrapins. Friday night's game kicks off at 8 p.m on Fox Sports one.
Written By Tom Johnston