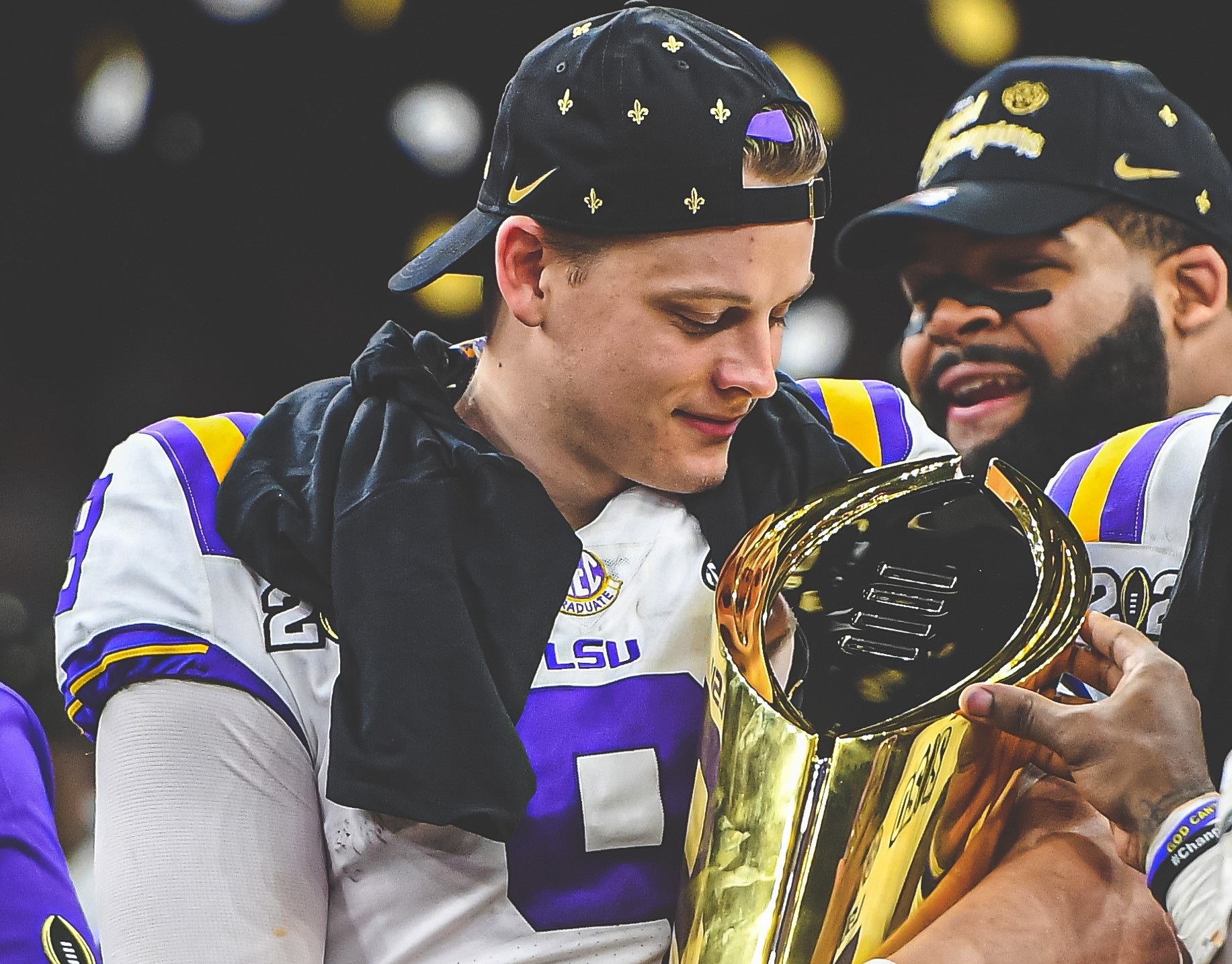 2020-21 College Football Playoff Prediction
Is it me or does it feel like it's been years since the last College Football game? Now, it is way too premature for roster specifics. Though, I'm ready for next year right now, so I'm going to take a stab at guessing what the College Football Playoff will look like come 2020-21!
The 2020-21 season is expected to be top-heavy. The early National Championship futures according to online sportsbooks
here
say there is roughly a 73% chance that the trophy goes to one of just three teams: Clemson (+230) has the best odds, followed by Ohio State (+300) and perennial contender Alabama (+450). After the top trio, there's a sizable drop to LSU (+700) and Georgia (+800), followed by an even bigger drop to Florida (+1400).
So with that knowledge, here's my best guess:
Rose Bowl: #1 Ohio State vs. #4 Georgia
I really went out on a limb in picking the Buckeyes to finish as the top seed (my attempt at humor). I foresee the Buckeyes rolling through the Big Ten and getting here with the progression of junior QB Justin Fields. Fields' on-field work in his first season as a starter in 2019 was magical. He garnered an elite passing grade of 92.5 from
PFF
after completing 238 of 356 attempts for 3,273 yards, with 41 TD passes and just three picks. The loss of J.K. Dobbins should definitely hurt their elite running game, but they've got another stud ready. Redshirt sophomore RB Master Teague III. At 5-foot-11, 220-pounds, he's ready to take off.
Georgia gets the nod at the fourth seed strictly off of talent. The Bulldogs are always stocked full of elite recruits on their roster, but the real question is what will happen at quarterback? The answer: Jamie Newman. The redshirt senior QB officially transferred to Georgia just a month ago and will be a nice one-year starter after Jake Fromm's exit for the draft. The former Demon Deacon completed 60.9% of his passes with 26 TD's and 11 interceptions in 2019, while running for 574 yards and six TD's. He'll be the clear-cut favorite to win the starting job come the spring. If he can keep a consistent level of play for the 'Dogs then this team has a real shot at the College Football Playoff, but I don't see them going further.
Sugar Bowl: #2 Clemson vs. #3 Alabama
The Tigers will be looking to advance to their third straight National Championship and I think they'll get there. The Junior QB Trevor Lawrence is still here, remember? He's the odds-on favorite to win the 2020 Heisman Trophy for good reason. Oh, and the defense should once again be elite with the incoming of #1 overall recruit, DT Bryan Bresee. This one was easy.
Now, Alabama is an interesting case. Firstly, I don't think Nick Saban's stranglehold over the College Football world has been relinquished. Though the Tide carry some mystery with them into 2020. For starters, the defense should be fine. Senior linebacker Dylan Moses is back for a final run which should definitely surge the squad. Moses was a consensus first-round pick come the 2020 Draft before tearing his ACL. In 2018, he posted 86 tackles, 10 TFL, and 3.5 sacks, while being named second team All-SEC. The QB situation is the real mystery though with Tua moving on. Redshirt sophomore QB Mac Jones will compete with Tua's brother, sophomore Taulia Tagovailoa and highly-touted five-star freshman Bryce Young for the glammer spot. The inexperience of these three is why I see them capping out at the final four teams.
National Championship: #1 Ohio State vs. #2 Clemson
So we have ourselves a rematch. Their meeting just a few months ago in the Fiesta Bowl was a legendary game to say the least and I can only hope the second go is too. Can Fields make amends for his two costly picks he threw? Will Lawrence be able to kill them with his feet again? Who really knows, it's freaking February, cut me some slack. I'll go with my gut though and say Ohio State pulls it off in a nail-biter 31-27!
Written by Samit Bariana
Follow Samit and TSJ: College Football on Twitter!

Photo credit to via Twitter at CFBPlayoff

Follow TSJ on YouTube and Twitter