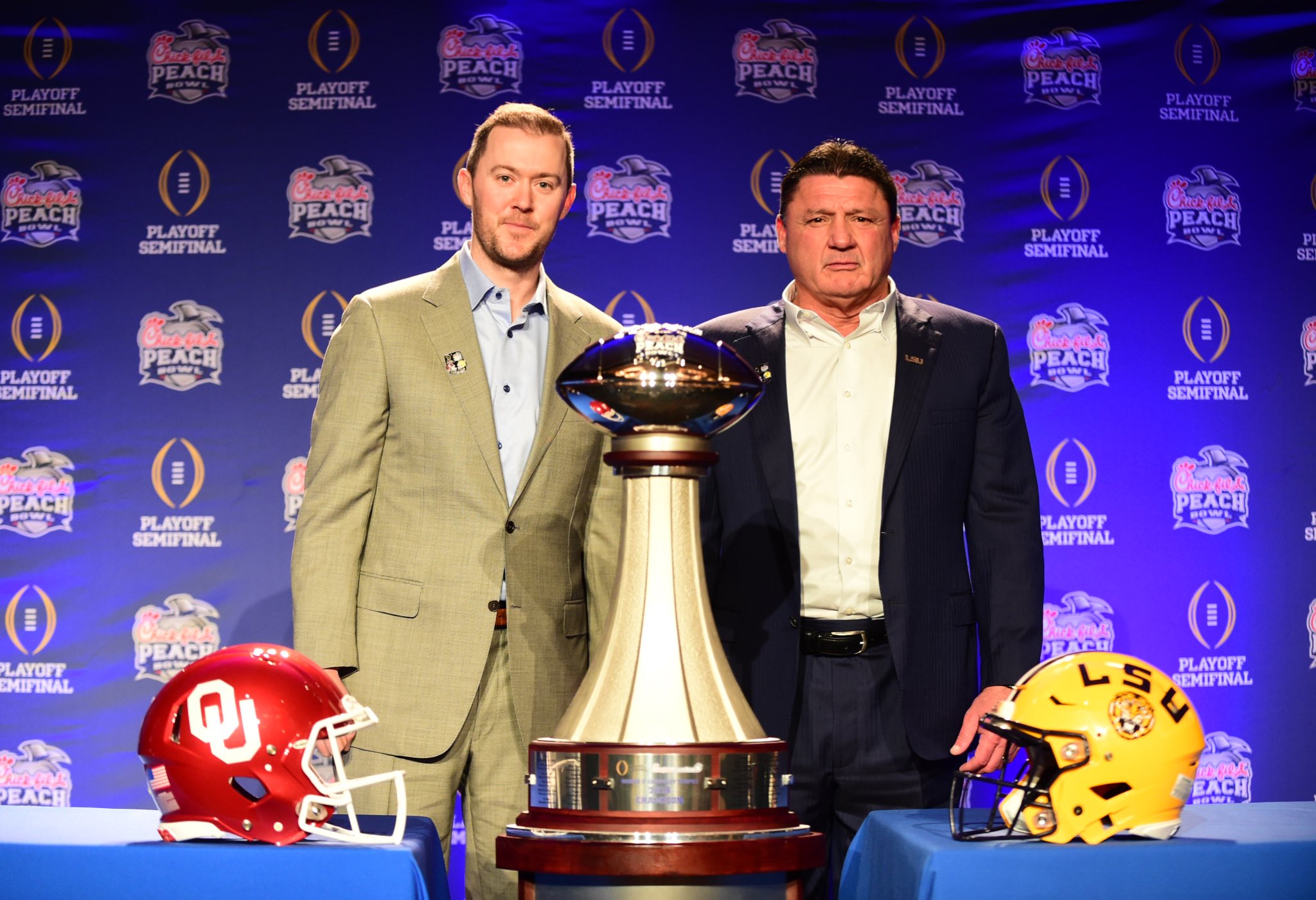 College Football Playoff: #4 Oklahoma vs #1 LSU Preview
Matchup: #4 Oklahoma Sooners (12-1, Big 12) vs #1 LSU Tigers (13-0, SEC)
Date: Saturday, Dec. 28, 2019
Time: 4:00 p.m. (est)
Network: ESPN
Location: Atlanta, Georgia
Venue: Mercedes-Benz Stadium
Seating Capacity: Standing room to at least 80,000
This year's Peach Bowl game will feature the top ranked LSU Tigers taking on the No. 4 ranked Oklahoma Sooners at the Mercedes-Benz Stadium in Atlanta, Georgia. The winner of this game will take on the winner of Clemson and Ohio State in the national title game.
LSU
The Tigers have done nothing but make statements this season thus far. Offensively for the Tigers, they lead the NCAA is total offense with 7,207 yards on 925 total plays. Additionally, the Tigers average 7.79 yards per play and have compiled 78 offensive touchdowns and average 554.4 yards per play. LSU is ranked second in the country in passing offense which they've attempted 476 passes and have completed 363 of those passes. Furthermore, the Tigers have thrown seven interceptions all season long. LSU has also accumulated 5,029 passing yards. Additionally, LSU has thrown 49 touchdowns and average 386.8 yards per game.
When it comes to the defensive side of the ball, the Tigers rank 32nd in the nation on total defense. on 881 opposing offensive plays, LSU has given up 4,437 yards and 5.04 yards per play. They've allowed 35 touchdowns on defense and allow an average of 340.2 yards per game on defense. Additionally, LSU made a statement by defeating Alabama on the road.
Oklahoma
The Sooners are ranked 4th in the country and have a chance to make a statement with a victory. Oklahoma has the nations second best total offensive unit. The unit under Lincoln Riley has drawn up 884 plays for a total of 7,205 yards and 70 touchdowns. Furthermore, Oklahoma has averaged 8.15 yards per play. For the Sooners, they're lead on offense by quarterback Jalen Hurts whom on the season has 3,684 total yards for 32 touchdowns and seven interceptions.
When it comes to defense, the Sooners are ranked 25th in the country in total defense. On 812 total offensive passing plays, the Sooners have allowed for 4,298 yards total and 5.29 yards per play. Additionally, the Sooners have allowed for 39 opposing touchdowns. Oklahoma has holds opposing offenses to an average of 330.6 yards per game.
The National Championship
The winner of the Oklahoma and LSU game will face the winner of the Clemson and Ohio State game on January 13th.
Written By Tom Johnston
Follow Tom and TSJ: College Football on Twitter
Photo Credit to LSU Football via Twitter
Follow TSJ on YouTube and Twitter