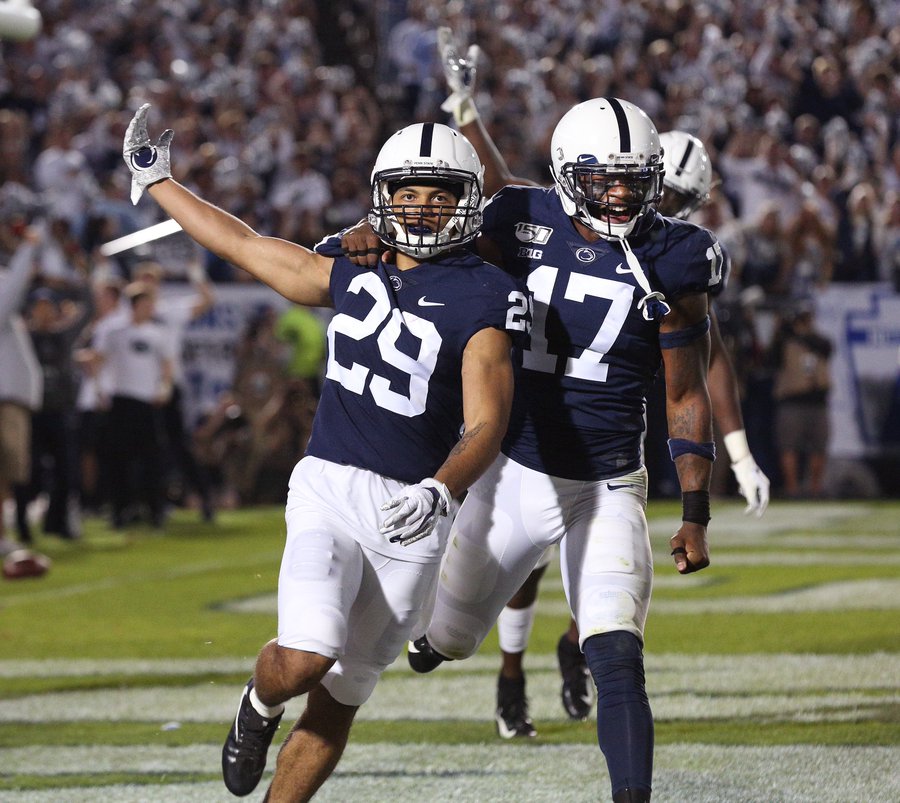 Nittany Lions Prevail Against The Bulls
Buffalo Challenged Penn State
At Beaver stadium on Saturday night in front of 104,000 plus. The Nittany Lions and Bulls squared off in non-conference action. The game wasn't as easy as Idaho which in turn, brought a unique feel. The first half of the game started out slow with 17 points combined scored between both teams. However, the Nittany Lions prevail against the Bulls.
First Half Of The Game
The Nittany Lions claimed the only touchdown in the first quarter which put the crowd on their feet. However, after keeping the Bulls held scoreless in quarter one. Buffalo answered with a field goal and a touchdown by Matt Myers. If there was one key component everyone thought of on Saturday night, it was Penn State would take a lead into the half. Likewise, it was the Bulls taking a 10-7 lead into the locker room and coach James Franklin trying to puzzle a plan to gain the momentum back.
It was a task that Penn State hadn't faced this season thus far. Fans inside and outside of Beaver stadium where eager to see just how the Nittany Lions would respond coming out of the break with momentum not on their side.
Coming Out Of The Half
Evidently, whatever coach Franklin said to his team in the locker room, it was either motivational or a wake up call. Either way, Penn State stormed out of the gates and the offense put up 28 points on the board alone in the third quarter. Penn State Cornerback John Reid put momentum back on the Nittany Lions side with a pick-six that was turned into a touchdown. The Nittany Lions turned it up from there.
Buffalo managed just three points in the third quarter and Penn State added insult to with ten more.
Penn State Performance
Quarterback Sean Clifford seemed more relaxed in his second official start as QB. Clifford went off against a Buffalo defense that was ranked 30th coming into the game. Overall, Clifford went 16/22 for 279 yards and four touchdowns. Clifford also had some ground game to torch the Bulls. On 11 carries, Clifford ran for 51 yards averaging 4.6 yards per carry. Additionally, Journey Brown led all the running backs with six carries for 28 total yards. Brown averaged 4.7 yards per carry.
On the other hand, freshman Noah Cain recorded the lone touchdown on the ground. It was Cain's only carry which was two yards out of the end zone. Furthermore, the receivers and tight ends had a field day garnering four touchdown passes. Jahan Dotson had four receptions for 109 total yards. Dotson averaged 27.2 yards per play. Dotson was the recipient of two of Clifford's touchdown passes. Subsequently, tight end Pat Freiermuth had eight receptions for 99 total yards. Furthermore, Freiermuth averaged 12.4 yards per play and was the latter recipient of Clifford's other two touchdowns.
Buffalo Performance
The Bulls didn't accumulate much offense. Quarterback Matt Myers completed 16 of 31 passes for 245 total passes and one touch down and interception each. Furthermore, the Bulls tried to push a running game past the Nittany Lions. However Penn State wasn't having it. Jaret Patterson had 23 carries for 71 yards total averaging 3.1 yards per carry. Behind him was Kevin Marks with 17 carries for 64 yards. Marks averaged a little more yards per carry with 3.8 yards.
Lastly, Dylan McDuffie also carried the ball six times. Overall, McDuffie totaled 43 total yards and averaged 7.2 yards per play.
Conclusion
The Buffalo Bulls proved to be a vital test for Penn State. Penn State showed they have plenty of heart filled with passion. Even though Penn State went into the half without the lead they stormed back to gain it. Next up, the final matchup with Pitt this Saturday.
Written By Tom Johnston
Follow Tom and TSJ:CollegeFootball on Twitter!
Photo credit to PennStateFball via Twitter 
Follow TSJ on YouTube and Twitter