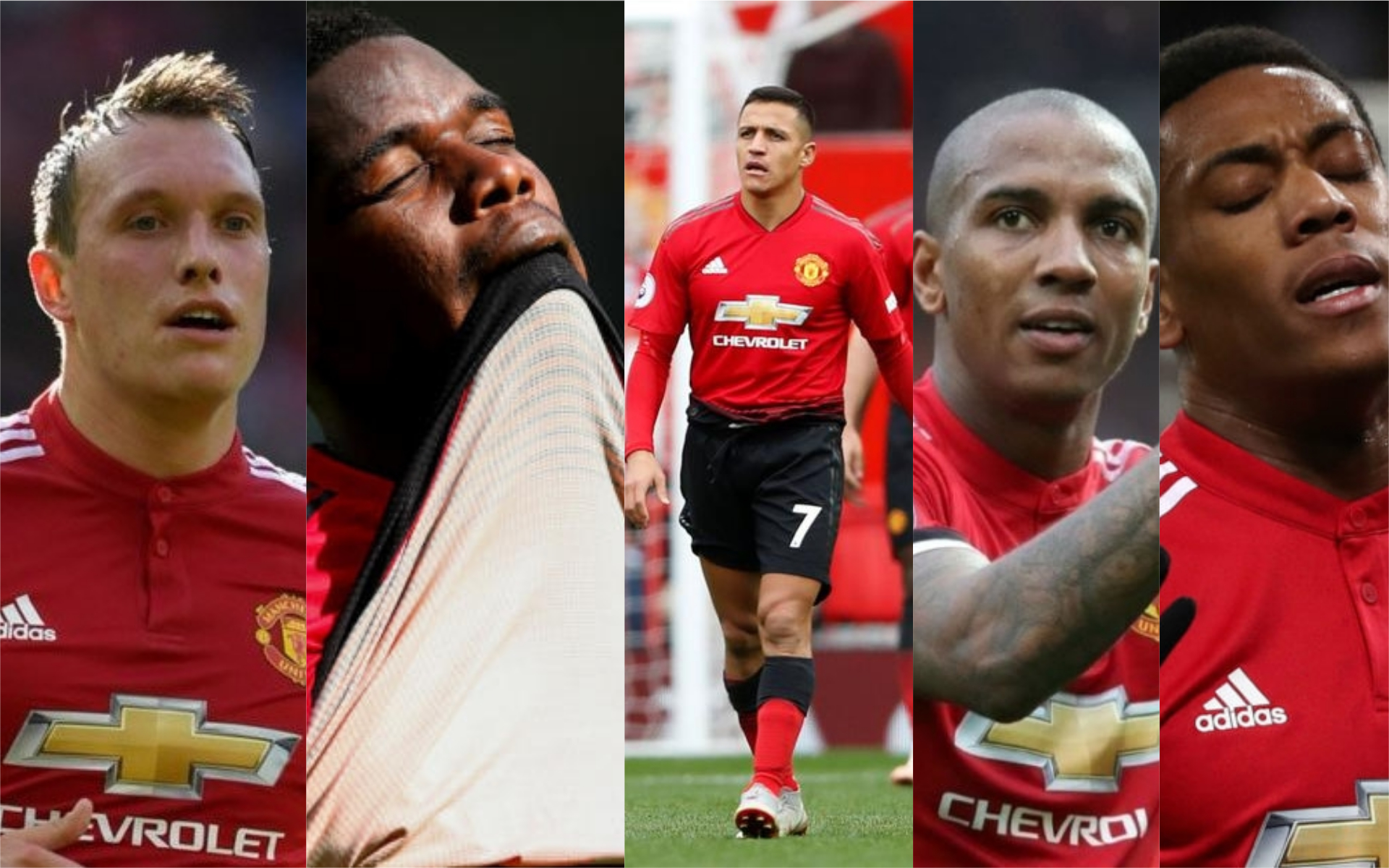 Man United: Big Transfer Window Ahead
Following an awful end to the season, it is clear that Man United need a summer rebuild if they are to challenge for the Premier League title once again.
Over the last few weeks, United have been linked with numerous players. Each day another name is added to the list.
There will be plenty of outgoings and incomings over the summer transfer window. But who should Ole Gunnar Solskjaer sign and who should head out of Old Trafford?
Here are five players Man United should sign and five players who should leave the club.
Out: Phil Jones In: Jonathan Tah
The biggest area United need to strengthen is obviously their defense. United incredibly conceded 54 goals in the Premier League this campaign.
They conceded more than the likes of Newcastle, Wolves, Everton, Leicester and Crystal Palace.
You could make an argument that all Manchester United's center-backs should leave the club.
However, for me Phil Jones should be the one to leave the club. When Jones signed for United back in 2011, he was tipped to be a mainstay for Manchester United and England.
He hasn't fulfilled his potential and is prone to mistakes. Jones may be a good defender for most Premier League clubs but he isn't at the level United need, if they are to challenge for the Premier League title and in Europe.
Who should United sign to replace him?
Ajax defender Matthijs de Ligt and Napoli defender Kalidou Koulibaly are obvious candidates.
But it does seem unlikely that de Ligt would sign given that United aren't in the Champions League. Also, to sign Koulibaly United would have to fork out at least £100 million for the Napoli defender.
For me, an alternative option is Bayer Leverkusen defender Jonathan Tah. At over six feet tall, Tah is physical and strong in the air.
He is comfortable with the ball and can distribute the ball comfortably with both feet. Also, he is only 23-years-old and can only get better.
Tah would be a cheaper option than Koulibaly and would be a more realistic target than de Ligt.
Out: Ashley Young In: Joao Cancelo
Ashley Young has been a great servant at Manchester United since joining from Aston Villa in 2011.
Having only arrived for £17 million, there is no doubt that he has repaid that transfer fee during his time at Old Trafford.
But in recent seasons, age is certainly starting to catch up with Ashley Young. In the Champions League quarter-final against Barcelona, Young gave the ball away an incredible 32 times in the home leg at Old Trafford.
His performances this season haven't been up to standard and his time has surely come to leave the club.
Why United gave him a one year contract extension is beyond me and is another baffling decision by the owners of the club and Chief Executive Ed Woodward.
United need an upgrade at right-back with Antonio Valencia leaving and Ashley Young past his best.
Diogo Dalot is very much one for the future but United need someone who can make an immediate impact.
For me, they should sign Juventus right-back Joao Cancelo. The Portuguese international had an impressive start to life in Turin and was one of their standout performers in the early part of the season.
But he fell out of favour with Juventus boss Max Allegri. However, he has pace and can deliver excellent crosses into the box.
The big complication is with Allegri leaving the Serie A club, much will depend on whether the new manager will want to keep Cancelo.
If he doesn't United should do all they can to get the Portuguese international, who has the potential to be one of the best right-backs in the world.
Out: Paul Pogba In: Tanguy Ndombele
There is no doubt that Paul Pogba has all the qualities to become the best midfielder in the world.
When Ole Gunnar Solskjaer first took over at Old Trafford, it seemed to give Pogba a new lease of life. He put in some fantastic performances and looked like the player we all know he can be.
However, towards the end of the season, Pogba has drifted into his old ways. In games against mid table sides, you would expect Pogba to dominate these games.
Too often though he fails to do that. He has been too inconsistent since joining Manchester United a couple of years ago.
Also, his biggest problem is his ego. If Manchester United are going to be successful once again, there dressing room can have no egos.
Is Pogba a team player? I don't think so. It's too often all about him. People will say Cristiano Ronaldo is the same. The difference is he can back it up with consistent performances and more importantly trophies.
If Real Madrid make an offer of over £100 million, United should take it immediately.
Man United should sign Lyon midfielder Tanguy Ndombele to replace him. The French midfielder has had a great season.
He is strong physically and above all technically. Also, he is precise with his passing and rarely gives the ball away.
There is a lot of comparisons between Ndombele and Pogba. The big difference is Ndombele doesn't have an ego and would fit in seamlessly in United's dressing room.
Plus he is only 22-years-old and will only get better.
Out: Alexis Sanchez In: Hakim Ziyech
The worst signing in Manchester United's history has to go to Alexis Sanchez. When the Chilean signed in January 2018, it looked to be a good signing.
He had a great few seasons at Arsenal and appeared to be the player who could help lead Man United back to the top of the Premier League.
However, it has gone spectacularly wrong for Sanchez at Old Trafford. He has played 57 games for United and scored just seven goals.
Considering Man United are paying him around half a million per week, you would expect more in return.
Yes, you can't fault Sanchez for his effort and he has had injury problems, which have hampered his time at Old Trafford.
But Sanchez will go down as a failure at Old Trafford just like Angel Di Maria and Radamel Falcao. He has to be the first to be sold and as soon as possible.
Given his huge wage, that could be a big problem.
To replace Sanchez, United should make Ajax midfielder Hakim Ziyech their prime target. The Moroccan international has had a great season at Ajax.
He has been one of Ajax's best performers as they reached the Champions League semi-finals. He put in some stunning performances against Real Madrid, Juventus and Tottenham.
Also, he has scored some spectacular goals as well. This season he scored 20 goals and 21 assists in 45 games.
Ziyech can also play in a number of attacking positions. The big selling point is he has a release clause at just £25 million.
United should do anything they can to sign the Moroccan.
Out: Anthony Martial In: Paulo Dybala
When Anthony Martial joined Manchester United a lot was expected of the Frenchman. He had a great first season and scored a superb goal on his debut against Liverpool, which helped endear him to fans.
Under Mourinho, like most of the United players he has been too inconsistent. He has scored too few goals and has been in effective in some games.
Also, the biggest problem, like Pogba, is his attitude. In the warm-up against Chelsea he didn't appear to be trying. In what was a crucial game for United's Champions League hopes that is unforgivable.
When you watch him play, he seems moody nearly all the time. Is that the type of player you would want in the dressing room? For me it isn't.
There is no doubt he has plenty of talent and has tremendous pace but his attitude is letting him down.
It is unlikely that he will be sold after Man United's co-chairman Joel Glazer considers him to be the clubs Pele. Even though Solskjaer wants him gone. This says a lot about who is running the club.
Who should replace Martial, for me it has to be Paulo Dybala. The Argentine has fallen out of favour at Juventus under Allegri.
Dybala is the attacking creative player that Manchester United are craving. He has shown he can perform at the highest level.
Also, he is not only an instinctive finisher but also possesses great movement and is versatile, as he can play as an out and out striker or off a front man.
He would be a fantastic signing for Man United but like Cancelo the managerial situation at Juventus will see if he stays or goes.
Follow us on YouTube and Twitter
Written by David Coates

Follow me on Twitter
Photo credit to susanna chen, leonardo davindo, PJB PRO, Ly Nguyen and Smashdown Sports News via Flickr