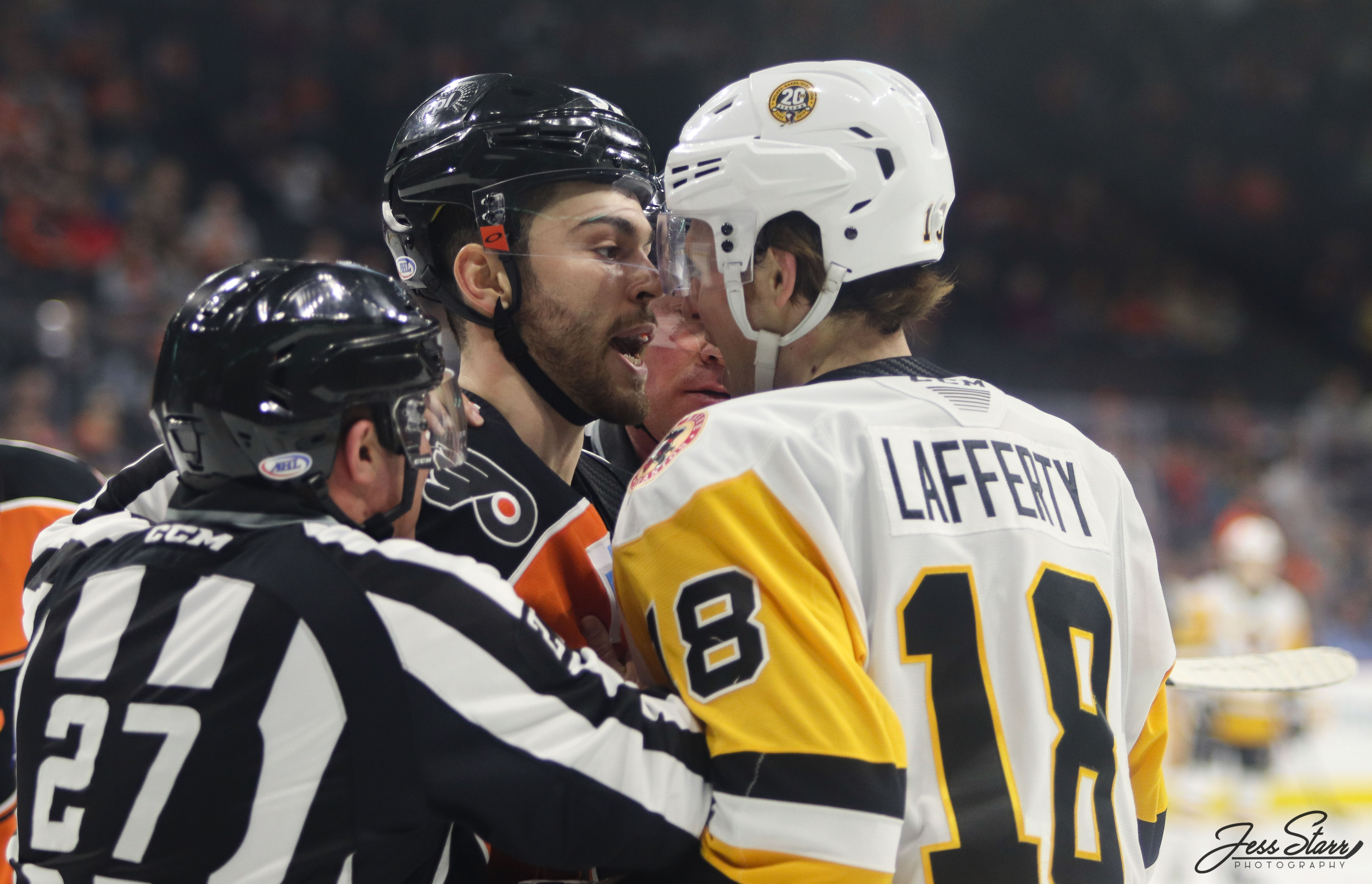 Phantoms Win Penguins Rematch in Decisive Fashion
There were plenty of points to go around as the Lehigh Valley Phantoms triumphed over the Wilkes-Barre/Scranton Penguins, 10-6. It set a new franchise record for goals, with 12 different Phantoms' players gaining points. Head coach Kerry Huffman knew that the rematch was going to be tough. "These are two teams that don't like one another. You play anybody 12 times and you're not going to like them."
The Phantoms had to rally against a two-goal deficit within the first minute of the game. "It's not the way you really draw up to start a game, but we were able to kind of regroup and bounce back there," said Corban Knight.
Huffman was pleased with how his team handled the situation. "The guys responded. They kept calm, we just said, 'everybody settle down, relax, we were playing some good hockey, so let's just get back to it,' and they did."
Just Getting Started
An unlucky start didn't dictate the game, however. The first period ended with four Phantoms goals, and the PPL Center knew this was going to be a high-scoring showdown. John Muse replaced Penguins starter Tristan Jarry in net for the second period.
By the end of the second, the score was 7-3 in favor of the Phantoms. Knight said, "It's a little bit wild when you're playing a game that's that high scoring, but at the same time you've got to make sure you stay focused and can't get caught up in that."
The Penguins started to rally during the third period, scoring three goals in under three minutes, bringing the deficit within two. Two more Phantoms goals would finally seal the game at 10-6.
Of note, Chris Conner and Carsen Twarynski ended the game with two goals apiece, and Philippe Myers had three assists. Twarynski was awarded a penalty shot late in the third period, scoring on Muse for his second goal of the game.
Photo Credit
Photo Courtesy of: Jess Starr via Flickr
Follow Us on Twitter
Site: @T101Sports
Department: @T101SportsNHL
Writer: @jmstarr_
Subscribe to get the latest news from TSJ and the TSJ 101 Sports TV Youtube Channel!
Play and Win Weekly at ThriveFantasy!