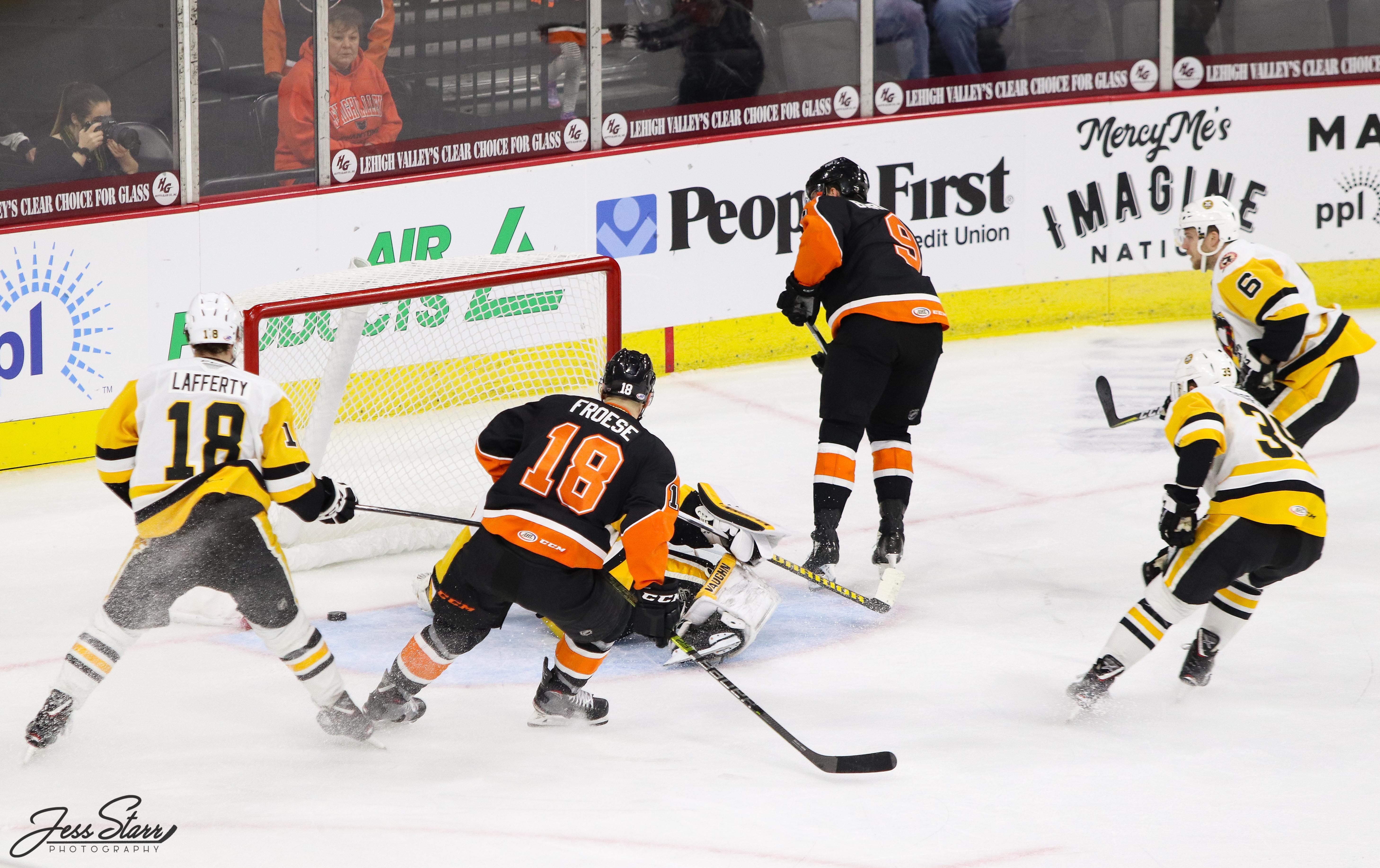 Phantoms Defeat Penguins, 4-2, Trying to Advance to Playoffs
The Lehigh Valley Phantoms took the lead and never looked back, defeating the Wilkes-Barre/Scranton Penguins, 4-2. As expected, it was a rough-and-tumble game from the start. Facing off against a division rival is treacherous, but the stakes are higher when both teams are fighting for a playoff position. The Phantoms are six points out of a playoff spot with four games remaining in the season.
Tyrell Goulbourne opened scoring for the Phantoms nearing the halfway mark of the first period. James de Haas took the initial shot that bounced off Goulbourne and past Penguins' netminder Tristan Jarry. A goal is still a goal, even if it isn't necessarily scored with a stick. Goulbourne topped his former AHL career-high in goals which he set during the 2017-18 season.
Sublime Streaks and Shorthanded Goals
Cole Bardreau contributed two speedy short-handed goals to get the Phantoms the win. The first came on a breakaway that had recently been unlucky for him. His second of the night was just over two minutes into the second period when he was able to tap in the puck following the initial shot from Carsen Twarynski. "Our system's good for getting opportunities on the kill and luckily tonight we took advantage of some," Bardreau said.
What the Phantoms have needed this season is consistency and it looks like they may be getting it. Byron Froese was traded to the Philadelphia Flyers from the Montreal Canadiens back in February and is finally hitting his stride.
Froese scored the Phantoms fourth goal of the night, extending his point streak to seven games. During that time, he has four goals and six assists. Head coach Kerry Huffman shared his insight into Froese's recent surge. "He's a guy that wants to be a leader and he needs to be a leader, I think, to be effective. Sometimes it's just hard to come into a new environment… your teammates sort of have to get to know you and you have to establish yourself."
Getting Ready for a Rematch
This was just the first of two games against the Penguins this weekend. These teams will take the ice again at PPL Center in a Sunday matinee. "It's a fun rivalry," Bardreau said. "Anytime you get to play someone 12 times a season there's going to be some bad blood and some animosity. Those are the games competitors look forward to, so everyone was really excited."
Huffman knows it will take grit and stamina if the Phantoms want to take both wins from the back-to-back. "They're going to come out hard. Whenever one team gets beat, the other team comes back and plays a real hard, hungry hockey game."
Photo Credit
Photo Courtesy of: Jess Starr via Flickr
Follow Us on Twitter
Site: @T101Sports
Department: @T101SportsNHL
Writer: @jmstarr_
Subscribe to get the latest news from TSJ and the TSJ 101 Sports TV Youtube Channel!
Play and Win Weekly at ThriveFantasy!