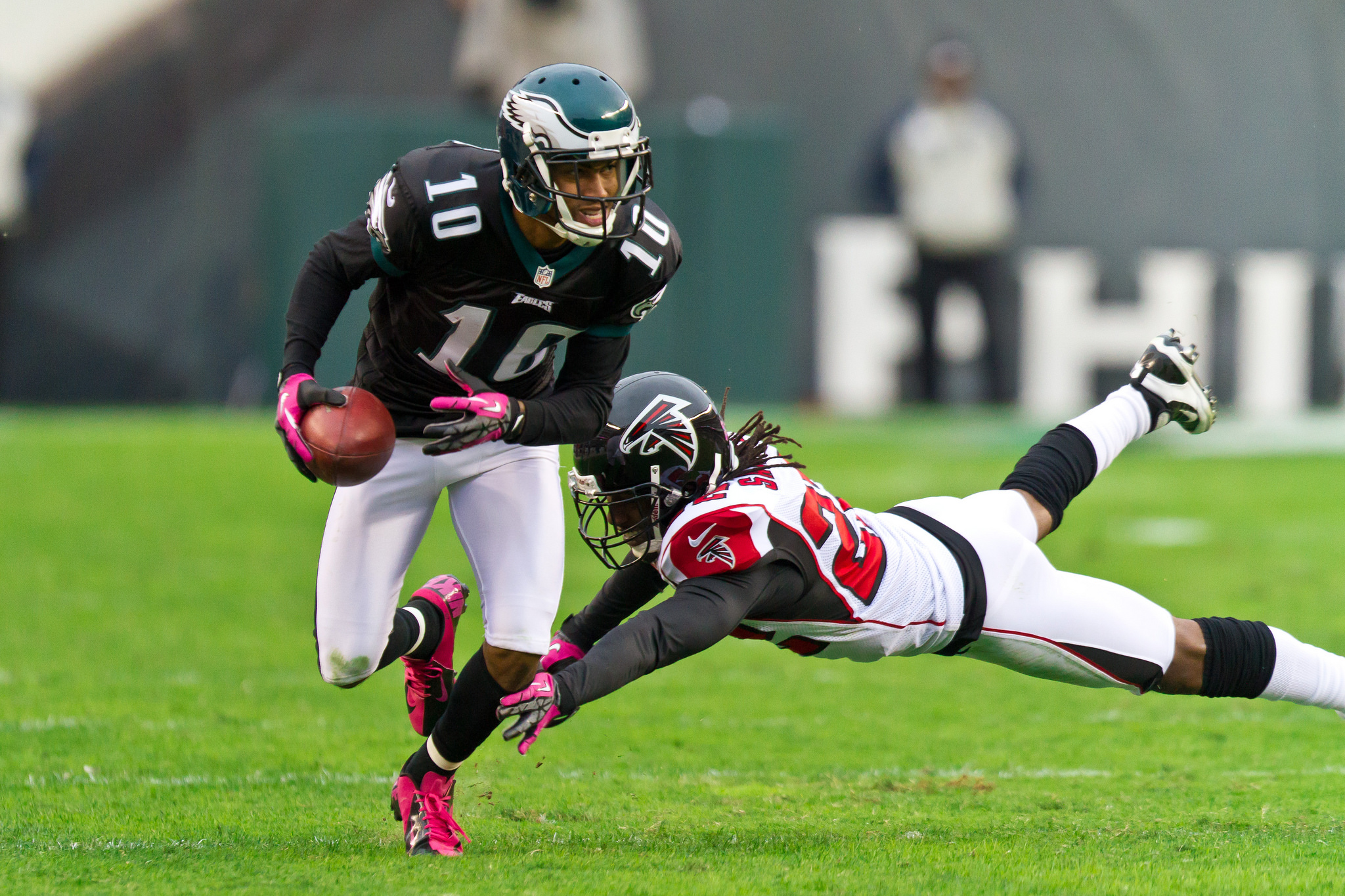 13 Big Moves (and Their Price Tags) Made by the Eagles to Finish the 2018 Season
With less than 48 hours until the (Le'Veon) bell rings on the 2019 season, the Philadelphia Eagles have stayed busy. At 4pm EST on March 13th, the new league season officially begins. Eagles executive Howie Roseman, however, hasn't waited for the new football-calendar year to start doing business.
The 2017 Executive of the Year began crafting the 2019 roster in late January, then going into overdrive in the last weeks. Several Eagles have flown the coop, while others have begun to nest alongside their new contracts, ink barely dried.
Thanks for the Memories
Michael Bennett, Defensive End
The Eagles and Patriots have agreed to a trade in principle that will become effective on March 13th at 4 pm EST. Parting ways from Philadelphia will be DE Michael Bennett. In return for Bennett, the Eagles will receive 2020 fifth and seventh round picks.
Michael Bennett 2018 Stats

Games Played/Started: 16/10
Passes Defended: 1
Forced Fumbles: 2
Sacks: 9
Combined Tackles: 34
QB Hits: 30

I don't see the logic… 🤨

— Lauren Phillips (@LaurenP_52) March 11, 2019
Chris Maragos, Safety
On February 22nd, the Eagles released safety Chris Maragos. Maragos was drafted in 2010, eventually making his way to Philadelphia by way of free agency in 2014. The defensive back played 53 games as an Eagle, starting just three games. In those games, he recorded a measly 24 solo tackles and one forced fumble — while not being credited for a single defended pass.
Maragos made $1.67 million in 2018 and had one year left on his contract, in which he was set to make a base salary of $2 million. The 2019 contract would have held a $2.25 million cap hit.
Nick Foles
We get it.
Back in Action
The Eagles signed a host of players to reserve/future contracts. One notable name is running back Donnel Pumphrey. Pumphrey was drafted in the fourth round by Philadelphia in 2017, but has struggled with injuries since.
Several more impactful pieces of the franchise have also been re-signed.
Paul Worrilow, Linebacker
In April of 2018, Philadelphia signed Worrilow to a one-year contract worth $2.5 million. Just a few months later in June, they placed the LB on IR. On January 30th, the Eagles signed Worrilow to another one-year contract.
After five seasons in the NFL, Worrilow has notched 413 combined tackles, 18 QB hits, four sacks, three forced fumbles, and four fumble recoveries.
Rodney McLeod, Saftey… Sort Of…
Rodney McLeod and his agency, Perennial Sports, have worked out an agreed upon restructured contract with Philadelphia. His base salary will be $1.5 million, along with a $1.6 million signing bonus. After the $1.5 million restructuring, his cap hit will round out at $4.8 million.
McLeod only played three games for the Eagles in 2018 after being injured in Week 3. In 2017, McLeod played and started 14 games for the Eagles. In that season, McLeod intercepted three passes, forced one fumble, recovered two fumbles, and recorded 50 combined tackles.
Jake Elliot, Kicker
Elliot has had a storybook career (for the most part) in Philadelphia. After landing on the waivers, Elliot was signed by the Eagles. Just weeks later, Elliot made a 61-yard field goal, the longest in franchise history and longest by an NFL rookie. Elliot's rookie year was then capped off with a Super Bowl ring.
Jake Elliot will make a base salary of $645,000 in 2019. In his two years in Philadelphia Elliot has attempted 62 field goals and made 52 (83.9%)

0-19 Yd FGA/FGM: 0
20-29 Yd FGA/FGM:12/12
30-39 Yd FGA/FGM: 18/14
40-49 Yd FGA/FGM: 21/19
50+ Yd FGA/FGM: 11/7

— Lauren Phillips (@LaurenP_52) March 12, 2019
Elliot's new one-year contract gives him a base salary of $645,000. He'll be a restricted free agent in 2020.
Rick Lovato, Long Snapper
Lovato has bounced around the NFL, starting in Chicago and then moving to Green Bay and Washington before Philadelphia. Since becoming an Eagle ahead of the 2017 season, Lovato has not missed a game. Lovato will make $720,000 in 2019 before becoming an unrestricted free agent in 2020.
Brandon Graham, Defensive End
The 30-year-old DE was a big question mark for the Eagles this offseason. It was unclear if Philadelphia would resign Graham and, if so, at what cost. After much negotiation, the Michigan alum signed a three-year deal worth $40 million. His average salary will be just over $13 million. Graham won't become a free agent until 2022.
Graham has only missed one game for the Eagles in the last three years. After playing as a linebacker, Philadelphia moved him to defensive end in 2016. Since, Graham has defended two passes, forced two fumbles, recovered one fumble, and recorded eight sacks, 19 QB hits, 15 tackles for loss, and scored a defensive touchdown.
His strip sack of Tom Brady in Super Bowl LII almost single-handedly saved the Eagles' lead, resulting in a victory.
Jason Kelce, Center
After rumors of a retirement swirled, due to Kelce, the Eagles announced on March 2nd that they agreed to a one-year contract extension. Kelce will make a base salary of $6.5 million in 2019 with an average salary of $11 million, the highest of any center in the NFL. The two-time Pro Bowler was already signed through 2021.
Isaac Seumalo, Offensive Lineman
Seumalo has played 36 games in Philadelphia, starting in 15 of them. During the 2018 season, he took over duties at left tackle, showing his versatility on the offensive line.
Per his new three-year contract, the former third-round draft pick will make an average salary of $5.3 million. His $15.9 million contract includes $7.68 million of guaranteed money.
Jason Peters, Offensive Tackle
The bodyguard is coming back for at least one more year. Peters signed a $10 million contract on March 11th.
Jason Peters' one-year deal has a max value of $10 million with $5.5 in guarantees, source said. Incentives in contract based on playing time that can up the value.

— Tim McManus (@Tim_McManus) March 11, 2019
The 37-year-old offensive lineman has had an impressive 15-year career, but has seen a decline in performance after a series of injuries.
Philadelphia Eagles' 2017 Game Averages

With Jason Peters:
339 Total Yards, 21.8 First Downs, 28.4 Points Scored, 2.7 Sacks

Without Jason Peters:
375 Total Yards, 21.5 First Downs, 29.2 Points Scored, 1.1 Sacks

— Lauren Phillips (@LaurenP_52) March 11, 2019
Welcome to Philadelphia, Bryce Harper… and You too!
Desean Jackson, Wide Receiver
Late in the afternoon on March 11th, news broke that the Eagles had agreed to a trade with Tampa Bay in which they would acquire Desean Jackson. Jackson was originally an Eagle from 2008 to 2013, even receiving the franchise tag. Jackson has recorded 589 career receptions, over 10,000 career receiving yards, and 61 touchdowns.
DJ will reportedly play on a three-year, $27 million contract as an Eagle. With Jackson soon to hit Philly's payroll, slot receiver Nelson Agholor may find himself without a team.
A reminder that Nelson Agholor's $9.4 million salary does not become fully guaranteed until Wednesday at 4 pm ET. Eagles could release him before then with no financial or salary cap consequences. https://t.co/FGX9iADXV5

— Dan Graziano (@DanGrazianoESPN) March 11, 2019
Malik Jackson
Ian Rapoport broke the news on March 11th that the Eagles were going to sign defensive lineman Malik Jackson. After agreeing to a future trade of Michael Bennett, Philadelphia needed to strengthen their line. Jackson was one of the main figures in the Jaguars' vicious front seven attack.
Photo Credit
Featured image courtesy of Nick Pompei via Flickr
Stay informed, follow our NFL Department and Lauren on Twitter for upcoming stories and news!
Subscribe to get the latest news from TSJ at the TSJ 101 Sports TV YouTube channel!