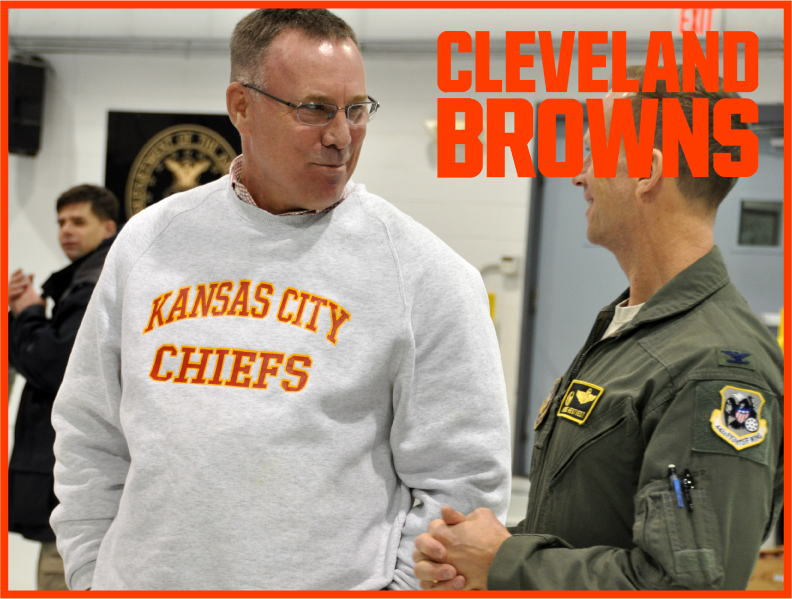 The Seldom Talked About Resume of John Dorsey, Impressive and Troubled
From 2015 to 2017, the Cleveland Browns won four games. Enter John Dorsey.
On December 7th, 2017, Cleveland named John Dorsey their new general manager, ousting Sashi Brown. Since Dorsey's hiring, the Browns have won more games in one season than they had in the three seasons prior combined.
Fast-forward to March of 2019, the Browns have the fifth-best odds to win Super Bowl LIV. The Cleveland Browns went from being synonymous with incompetence to America's New Team.
This metamorphosis is one of many impressive feats in a storied and colorful career of one, John Michael Dorsey.
John Dorsey: Brief Bio
John Dorsey's football career began in pads. A former linebacker at the University of Connecticut, Dorsey started all four years in college. During his time as a Huskie, he won the Yankee Conference Player of the Year Award twice.
Young John Dorsey had the rare privilege of being drafted twice. The Green Bay Packers selected Dorsey with the 99th overall pick in the 1984 NFL draft, while the Philadelphia Stars drafted him in the seventh round of the USFL's 1984 draft.
Dorsey chose to play for the Packers in the NFL. The Philadelphia Stars went onto win the USFL championship that season.
Dorsey retired in 1988 after playing five seasons in the NFL, all with the Packers. During his professional playing career, the ILB played 76 games, starting 15 of them. In those nearly eighty games, Dorsey forced four fumbles.
Front Office Career: Scouting & Operations
Green Bay Packers, Scout/Director of College Scouting. 1991-1998
From 1991 to 1996, Dorsey served as a scout for the Packers before becoming Director of College Scouting from 1997 to 1998. During that time, Dorsey helped scout and draft Esera Tuaolo, Terrell Buckley, and Darren Sharper.
Sharper, a five-time Pro Bowler, was a dominant defensive back. By the end of his career, Sharper recorded 63 interceptions and 1,412 interception return yards. Buckley, a Jim Thorpe Award recipient, gave a defensive and special team dimension to Green Bay.
In the 1996 season, the Packers won their first Super Bowl. It was also the first of Dorsey's career.
Seattle Seahawks, Director of Player Personnel. 1999
Dorsey was called up to Director of Player Personnel by Seattle for one season. The 1999 season became the first time the Seahawks had made the playoffs in eleven seasons.
Green Bay Packers, Director of College Scouting. 2000-2011
It was in those prior twelve seasons that Dorsey began to make a name for himself across the NFL. During this time, Dorsey scouted and drafted some of the most talented and hallmark players in Green Bay (as well as NFL) history.
To name just a few: Aaron Rodgers, AJ Hawk, Mason Crosby, Clark Harris, Greg Jennings, Jordy Nelson, Clay Matthews, and Randall Cobb.
The Packers' Super Bowl XLV victory in the 2010 season made for Dorsey's second of his career.
Green Bay Packers, Director of Football Operations. 2012
Dorsey was promoted once again, this time to Director of Football Operations. During this time, Dorsey helped re-sign a flurry of key players. Under his rule in the draft that year, the Packers selected Nick Perry, Casey Hayward, and Mike Daniel.
Players Scouted/Drafted/Signed by John Dorsey (1991-Present)

GB: Terrell Buckley, Darren Sharper, Aaron Rodgers, Mason Crosby, Greg Jennings, Jordy Nelson, Clay Matthews, Randall Cobb, Nick Perry, Casey Hayward#GoPackGo

— Lauren Phillips (@LaurenP_52) March 17, 2019
General Manager Resume
Kansas City Chiefs. 2013-2016
On January 13th of 2013, the Chiefs named John Dorsey as their general manager. Just nine days earlier, the Chiefs hired former Eagles head coach, Andy Reid. Dorsey and Reid had spent several seasons together in Green Bay on the coaching staff.
Dorsey wasted no time getting the Chiefs up to speed. After going 2-14 in the 2012 season, the Chiefs improved to 11-5 in 2013. Kansas City ended up losing in the Wild Card round and would miss the playoffs the following season.
In 2015, Kansas City returned to an 11-5 record, this time losing in the Divisional round. His final year with the Chiefs, the 2016 season, Kansas City finished first in their division for the first time in six years. In 18 years, the Chiefs had only done so twice.
Dorsey's real legacy in Kansas City goes beyond the win/loss record and playoff appearances. It is, once again, what he did in the draft. Under his reign, the Chiefs drafted Travis Kelce, Eric Fisher, Dee Ford, Zach Fulton, Marcus Peters, Chris Jones, and Patrick Mahomes. Several of those selections required complex maneuvering.
Dorsey also helped sign several players through free agency and trades. Some of these players include Eric Fisher, Jason Avant, Marcus Peters, Eric Berry, Nick Foles, and Alex Smith.
A Sour Ending
The Chiefs and Dorsey split ways on June 22nd of 2017. Dorsey remained unemployed throughout the 2017 season. While his transactional work in the front office was praised undoubtedly, his management style was brought into question. One source said it could, "wear on people."
A glaring example of mismanagement and poor corporate communication is the story of Jeremy Maclin's departure. The WR was let go from the team and found out via voicemail from John Dorsey.
KC (Drafted): Travis Kelce, Eric Fisher, Dee Ford, Zach Fulton, Marcus Peters, Chris Jones, and Patrick Mahomes

KC (Signed): Eric Fisher, Jason Avant, Marcus Peters, Eric Berry, Nick Foles, and Alex Smith.#ChiefsKingdom

— Lauren Phillips (@LaurenP_52) March 17, 2019
Cleveland Browns. 2018-Present
Dorsey was hired by the Browns at the end of the 2017 season. His first chance to make changes in the organization came that offseason. In the 2018 NFL draft, Dorsey pulled the trigger on several big-name draftees: Baker Mayfield, Denzel Ward, Nick Chubb, and Antonio Callaway.
Dorsey also signed wide receiver Jarvis Landry, one of the top receiving prospects in the league.
After a turbulent start of the season on the Browns' sideline, Dorsey didn't hesitate to cut ties with personnel. On October 29th, Dorsey fired both head coach Hue Jackson and offensive coordinator Todd Haley. Dorsey then named their defensive coordinator, Greg Williams, interim head coach.
After the coaching shift, the Browns went 5-3. Cleveland nearly finished 6-2 in those later weeks but a 24-26 loss to the Baltimore Ravens in Week 17 kept them at 5-3.
After the 2018 season came to a close, Dorsey did not stay idle. Without any prior indication, the Cleveland Browns concluded a trade with the New York Giants. The Browns received WR Odell Beckham Jr. and traded away first and third-round picks, along with safety Jabril Peppers.
Almost immediately, the Browns jumped to an AFC favorite to contend for a Super Bowl.
Some of the QB's drafted by John Dorsey

A.Rodgers: 2x MVP, 2x All-Pro, 7x Pro Bowl, 1x SB Champ, SB MVP

P.Mahomes: 1x MVP, 1x All-Pro, 1x Pro-Bowl

N.Foles: 1x SB Champ, 1x SB MVP

A.Smith: 3x Pro Bowl, 1x NFL Passer Rating Leader

B.Mayfield: Most Pass TD's by rookie QB (NFL)

— Lauren Phillips (@LaurenP_52) March 18, 2019
An Ethical Asterisk Mark
While GM of the Chiefs, John Dorsey drafted both Kareem Hunt and Tyreek Hill. Hunt showed little known signs of impending trouble during his high school and collegiate days, minus a two-game suspension his junior year. Hill, on the other hand, was kicked off the Oklahoma State football team for domestic violence.
In December of 2014, Hill was arrested after assaulting his pregnant girlfriend. The police report states he strangled her and punched her in both the head and in the stomach. While Hill's case was expunged after following court orders, that wasn't until three years after the fact. Dorsey drafted Hill in the fifth-round of the 2016 Draft.
In mid-March 2018, news broke that Hill allegedly broke his three-year-old son's arm.
The 'juvenile' involved in the Tyreek Hill battery investigation is speculated to be Hill's 3 year old son, who sustained a broken arm.

The same son who was in the womb of Hill's pregnant fiancé, when he punched her in the stomach and strangled her back in December 2014.

— Rich Ohrnberger (@ohrnberger) March 15, 2019
The following draft, Dorsey selected Kareem Hunt. In the middle of his second season with the Chiefs, Hunt was released from the team after a video surfaced of Hunt kicking a woman in the stomach. The incident took place in a hotel, in which the two had met. In the video, Hunt is eventually pulled back by several individuals.
In February of 2019, Dorsey and the Browns signed Hunt.
Dorsey's nonchalant attitude to domestic violence, as far as player personnel goes, is alarming. However, its not an exception to the high moral standard rule of the NFL. The Dallas Cowboys continue to "feed Zeke (Ezekiel Elliot)" and the Pittsburgh Steelers' front office is dedicated to the success of Ben Roethlisberger.
John Michael Dorsey's legacy of scouting acumen, drafting excellence, and front office dealings will be more heralded as time goes on. The asterisk, however, while seldom talked about, may become a painful mark on Dorsey in the years to come… or not.
Photo Credit
Featured image courtesy of Tech. Sgt. Emily F. Alley via U.S. Air Force 442 FW & LBDesigns via Wikimedia Commons
Stay informed, follow our NFL Department and Lauren on Twitter for upcoming stories and news!
Subscribe to get the latest news from TSJ at the TSJ 101 Sports TV YouTube channel!