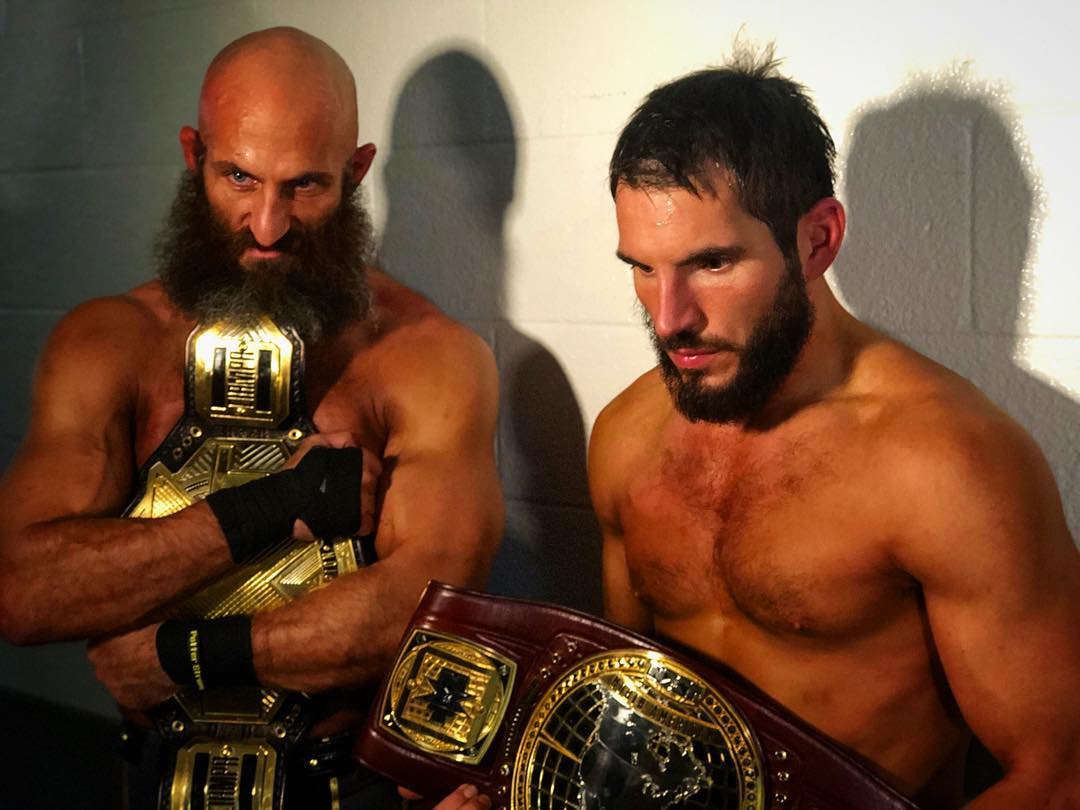 NXT Superstars
NXT Superstars Aleister Black, Ricochet, Johnny Gargano, and Tommaso Ciampa; all were called up to the main roster last Monday night on RAW and also appeared on Smackdown Live. Triple H announced to the WWE Universe that they are making their WWE debuts in matches respectively.
RAW Debut!
In their debut matches, Ricochet teamed up with Intercontinental Champion Finn Balor to take on Bobby Lashley and Lio Rush; Team #DIY fought against their old NXT rivals, The Revival; Aleister Black interrupted and beat Elias with the Fade to Black.
Smackdown Debut!
Last night on Smackdown Live, Shane Mcmahon announced that those four NXT greats will make their debuts in the land of opportunities. Aleister Black takes on his former rival, someone he beat in this NXT debut match and then the NXT title: Andrade "Cien" Almas. We then see #DIY beating and breaking The Bar, as Gargano said. Later we get Ricochet going against the SAnitY leader Eric Young.
Everyone won on their debut matches on both RAW and Smackdown Live, but what's the point?
Are they being called way too soon? Is this WWE's way of saying the company is afraid of the rising of AEW?
TSJ Writer's Thoughts on the Debuts!
As always, WWE is not too special on debuting new faces. There wasn't much hype on their debuts. Why did #DIY look like a face team?
Look at how WWE just gave the Revival the tag titles to make them happy and then the next day the champions lost the match to #DIY.
I think WWE is stacking up too many big stars on the main roster and soon there will be a break down; Everyone will want to be champions.
NXT Superstars who need to go back!
The company is wasting talents like Eric Young and his SAnitY members. Personally, I think they all should head back to NXT.
It's like a test; the company tests talents to see if they can hang on the main roster. And if they can't, rather than not using correctly on Smackdown Live or RAW, the company should just send them back to NXT. At least there they can try building back their characters.
Tye Dillinger is another example of a wrestler being called too soon. He was just building his character in NXT, and wasn't ready for the main roster. But the company didn't care. Now he's asking for his release from the company, and will likely join AEW.
Hideo Itami and TJP followed Dillinger, and soon Dean Ambrose will be too. There will be more releases to come.
Vince McMahon thinks current main roster are stale!
The reason RAW and Smackdown had their ratings go down isn't because the current roster is stale or they won't become "larger than life" Superstars like Stone Cold Steve Austin, The Rock, Triple H or The Undertaker. It's beacause what Vince thinks is wrong. WWE could make huge stars with Braun Strowman (before he got beat twice by a part-time Brock Lesnar). Rusev can become WWE Champion on Smackdown feuding with Samoa Joe, but both are nothing more than main-event jobbers (thanks to WWE writers).
These superstars won't help with the ratings in the long run! Because they haven't even given the first 6 call-ups major storylines yet. How will they give these other 4 call-ups new storylines on the main roster, while ruining their storylines and characters in NXT? Even Vince and Triple H had a heated argument backstage about this call-up.
NXT Superstars (Black, DIY, Ricochet) call-ups should wait until after Wrestlemania 35!
What do you think? Did WWE call them up too soon or at the right time? Leave a Comment below.
You can follow us on Twitter:
And follow the writer:
Photo Credits to WWE via Instagram