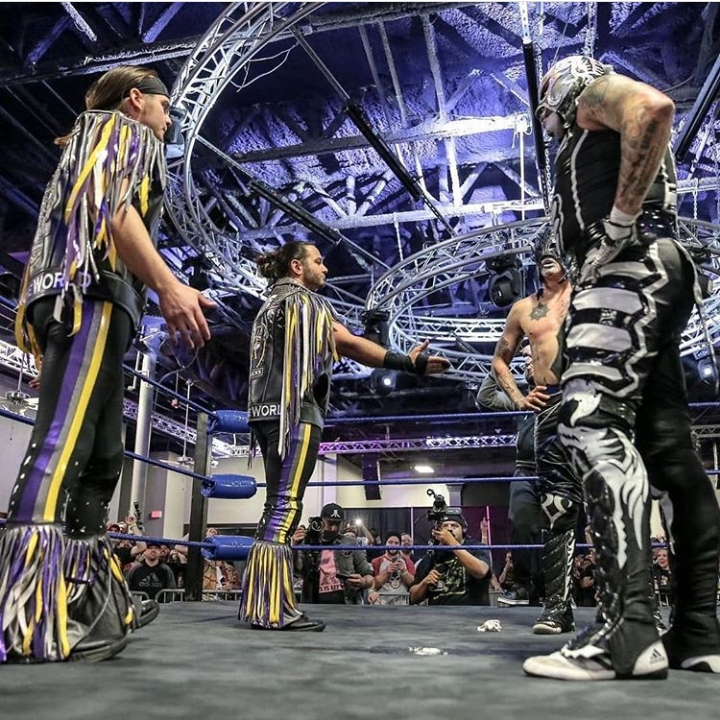 Come Hell or High Water Final Results and Grades
What in the world is Come Hell or High Water, you ask? This last Friday night, in the heart of Atlanta, GA, one of the biggest wrestling shows all year took place. Not only is it one of the biggest shows, but it is so far the only independent wrestling show to partake in the same city the SuperBowl takes place in the same weekend of the NFL Championship game.
A friend of mine attended the show and suggested I take a look. It's essentially an indie circuit super-show with the likes of Ken Shamrock, Mil Muertes, The Young Bucks, and Joey Ryan. Since I thought it would be a nice change from the usual WWE Graded, I've decided to critique Come Hell or High Water.
Was it a good show overall? Let's find out.
(PRE-SHOW) Baron Black def. Tim Miller
Final Grade: C+
Pretty good showing for two local indie talents. Would like to see more of them.
(PRE-SHOW) 6-Man Tag Team: Team Super Academia def. ???
Final Grade: C
Absolutely no idea who the second team was. They didn't have nameplates for the pre-show, and no one online knew who they were either.
Pretty decent match otherwise. Nothing awe-inspiring, but nothing to complain about.
Matt Cross def. Eli Everfly
Final Grade: B
Great athletic spectacle from both men. I haven't seen Eli Everfly before, but he's going to be a big name someday. Matt Cross still shows he can go move for move with men half his age. Cross hits the Shooting Star Press for the win.
Triple Threat: Thunder Rosa def. Penelope Ford and Delilah Doom
Final Grade: B-
Armdrag city, b*tch.
Lots and lots and lots of armdrags in this match. Don't know if it's these women's specialty, but there were armdrags a plenty here. Other than that, pretty good match overall. Thunder Rosa shows off great athleticism throughout. Joey Janela over on commentary tries his best to not to speak ill of Penelope Ford, which gives the match a somewhat comedic feel.
Ricky Starks def. "All Ego" Ethan Page
Final Grade: B-
Ethan Page unexpectedly turns baby face before the match. Ricky Starks hits a Rear View like move after his trunks gets pulled down. Pretty good match and good showing from both wrestlers.
Triple Threat: Mil Muertes def. Casanova Valentine and Vernon White
Final Grade: C+
Vernon White isn't in a lot of the spots in this match, which I found a little odd. Mil Muertes and Casanova Valentine fought through the crowd. Muertes broke Valentine's garden weasel.
8-Man Mixed Tag Team: Kikutaro, Joey Ryan, Kris Wolf, and Effy def. Steve-O Reno, Moonshine Mantell, Spryda, and Allie Kat
Moment of the Night winner: Everyone on Joey Ryan's team mimics his famous D*ck Flip spot at the same time
Final Grade: D-
This match tried to be funny at some spots. That being said, it felt like they were trying too hard and it came across as eight wrestlers that didn't really know what else to do. Good wrestling throughout, but it was taken down by the bad attempts at trying to be funny.
The only things saving this match from an "F" is the spots of actual wrestling and Hangman Page coming down to the ring with Cody to address the crowd and fight the heels.
Timmy Danger Southern Wrestling Gauntlet Challenge: Brian Pilman Jr def. Timmy Danger, Max Sex, Elisha Evans, Glacier, and The Yeti
Final Grade: C
Funny to see Glacier and The Yeataaaaaay make a comeback to wrestling. Match dragged on forever, but the finish came pretty quick.
Triple Threat Tag Team: Ken Shamrock & Tom Lawlor def. The Besties in the World and Simon Grimm & Eddie Kingston via submission
Final Grade: B+
Ken Shamrock arrives to be Lawlor's mystery partner. For a guy in his mid-fifties, Shamrock can definitely still put on a good performance.
Lots of crowd fighting. Ken Shamrock is stiff as all heck in his strikes. Hardcore wrestling with traffic cones and tables. Shamrock wins with the Ankle Lock
MJF def. Scorpio Sky
Final Grade: B-
MJF and Scorpio sky are great wrestlers, but something felt off about the match. It was either it went too long or it didn't feel like they were going all out. To be fair, it was a very good match, just not as good as I thought it could've been.
Tag Team: Lucha Brothers def. So-Cal Uncensored
Match of the Night winner
Final Grade: A
At one point towards the end, Fenix takes a running Suicide Dive out of the ring. He hits Frankie Kazarian, but he overshoots and launches himself into the crowd. I don't think that was intentional, but it was a great moment nevertheless.
All four men brought it all to put on a great match. Pentagon and Fenix hit the Coup De Grace/Package Piledriver combo before Fenix's epic dive. Penta hits one more piledriver for the win.
Overall Come Hell or High Water Final Grade: B-
Great showing for an indie super-show. I'm glad this was recommended to me, because I thought it was fantastic. Some parts here and there I felt were out of place, but the good parts overshadowed the bad ones.
After the match, The Young Bucks come out and offer AEW contracts to Rey Fenix and Pentagon Jr. They both accept and sign with All Elite Wrestling.
Social Media
Ryan Satin fears me…
Follow TSJ101Sports on Twitter: @T101Sports and @T101SportsWWE
Follow me, the writer, on Twitter: @JordanPiekarski
Photo credit to alleliteweekly via Instagram