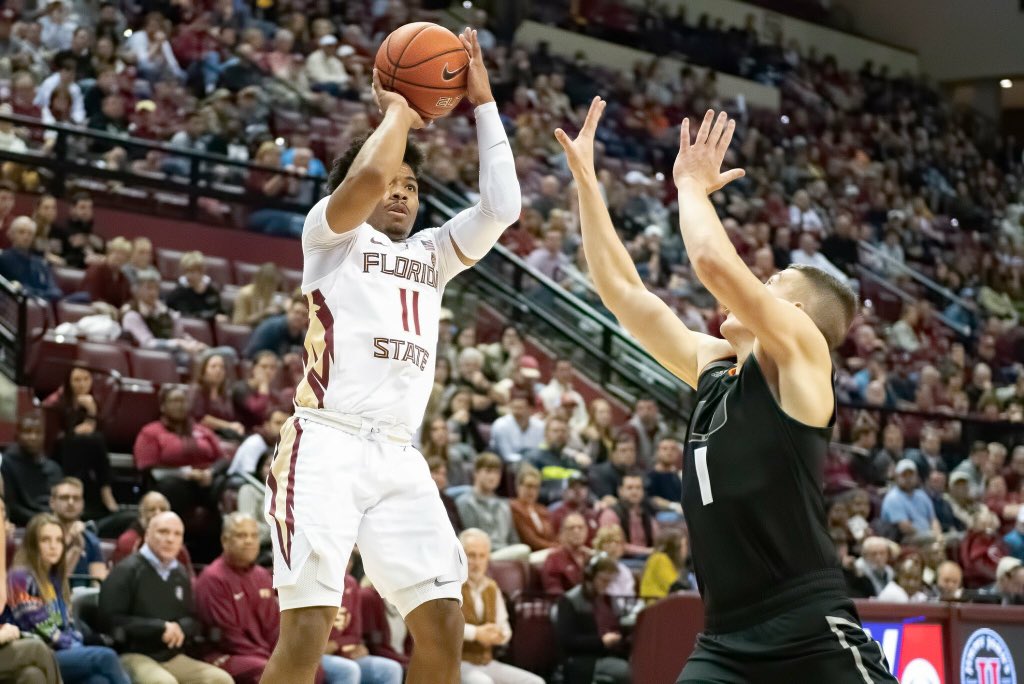 Matchup: #1 Duke Blue Devils (13-1, 2-0) @ #13 Florida State Seminoles (13-2, 1-1)
Date: Jan. 12th, 2019
Time: 2:00 p.m. (est)
Network: ESPN
Location: Tallahassee, Florida, USA
Venue: Donald L. Tucker Civic Center
Seating Capacity: 12K
Tougest Test Yet?
Duke has taken on four top 25 teams so far in the 2018-19 season, but could #13 Florida State be their toughest test yet? The Blue Devils won their first road game of the season against Wake Forest, but the Seminoles are a much bigger monster, especially in Tallahassee.
The Starters
Florida State
Guard – #14 Terance Mann
Guard – #3 Trent Forrest
Small Forward – #23 MJ Walker
Forward – #0 Phil Cofer
Center – #21 Christ Koumadje
Florida State comes into the marquee matchup against #1 Duke with an extremely balanced attack. With eleven players averaging at least 4.0 points per game, the Noles will always have five players on the floor with the ability to score. Senior guard Terance Mann (11.8 PPG while shooting .545% and 6.4 RPG) has been the heartbeat for the #13 ranked Seminoles. Florida State is led in assists by junior guard Trent Forrest (3.3 APG). FSU is arguably the deepest team Duke will face this year, with thirteen players appearing in at least ten games.
Phil Cofer (Five games played) just returned from injury. As an offense, the Noles have scored 78.5 points per game, while shooting .460% from the field and .327 from beyond the arc. Defensively, they have allowed opponents to score 67.7 points per game. Opponents have shot .387% from the field and have allowed opposing squads to shoot 32.4% from three. Overall, there is not anything on the defensive side of the court that the Seminoles excel in.
Duke's Key
For Duke to capture a huge road win, they need to get off to a quick start and take the FSU crowd out of the game early on. A top 15 matchup against the #1 team in the country can guarantee a rowdy Noles crowd and Duke needs to take an early lead.
Florida State's Key
For the Seminoles to pull off the upset, they have to find a way to keep pace with Duke's uptempo game. Duke wants to play fast and there is not much of a way to slow it down, so FSU is going to be forced to keep pace with the Blue Devils.
Prediction
Florida State will keep the game close until late, where Zion Williamson will take over. Tre Jones is an elite distributor and Florida State won't be able to keep him from dropping dimes. RJ Barrett will go for 20 points, Jack White and Marques Bolden will have another pair of big games off of the bench, and Duke will roll late.
Duke: 81
Florida State: 69
Follow us on YouTube and Twitter
Photo Credit: FSU Hoops via Twitter