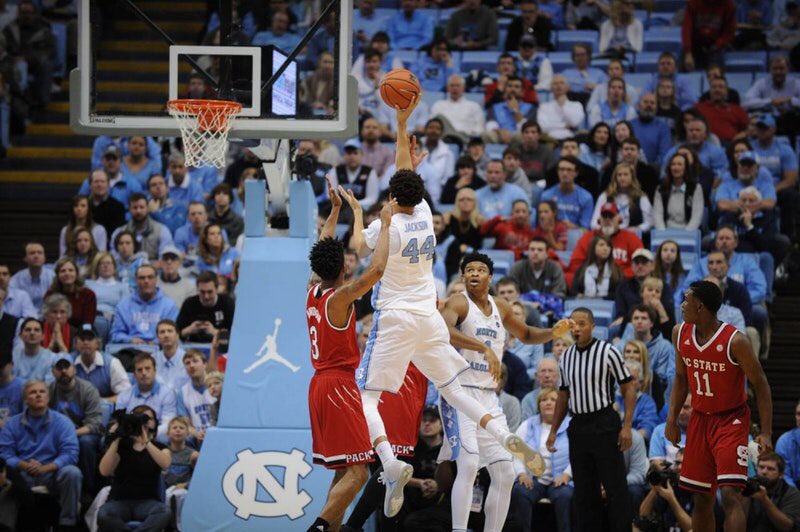 College Hoops Preview: #12 North Carolina vs. #15 North Carolina State
Matchup: #12 North Carolina Tar Heels (11-3, 1-0) @ #15 North Carolina State Wolfpack (13-1, 1-0)
Date: Jan. 8, 2019
Time: 9 p.m. (est)
Network: ESPN
Location: Raleigh, North Carolina, USA
Venue: PNC Arena
Seating Capacity: 19.7K
Quite possibly the biggest game of the evening, the inter-state rivals of North Carolina (UNC) and North Carolina State square off in what should be a great game. This is the first time since 2004 where both of the schools will meet and are ranked in the top 15. In that 2004 game, UNC was ranked #12 and NC State was #14. UNC won 68-64, a game played in Raleigh. Will history repeat?
UNC and NC State will meet for the first time since 2004 where both schools are ranked in the top 15. In that game, UNC was 12 and NC State was 14. UNC won that game 68-64 in Raleigh

— T101Sports NCAA 🏀 (@T101SportsCBB) January 8, 2019
Even Stevens
These two schools share many parallels, both on offense and defense. UNC ranks fifth in the nation for points per game with 89.9. NC State is right behind them, averaging 89.2 points per game. UNC averages 19.7 assists per game, while the Wolfpack average 18.1. The Tar Heels average 3.9 blocks and 7.9 steals per game, with the Wolfpack's numbers being 3.8 blocks and 7.8 steals per game.
Besides the numbers listed above, both of these schools also have a ton of experience. UNC's top two scorers in Cam Johnson and Luke Maye are seniors, while NC State features three upperclassmen who rank as the school's top scorers. Cam Johnson is the most noticeable player on the court, averaging 16.3 points per game which leads any player in this matchup. Johnson is on fire entering this one, shooting 40% or higher from three-point land over his last five games. He also shot a ridiculous 6-for-8 (75%) from downtown against Gonzaga. Besides the scoring tear Johnson seems to be on, he had a season-high nine rebounds in his last game against Pittsburgh.
UNC's Back Bone
With Cam Johnson getting all the attention from media and opposing coaches, it's easy to forget the production both Luke Maye and Coby White provide. Luke Maye averages 14 points and 9.9 rebounds per game, with five double-doubles on the season. He also gets to the charity stripe, evident by his 22 free throw attempts over his last five games. In those 22 attempts, Maye only missed three. Perhaps the most impressive roll Maye has been on lately is on defense. After only recording three blocks in his first 10 games, Maye has responded with four blocks over his last four games.
Coby White's influence is very important, as his scoring efficiency is among the best in the nation. White ranks within the conference's top 10 in free throw percentage, assist total, assists per game and assist percentage. Over his last three games, White has 14 total assists to go along with shooting 100% from the free throw line. He also has recorded 35 points in his last two games, after only netting eight against Kentucky.
The Other Wolfpack
With Nevada receiving so much national attention, it's easy to forget about another dominate Wolfpack team. NC State has done nothing short of impressive all season long, winning recent games against both Auburn and Miami-Florida. As mentioned earlier, both schools feature tons of experience. Of the four NC State players that average a double-digit point total, three of them are upperclassmen.
Torin Dorn is the main catalyst for NC State, averaging 14.5 points and 6.5 rebounds per game. Dorn's season has been terrific overall, but he has gone cold a bit in recent games. In two of the last four games, Dorn has had his only single-digit point totals of the season. In fairness to the Wolfpack though, they really didn't need his offensive services. Markell Johnson may end up being the biggest factor for NC State's success.
Johnson's offensive numbers overly impress, ranked second in the conference in two-point field goal percentage. He also features the top true shooting percentage at 74%. He is ranked first in the conference in assists per game along with a 41% assist percentage, not to mention ranked first in offensive rating with a 137.3.
Johnson also seems to show up in big games. In the Wolfpack's win over Miami-Florida, Johnson scored 27 points to go along with a 4-for-6 performance from beyond the arc. Against Auburn, he shot 5-for-8 from three and scored 21 points in a loss to Wisconsin.
Follow us on YouTube and Twitter
Photo Credit: Justin Jackson via Twitter