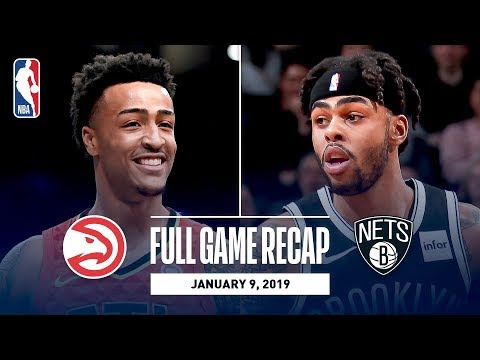 Nets Show Resiliency Once Again, Top The Hawks At Home 116-100
Following their 116-95 loss to the Boston Celtics, the Brooklyn Nets looked to take advantage of a weak Atlanta Hawks team. Once again, Brooklyn proved that they have a short memory as they defeated the Hawks 116-100. Earlier in the season, the Nets had an eight game losing streak. They followed that by winning nine of their next ten games.
Nets coach Kenny Atkinson has installed a winning attitude into the once lowly Nets. This season has been a resurgence for the once decimated Nets. The beauty of the team is that there are multiple contributors on a night to night basis. Whether it be Spencer Dinwiddie, D'Angelo Russell, Jarrett Allen, rookie Rodions Kurucs, or whomever, the Nets usually seem to pack a punch.
Injuries beginning to heal
The game against the Celtics deserves an asterisk aside it in the schedule. The Nets were missing five players in addition to Caris Levert, who is out indefinitely. Joe Harris, Rondae Hollis-Jefferson, Demarre Carroll, Allen Crabbe and rookie Dzanan Musa were all sidelined in Monday's game. This meant that the Nets would have to use the deepest parts of their bench.
Kenneth Faried has played in 11 games all season. He played 28 minutes on Monday out of necessity. That said, he has been productive when given the playing time. Faried has recorded a double-double in the two games where he has played more than ten minutes. On Wednesday, Harris and Carroll were back on the floor leaving Faried out of the lineup.
Nets earn win against Atlanta
This game started out poorly for the Nets, as the Hawks jumped out to a 38-23 lead at the end of the first quarter. Whatever coach Atkinson said at the end of the quarter seemed to be effective. The Nets outscored the Hawks 93-62 in the remaining three quarters. Russell led the Nets in scoring with 22 points, shooting 11-20 from the field.
Ed Davis continued his legendary rebounding season, finishing with a game high 16 rebounds. Dinwiddie led the Nets with five assists. As for Atlanta, John Collins had another good game, scoring 30 points along with 14 rebounds. Trae Young scored 17 points and had 7 assists, but he turned the ball over six times. Jeremy Lin had the only positive plus/minus for Atlanta, scoring 16 points in 28 minutes and tallying three steals.
Photo Credit
News Videos via Flickr