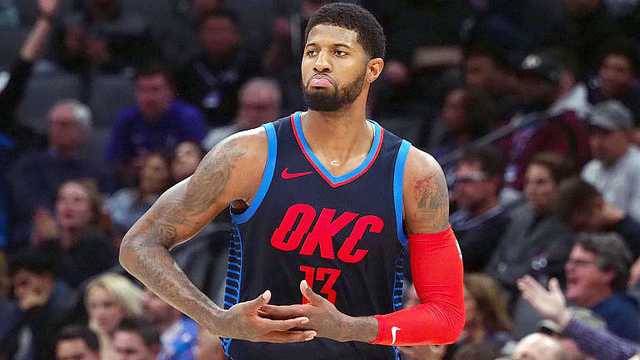 Thunder Fall Short 154-147 in Double OT Against The Spurs
In one of the best games in the regular season, the Oklahoma City Thunder fell short 154-147 in double overtime against the San Antonio Spurs. The Thunder faced insane odds, and made it known they weren't going down without a fight. But in the end, some calls didn't go their way and they go home on a three-game losing streak.
However, there aren't too many things for them to have their heads down about. There were many positives to come out of this game.
Some Career Games
Russell Westbrook had one of the best games of his amazing career. Westbrook scored 24 points on 11-22 shooting, grabbed 13 rebounds, and a ridiculous 24 assists. You read that right, 24 assists; that is his new career-high. What might be the best part of his night is he only had three turnovers. He made great play after great play, playing the smartest game of basketball I have ever seen.
Jerami Grant was absolutely phenomenal for the Thunder last night. He had a career-high 25 points, 12 rebounds, and three blocks. He made an alley-oop from Westbrook to bring the Thunder to overtime. Unfortunately when Steven Adams went down, he had to guard a steaming-hot night from LaMarcus Aldridge and eventually fouled out of the game.
Terrance Ferguson made everything from the three-point line. He went 7-10 from 3-point range and finished the night with 21 points. He got himself open when the team needed it most. Ferguson has seemed to find himself these past couple games after Abdul Nader got hot off the bench. The Thunder need a consistent shooter from three point distance, and hopefully they've found it in Ferguson for the rest of the season.
Thunder Almost Overcame Insane Odds Against Spurs
The Spurs had a ridiculous shooting night from the field and the Thunder almost overcame the odds. They shot a little over 56% from the field, a ridiculous 84% from 3-point range, and 90% from the free throw line. Aldridge scored a career-high 56 points on 20-33 shooting and 16-16 from the free-throw line. Derrick White had 23 points on 10-17 shooting, along with eight assists and five rebounds. The bench play for the Spurs was also phenomenal. Marco Belinelli had 19 points and hit five 3-pointers. Davis Bertans hit four threes and Patty Mills had 14 points.
All of that occurred last night, and the Thunder still never gave up. They were, as Antonio Daniels said post-game, resilient all game long. The Thunder scored 37 points in the fourth to bring it to overtime. Then after being down four with a minute left, they found a way to tie the game and force a second overtime. They fought hard the entire second overtime, but calls were made and the Thunder couldn't sustain those calls.
Some… Questionable Calls.
In the second overtime, Paul George scores a basket on a layup where it seemed as if Aldridge fouled him. George made his case to the referee, like most stars of his caliber would. We have seen it plenty of times before, and just like that George was called for a technical foul.
There have been countless stars who would yell at the referees for a call they have missed. Some that shouldn't even be discussed. However, George had all the reason to say something after getting hit in the arm by Aldridge. To call that technical that late into the game is outrageous.
Then later in the second overtime where DeRozan commits a foul as George hits a three, which could have possibly cut it to two, they overturn it and instead Adams takes two free-throws.
Shaky officiating isn't the main reason why the Thunder lost, but it did help slow down momentum the Thunder were building.
A Legendary Game
This is the Thunder's third loss in a row, and no doubt it is a tough one to swallow. However, they hung in a game that most thought they should've won at the end. Moral victories will not slide with this team, but it sure will light a fire under them. There were so many positives to take away from this game.
Even with Adams turning his ankle badly, he went back out in overtime to help his team try to get the win. They will have a chance Saturday to get revenge against the Spurs.
Photo Credit
James Anderson via Flickr
Writer Brandan Verrastro