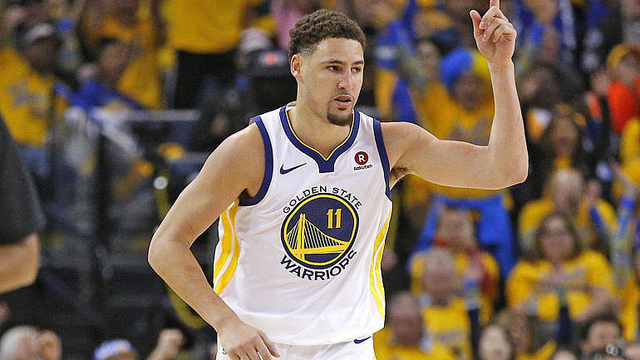 Klay Thompson Torches Knicks For 43 Points, Warriors Win 122-95
The most impressive stat for Klay Thompson last night in his outstanding performance for the Golden State Warriors wasn't his shooting percentage. Nor was it his turnover ratio. The standout stat for Thompson was the decimation of the New York Knicks defense by only dribbling the ball four times. This is not a first for him either. Flashback to the Warriors 2016 matchup versus the Indiana Pacers. Thompson scored a career high 60 points.
Surprisingly enough he only dribbled the ball 11 times. This win serves a dual purpose for the Warriors. Their record improves to 27-14 remaining in second place overall in the Western Conference. Also, they end their three game home losing streak. Thompson scored 43 points last night leading the Warriors to a 122-95 victory over the Knicks.
Klay Did Not Act Alone…
Although the Warriors struggled at times during the first half, they righted those wrongs and went to halftime with a 61-49 lead. Thompson's sharpshooting skills were on display however he did not act alone. Stephen Curry, the other half of the "Splash Brothers", earned his first double double of the season with 14 points and 14 assists.
Curry also grabbed seven rebounds. Draymond Green came up short on the scoring end with just two points. However, he showed how versatile his skill set can be by dishing out 10 assists and snatching 11 rebounds. And that guy Kevin Durant, who is known for his scoring prowess, racked up 24 points. Durant also totaled 6 rebounds, 6 assists and 2 blocks. The blocks places him in an exclusive group. Durant's the ninth player in NBA history to record at least 22,000 points, 5,000 rebounds, 3,000 assists and 900 blocks in their career.
A Rough Night for Kevin Durant's Number One Fan…
It is no secret that this has been a very disappointing season for both the Knicks players and their fans. One in particular got to experience that disappointment up close and personal. That being the Eastern Conference Rookie of the Month Kevin Knox. Knox has idolized the NBA Finals MVP since his childhood and emulated his game after him. Unfortunately beside sharing the same first name, their similarities pretty much stop right there.
Knicks Starting Five Struggled Against The Warriors
Knox finished with 12 points and 2 rebounds. He finished the game tied for third in points with center Enes Kanter. Kanter's double double (12 points, 16 rebounds) by far possessed the most eye catching stats for the Knicks. However, it was Mario Hezonja's 19 points from the bench that led the Knicks in scoring. In the end, the dismal effort from their starting five just was not enough to give them a fighting chance against the defending NBA champs.
It Ain't No Bull…
The Warriors will have two days to prepare for their next opponent. The Chicago Bulls will be heading to Oracle Arena Friday evening for a showdown versus The Warriors. Before the Bulls get to Oracle Arena, they'll be facing the Portland Trail Blazers at the Moda Center on Wednesday night.
They're currently on a four game losing streak and would love nothing more than to pick up win against both Portland and Golden State. Will Golden State be able to extend their home winning streak? Or will the running of the Bulls derail their plans? Tune in Friday evening to find out!
Written by Todd Smith
Photo Credit James Anderson via Flickr