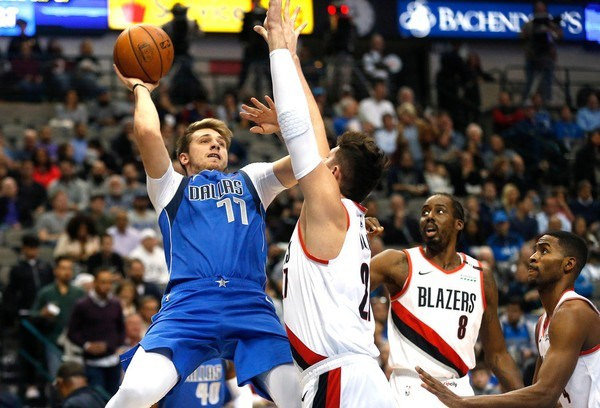 Breaking Down The Resurgence Of The Dallas Mavericks
The Dallas Mavericks started the year 3-8, and seemed to be going down the road of mediocrity once again. Since then, they've lost two games to the Memphis Grizzlies and Los Angeles Lakers, who are a combined 27-18. I have been trying to figure out if the Mavericks are on hot-streak or if they are the real deal. To be honest, I am still not entirely sure, but I thought I'd break it down.
Potential Rookie of the Year
Luka Doncic is clearly the leader and best player on the Mavericks roster today. He's shooting the ball very well this season, shooting 44% from the field and 39% from three. Doncic is leading the team in scoring at 18.6 points and is very efficient while doing so. He also seems very solid in the clutch, hitting daggers in games against the Golden State Warriors and Portland Trail Blazers.
Doncic is also averaging 6.6 rebounds (2nd on his team) and 4.2 assists (tied for second). None of these stats will "wow" you or scream he is a superstar. But he looks like the best rookie this year and possibly the best pick in this draft class potentially. This team goes as he goes, and as long as he brings his normal energy to the court as he always does, this team could be in for a surprising season.
Improvements of Dennis Smith Jr. and DeAndre Jordan
Last year, Dennis Smith Jr. seemed a bit underwhelming. Sure, he was a SportsCenter top 10 highlight reel. He's a fantastic, ferocious dunker that probably should've won the dunk contest last year. However, he seemed uncomfortable last year. His shot wasn't falling, only shooting 39.5% from the field and 31.3% from three. Truthfully, the team wasn't good last year and definitely needed more pieces, but you could still see the struggles.
This year seems like a completely different story. His shot seems it's back to life, shooting 44% from the field and 35.9% from three. He is a dynamic guard, and his game seems to get along very nicely with Doncic's. Maybe all he needed was that motivation and extra guy to get his game going.
DeAndre Jordan has been a huge positive for the Mavericks as well. Obviously, he's still rebounding and playing defense at an elite level. Jordan is averaging 13.8 rebounds per game and is the defensive anchor for this Mavericks team.
There is one thing that's shocked me about his game this year and that's his free-throw percentage. The man who was basically the next Shaquille O' Neal when it comes to the free-throw line is hitting 75.8%. That is by far his best year and has possibly conquered those demons.
Equal Balance In Dallas
This Mavericks team is filled with guys who are all over the place in terms of experience. You have Harrison Barnes, who may not be a number one option, but is an NBA Champion in his own right. He's also one of the better "3-and-D" players this league has to offer. He's averaging 17.9 points and hitting 40% of his threes.
Wesley Matthews is another veteran who has been known for his efficient scoring from three-point range as well. This is his fourth year in Dallas and it's by far his best. He is hitting 44% from the field and 39% from three, which is a vast improvement compared to his first three years with Dallas.
You have two point guards in JJ Barea and Devin Harris, who feel like they have been in the league for centuries, especially on this team. Both have tons of experience and are great back-up players for Smith Jr and Doncic. They can help them as the season goes along. Also, Barea is leading the team in assists, 5.8 per game, so there's that.
The team also has young, athletic forwards like Dwight Powell, Dorian Finney-Smith and Maxi Kleber, who are energy bunnies off the bench, and help with the team with whatever they provide best.
Nowitzki Out is… a Good Thing?
Dirk Nowitzki hasn't stepped on the court once this season, and could be for the better at the moment. He is now 40 years old and doesn't have that seem impact or shot he used too. He's given everything he had to the Mavericks franchise, but bringing him out on the court for quality minutes might hurt the team. As you could tell, he isn't exactly the fastest guy on the court. Never really was.
However, the 7-foot German can help teach Doncic the ways of growing his game in the NBA for a long time to come. Something tells me Nowitzki will be with the Mavericks for a long time either as a coach or in a front office role.
Coach Carlisle
Mavericks head coach Rick Carlisle is still considered one of the best in the NBA today. However, the past two years have been brutal for him. He hasn't had much to work with. This is a team that can get him in my conversation as one of the best. He is an NBA Champion and a very consistent winner for this Mavericks franchise.
He's for sure one of the best coaches in crunch-time and his ability to stay level-headed in crucial moments is incredible. In close games this season, he's been able the past few games to keep this team focused. That is huge having the team led by a rookie.
Outcome for the Rest of the Season for the Dallas Mavericks
I'm not certain this team will make the playoffs when it's all said and done. The whole Western Conference (besides the Phoenix Suns) is neck-and-neck from first to fifteenth place. At any point, the Houston Rockets or New Orleans Pelicans can get hot and start winning, and the Mavericks could end up falling.
This team doesn't shock you with any statistical category, maybe besides attendance. But they play the right way and have shown they can beat any team on any given night. They need to improve when they are away from American Airlines Center, but this team has enough talent to sneak into an 8th seed in the Western Conference.
Photo Credit
Highlight Store via Flickr
Writer Brandan Verrastro