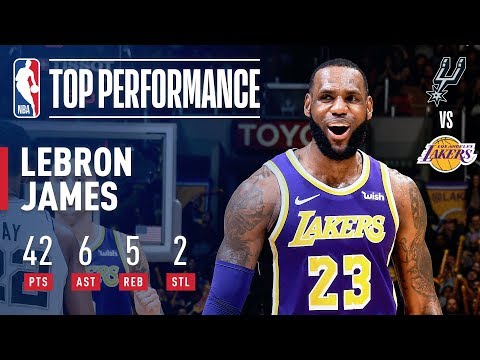 LeBron James' 20 4th Quarter Points Lead Lakers Past Spurs 121-113
The Los Angeles Lakers won their fourth straight last night, defeating the San Antonio Spurs 121-113. The Lakers won behind a 42 point masterpiece from LeBron James. James scored 20 of his 42 points in the fourth quarter, but also had help from the younger Lakers down the stretch. Kyle Kuzma scored 22 points and grabbed nine rebounds in 38 minutes. Kuzma has slowly started to emerge as a viable secondary scoring option behind James. 
Josh Hart also hit two big three pointers down the stretch and made a strong impact despite being in foul trouble for most of the game. I really liked what I saw out of Lonzo Ball last night. Ball finished with 14 points, 4 rebounds and 9 assists. Ball also had a clutch three in the fourth quarter and shot it with no hesitation. Seeing the young pieces flourish in clutch moments alongside James is a very encouraging sign going forward.
However, with the win last night, there also came a big loss. Midway through the first quarter, Brandon Ingram sprained his ankle after a flagrant foul by LaMarcus Aldridge. X-Rays came back negative, but Ingram is expected to miss at least the next couple of games. With Ingram out, I would expect Hart to take his place in the starting lineup. In order to win without Ingram, the Lakers are going to need big performances from Kuzma and Ball. 
Player Of The Game: LeBron James
It's no secret last night was all about James. James finished with 42 points, 5 rebounds and 6 assists. Aside from the scoring and his 20 fourth quarter points, James' field goal percentage impressed me. James shot 62.5% from the field, and 3-7 from downtown. Another important stat to note is that James had no turnovers in the fourth quarter.
Going forward, James playing 40 minutes night in and night out is something I don't want to see. In order for the Lakers to be a threat down the stretch and in the playoffs, James' body has to be at 100%. The Lakers are going to have to consider resting James on back to backs to make sure that is the case.
Looking Ahead:
The Lakers will be traveling to San Antonio on Friday to play the Spurs yet again. This is the last time this season these two teams will play, so I would expect the Lakers to want to end the season series with a bang. On Saturday, the Lakers will be traveling to Memphis to take on the Grizzlies.
This is a game that if I were Luke Walton, I would rest James. Memphis is off to a hot start, but I seriously doubt going forward they're going to be a threat in the Western Conference. With a Christmas day showdown against the Golden State Warriors soon approaching, getting James at 100% is a necessity for the Lakers
Photo Credit
News Videos via Flickr