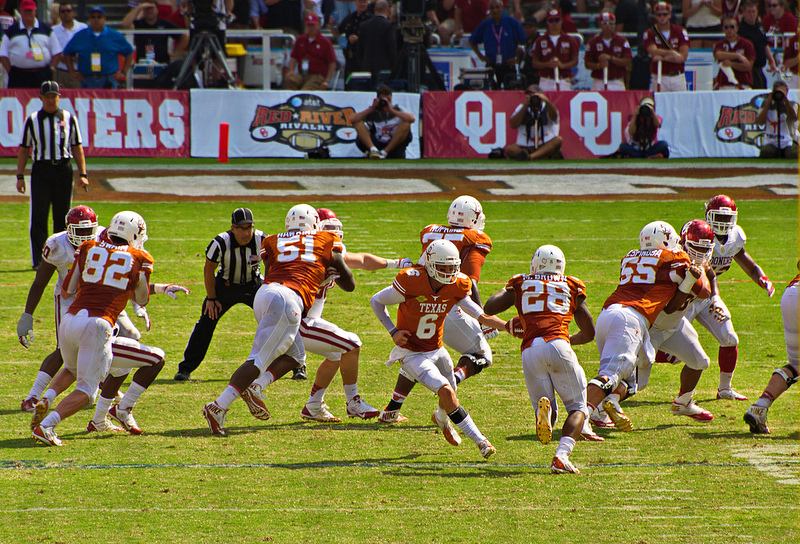 It's time to get ready for the Big 12 Championship to figure out, who is the best. The Longhorns of Texas will take on the Oklahoma Sooners, in what fans call Round 2. Who will come out victorious? Let's take a look at the two teams recap that got them here.
Oklahoma vs Texas
Oklahoma
The Sooners of Oklahoma have had an impressive year. They have a 11-1 record, and that one loss was to.. you guessed it. The Longhorns of Texas. Quarterback Kyler Murray was able to lead the Sooners to a win against the West Virginia Mountaineers after a 59-56 victory. For those who watched the game, it was definitely a cardiac arrest game.
Texas
Longhorns of Texas has had a good season, but not quite impressive like the Sooners. The Texas Longhorns are 9-3, with 24-17 win over Kansas last week. Sooners and Oklahoma met in regular season, and quarterback Sam Ehlinger lead the Longhorns to a 48-45 win. In most college football teams, if they ever get an chance to play a team again, they lost to they always come prepared, and ready for revenge. Texas needs to be prepared for the IMPRESSIVE Sooners, because they are coming for the championship.
Player Match-up
Oklahoma Sooners
Quarterback Kyler Murray had 364 passing yards, 3 touchdowns, 1 interception, and 9 carries with 114 yards against the West Virginia Mountaineers. Two other players to look out for are running back Kennedy Brooks and wide receiver Marquise Brown who had 11 receiving and 243 yards against West Virginia.
  Texas Longhorns
Quarterback Sam Ehlinger had 154 passing yards, 2 touchdowns, and 2 interceptions against Kansas last week. Running backs Tre Watson and Keaontay Ingram averaged together for a total of 27 carries, and 130 rushing yards. Wide receivers Devin Duvernay and Collin Johnson averaged together with a total of 7 receives, and 85 receiving yards.
Prediction
The Longhorns are the favor to win in this case. The Sooners are currently ranked number 6, while the Longhorns are ranked number 14. Will this be an advantage for the Sooners? Or will this just be a down fall?  However, I think the Sooners are gonna become Big 12 Champions this year, with the final score of 49-42; and send the Longhorns back home.
Game Information
Date: Saturday December 1st, 2018
Time: 12pm(Eastern time)
Location: AT&T Stadium Arlington, Texas
Channel: ABC
Let's Get Ready for the Big 12 Championship!
Social Media
Follow TSJ 101 Sports on Twitter!
Department: College Football
Writer: @justbeingk88
Picture Credit: Matthew via Flickr