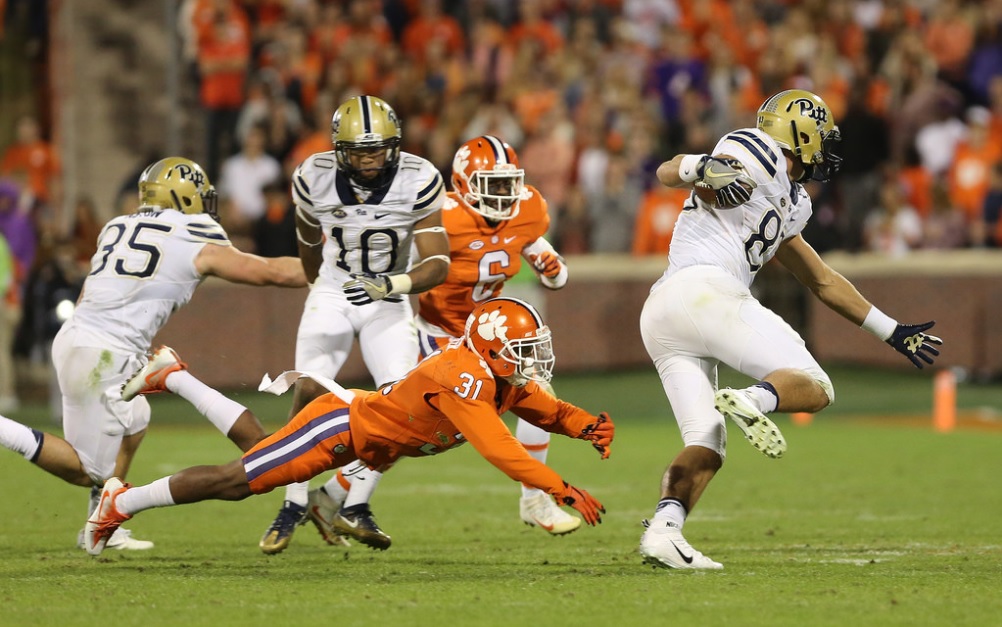 ACC Championship Preview: No. 2 Clemson vs Pittsburgh
No.2 Clemson vs Pittsburgh. Clemson heads into the ACC Championship match undefeated and ranked second in the nation. Pittsburgh played spoiler the last time these two teams met and upset the Tigers on the road in 2016. Luckily for Clemson, it didn't keep them out of the playoff and they won it all to claim the 2016 National Championship. 2018 shapes up to be the same story. Clemson rolls in with a talented team that should steamroll the Panthers. Will Pittsburgh pull off another stunner and further cloud the College Football Playoff picture?
Clemson O vs Pittsburgh D
Last week, Clemson seemed unstoppable on offense. Clemson scored 14 points each quarter to hang 56 on the Gamecocks. Meanwhile, Pittsburgh's defense did a serviceable job against Miami but lost by 21. If Pittsburgh could hold Clemson to 24 and actually score on offense, this could be a game. However, Miami ran rampant against Pittsburgh's defense. Unless Trevor Lawrence, Travis Etienne, and the rest of the first string offense get injured before kickoff, I don't like Pittsburgh's chances.
Advantage: Clemson
Clemson D vs Pittsburgh O
Other than last week's defensive disaster, Clemson's defense has looked awesome. Pittsburgh could not score a touchdown against Miami. South Carolina's QB Jake Bentley had a career night against Clemson but still lost by 21 points. Unless the Pittsburgh offense from 2016 shows up, I don't think they are going to see much success. Clemson's defense will be ready prove last week's fluke performance and exact revenge on Pittsburgh for the 2016 loss at home.
Advantage: Clemson
What Will Happen…
The battle for the ACC Crown will give off plenty of energy in the stadium. Both teams come out fired up to match blow for blow. However, Clemson isn't facing a rival and is playing in a revenge game. Pittsburgh will throw the kitchen sink at Clemson but it won't matter just like last week. Clemson's defense makes a statement and ACC's Player of the Year Travis Etienne runs wild as the Tigers win their fourth straight ACC title.
Clemson 52 Pittsburgh 10
What do you think happens? Will Clemson struggle with Pittsburgh for the ACC crown?
Photo credit to Dawson Powers via Flickr