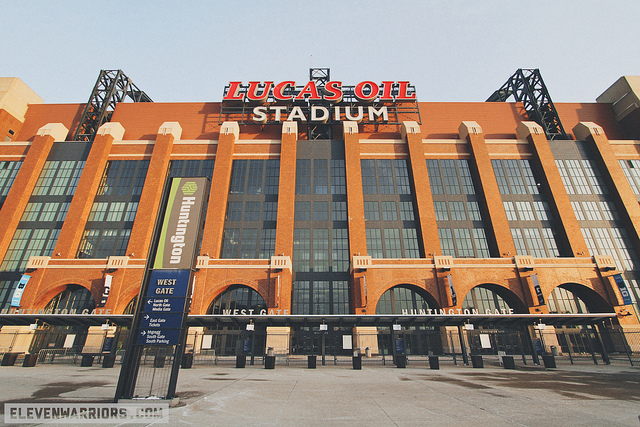 Big Ten Championship Ohio State vs Northwestern
With the college football regular season coming to a close this past weekend, championship weekend is now upon us. Let's take a look at the Big Ten Championship preview Ohio State and Northwestern.
Big Ten Championship
Indianapolis and Lucas Oil Stadium will host the eighth annual Big Ten championship game. Ohio State, the champion of the Big Ten East Division, will be the designated home team.
Ohio State
The Buckeyes will be making their fourth appearance in the Big Ten Championship this weekend. They have appeared in years 2013, 2014 and recently in 2017. The Buckeyes will look for their third overall victory and second in as many appearances.
Offense
Ohio State will bring the second-best offense in the country to the table on Saturday evening against the Wildcats. In 12 games, the Buckeyes' offense has amassed 975 plays worth 6,527 total yards and average 6.69 yards per play. The Buckeyes average 543.9 yards per game and a total of 64 touchdowns. The Buckeyes  are led by sophomore Dwayne Haskins who has been nothing short of phenomenal this year. In 12 games, Haskins is 314-455 along with seven interceptions and 42 touchdowns. Haskins has thrown for 4,081 yards.
Likewise, Ohio State's  rushing attack has been up to par as well. In 12 games, J.K Dobbins has 206 rushes for a total of 979 yards. Additionally, Dobbins has eight touchdowns averaging 80.1 yards per game. On the other hand, with one less game played, Mike Weber on 140 rushes has 838 yards averaging 5.8 per play and 73.4 per game. Weber has five touchdowns on this year on the ground. Receiving wise, Ohio State has two top receivers in Parris Campbell and K.J Hill. Campbell, in 12 games, has caught 72 passes for 903 yards and 11 touchdowns which leads the team. Campbell also averages 12.5 yards per catch and 75.2 yards per game. Hill, in 12 games, has caught 66 passes for 823 yards and six touchdowns which is second on the team. Hill also averages 12.5 yards per catch and 68.6 yards per game.
Defense
The Buckeyes' bring the 67th best defense in the country to the table which on 820 plays has allowed their opponents 5.84 yards per play. They've held their opponents to just 40 touchdowns. Malik Harrison, in 11 games, has 64 tackles 42 unassisted and 22 assisted. Harrison also has 8.5 tackles for loss for 31 yards. Jordan Fuller is second on the Buckeyes. In 11 games, has 63 tackles 46 unassisted and 17 assisted. Fuller also has 1.5 tackles for loss for a total of two yards.
Northwestern
The Wildcats come into this game as a surprise team. Most people projected Wisconsin to win the West. However, that didn't happen. The Wildcats eventually became champs of the West.
Offense
The Wildcats offense is ranked 110th in the nation. Averages 4.65 yards per play and has 36 touchdowns. Furthermore, they average 351.8 yards per game. Quarterback Clayton Thorson, in 12 games, is 251-416 with 12 interceptions.  Thorson has 14 touchdowns, 2,675 yards total and averages 222.9 yards per game. Rushing wise, Isaiah Bowser leads the way with 161 rushes for 746 yards and and six touchdowns averaging 81.8 yards per game and 4.6 yards per play. However, Bowser has only played in nine games.
Receiving wise, Flynn Nagel leads the way. In 12 games, Nagel has 64 catches for 746 yards and two touchdowns. Nagel averages 62.2 yards per game and 11.7 yards per catch.
Defense
The Wildcats have the 48th best ranked defense in the country. Allowing 30 touchdowns to its opponents and 5.46 yards per play along with 372.7 yards per game. Blake Gallagher leads the way defensively with 112 total tackles 61 unassisted and 51 assisted. Furthermore, Gallagher has 6.5 tackles for loss for 18 yards. Paddy Fisher is second on the defense with 92 total tackles with 46 evenly unassisted and assisted; likewise four tackles for loss for eight yards. Gallagher also has one sack and one interception.
Conclusion
Big Ten Champions Ohio State vs Northwestern This game probably won't be as close. Ohio State has a good chance to run away with this one. The game is set to kick off at 8 p.m on FOX.
Follow TSJ 101 Sports on Twitter: @T101Sports
Writer: @TJ22_PSU
Picture credit to Eleven Warriors via Flickr.