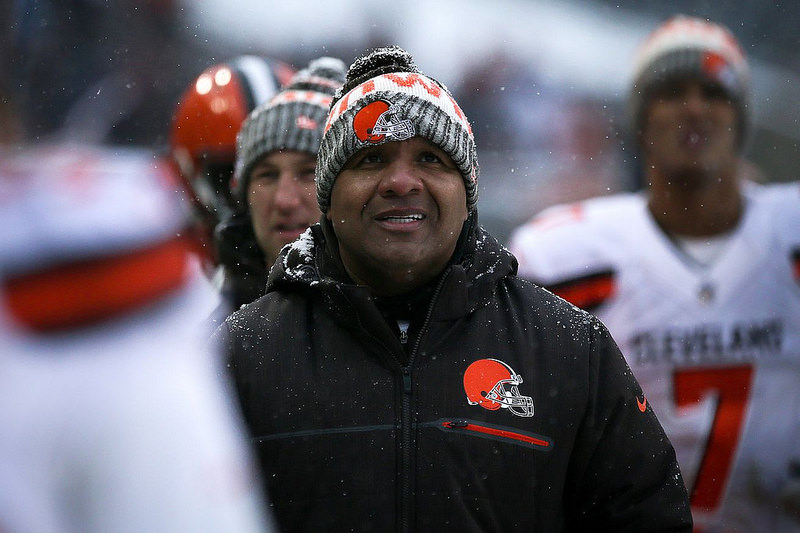 No Love for Hue Jackson
Former Cleveland Browns head coach, Hue Jackson, was hired by the Cincinnati Bengals a couple of weeks ahead of their game against the Browns. Cleveland fired Jackson on Oct. 29th after they felt the team wasn't performing at the best of its abilities. This makes it Jackson's third stint with the Bengals.
Awkward Exchange with Mayfield
After the game was over Cleveland Browns quarterback, Baker Mayfield and Jackson shook hands at midfield. However, there was no embrace, something Jackson was obviously looking for. Mayfield explained his actions during the post-game press conference, and it definitely comes off as a little petty.
Mayfield expressed being upset that Jackson is in Cincinnati now instead of Cleveland. That wasn't enough for Mayfield who called Jackson "fake" the next day on social media. This is just icing on a bad cake for Jackson who suffered a 35-20 loss with his new team.
To make matters worse, Damarious Randall intercepted Andy Dalton and then gave it to Jackson on the sideline. It's safe to say that the Browns don't feel sorry for their old coach.
Jackson's Next Move
Jackson may get another head-coaching opportunity in the future. It's hard for anyone to succeed with the Browns. Not even Bill Belichick could turn things around for them; his record as their head coach was 36-44.
Jackson led the Oakland Raiders to an 8-8 record in 2011 and was fired right after what would be his only season. Hue Jackson is a good coach who needs a real opportunity to prove himself. By opportunity, that means talent. Just imagine what he could do with a team like the Dallas Cowboys.
There's a good chance that Jackson is the right man for the job because Jason Garrett surely isn't. Jerry Jones should take heed to that. Don't get down on yourself, Hue. The Browns did you a favor.
Pot Calling the Kettle Black?
What's funny about Mayfield calling out Jackson is the fact that Mayfield is the one who committed "betrayal." Mayfield won Big 12 Conference Offensive Player of the Year at Texas Tech in 2013, and then he transferred the next year to Oklahoma who is also in the Big 12. Texas Tech fans could certainly call him fake as well.
Additionally, Cleveland fired Jackson. He didn't leave. A player should never blame anyone for making sure that they have a job. Especially when it comes to doing what they love to do. The picture isn't clear as far as what Mayfield is trying to accomplish by going after his former coach, but he needs to let this one go.
Photo Credit
Featured Image courtesy of Nazrul Islam
Subscribe to get the latest news from TSJ at the TSJ 101 Sports TV YouTube channel!
Play And Win Weekly at ThriveFantasy!