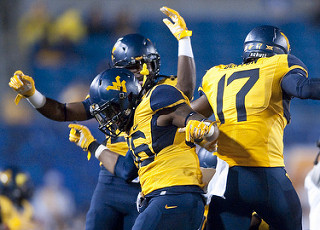 Week 10 of West Virginia Mountaineer football is underway. After a last minute and exciting win over Texas last week, the Mountaineers will host the Horned Frogs of Texas Christian University. Let's take a look at West Virginia vs TCU.
West Virginia vs TCU
What to look for?
The Mountaineers of West Virginia are ranked number 9. It looks like the Mountaineers have not missed a beat, since their loss to Iowa State in week 6. Will Grier and the Mountaineers had an impressive win over Texas last week. Grier threw for 346 passing yards and had 3 touchdowns, against the Longhorns. Will Grier made a 33 yard touchdown pass to Gary Jennings, and Will Grier made the 2 point conversion with 0:16 left.  Mountaineers ended up winning 42-41 in Texas.
The Horned Frogs of TCU are not ranked heading to Morgantown to square off against the Mountaineers. TCU managed a 14-13 win over Kansas State last week, to take them to 4-5. Quarterback Michael Collins had 218 passing yards and 1 touchdown. Could we see TCU pull off the unthinkable and give the Mountaineers another loss, or will they just fall to 4-6?
Win and Loss Match Up
West Virginia has managed to beat Texas, Kansas, and Texas Tech so far this year. TCU has loss to all three of those teams earlier this year. However, West Virginia lost to Iowa State, while TCU managed to beat the Cyclones. Could this be a key factor that TCU can use against the Mountaineers?
Prediction: Will Grier and the Mountaineers will get a win for the Blue and Gold, and send the Horned Frogs back to Texas with a loss.
Game Infomation
Date: Saturday, November 10th
Time: 12pm (Eastern time)
Channel: FS1
Let's Get Ready for Mountaineer Football!
Social Media
Follow TSJ 101 Sports on Twitter: @T101Sports and @T101SportsCFB
Writer: @justbeingk88
Picture Credit: Steph Chambers via Flickr