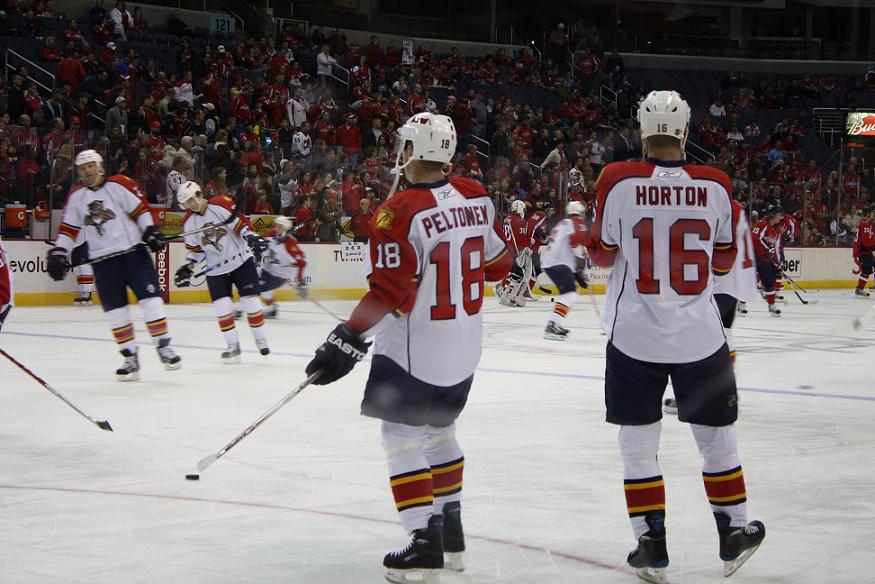 Panthers Beat the Islanders in Overtime 3-2.
Florida's losing ways is taking a break today as the Panthers rallied to beat the New York Islanders in overtime by a score of 3-2. For Florida, it was their seventh one-goal game in eight games. Mike Hoffman would give the Cats the game-winner.
James Reimer stepped up as a goaltender and made 20 saves, giving him his first win of the season.
On the other hand, Robin Lehner 38 saves despite losing in overtime
Game Summary
1st Period
Goal: NYI 1-0 NYI
Brock Nelson would break open the scoring for the game. Nelson would wrap it around and it would bounce off of Vincent Trocheck and past the goal line. It was originally ruled no goal, but upon review, the Islanders were awarded it.
Shots on goal were 13-10 in favor of Florida.
2nd Period
Goal: NYI 2-0 NYI
The Islanders would extend their lead on the power play thanks to Jordan Eberle. Anders Lee would make a drop pass to Matthew Barzel in the slot. Barzel would then feed it to Eberle on the wing and blasted it through the open net.
Shots on goal were 26-16 in favor of Florida.
3rd Period
Goal: FLA 2-1 NYI
Frank Vatrano would get Florida on the scoreboard on the power play. Lenher would make a save from an Aaron Ekblad slap shot. Nick Bjugstad would pass the rebound into the slot for Vatrano and he would rip it top-shelf. It was Vatrano's third in four games.
Goal: FLA 2-2
Evgenii Dadonov would get this game back to square one. Aleksander Barkov would take a shot and carry the rebound behind the trapezoid. He would feed Dadonov in the slot and the shot would just squeeze by Lehner. The goal was also assisted by Mackenzie Weegar.
Near the end of the third period, Florida would go on the power play that would transition into overtime.
Shots on goal were 39-22 in favor of Florida.
Overtime
Goal: FLA 3-2 FLA
Hoffman would be the hero and get the Panthers the two points. After a faceoff win by Barkov, the puck would go to Keith Yandle on the point. Yandle would feed the puck to Hoffman on the right wing and he would one-time the puck glove-side past Lehner. This would extend Hoffman's point streak to six games.
Final shots on goal were 41-22 in favor of Florida.
The Road Ahead
Florida (2-3-3)
The Florida Panthers will travel to the Garden State to take on the New Jersey Devils on October 27th at 12:00 pm.
New York (3-4-1)
The New York Islanders will travel to the Liberty City to take on the Philadelphia Flyers on October 27th at 1:00 pm.
Social Media
Follow Joey on Twitter @JoeyGanzi
Photo Credit
Photo Courtesy of  Wikipedia