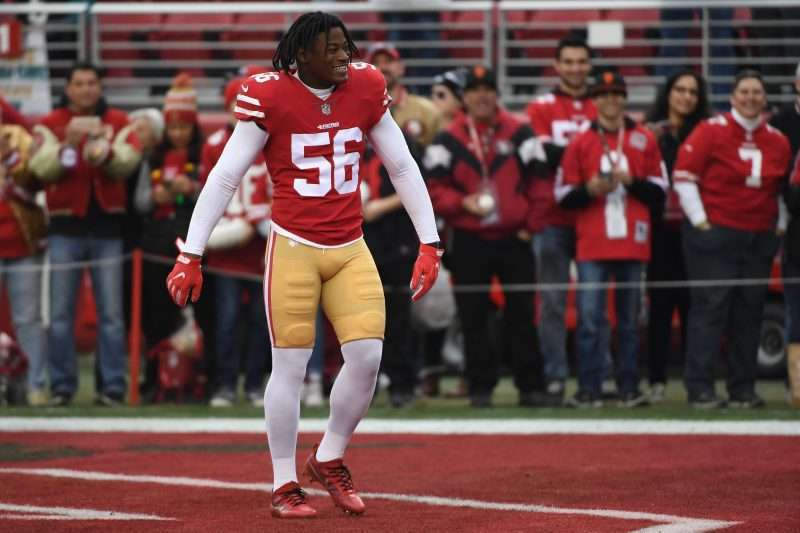 Reuben Foster Suspended
The NFL suspended San Francisco 49ers linebacker Reuben Foster for two games on Tuesday. The discipline stems from two separate incidents that occurred this offseason.
In January, Alabama authorities arrested Foster for marijuana possession. A judge dropped the charge when he completed a diversion program, but the league still saw fit to discipline him.
In February, Foster faced charges on suspicion of domestic violence. The accuser recanted, leading to the dropping of the violence charges, but a misdemeanor gun charge remained. Foster plead no contest to the charge.
Impact
Foster will miss the Week 1 game in Minnesota, and a Week 2 game against the Detroit Lions. This is a big loss for the 49ers defense because Reuben Foster was dominant in his rookie season. He made the PFWA All-Rookie team after demonstrating strong play in the second half of the year.
However, the team should be happy with the outcome overall. Also, given the seriousness of the charges Foster initially faced, two games is a very short suspension. If he had been guilty of domestic violence, he could have faced up to 11 years in prison.
Potential Replacements For Reuben Foster
The 49ers have several solid options to replace Reuben Foster in their first two games. Knowing that Foster might face discipline from the league, they stocked up on talent in free agency and the draft.
Malcolm Smith seems locked into one of the starting spots. Nevertheless, he was expected to start last year before a pectoral injury in training camp ended his season. He's a favorite of defensive coordinator Robert Saleh, and he has experience playing in the system from his time in Seattle.
Rookie Fred Warner is an intriguing option to start next to Smith. The 49ers drafted him in the third round, and he impressed the coaching staff in minicamp and OTAs. Also, he brings impressive coverage ability to the linebacker position.
Another option is veteran Brock Coyle. Additionally, he started games for the 49ers last year when Reuben Foster and Malcolm Smith were injured. While he'll never be a star, he's a serviceable backup who won't make the mental errors that a rookie might.
Social Media
Follow us on Twitter: @T101Sports
Department Twitter: @T101SportsNFL
Follow the Writer: @maxfieldmullins
This article was originally written by former TSJ101SPORTS writer Maxfield Mullins. Due to systems modalities, the article has been assigned to department head William Zurcher.