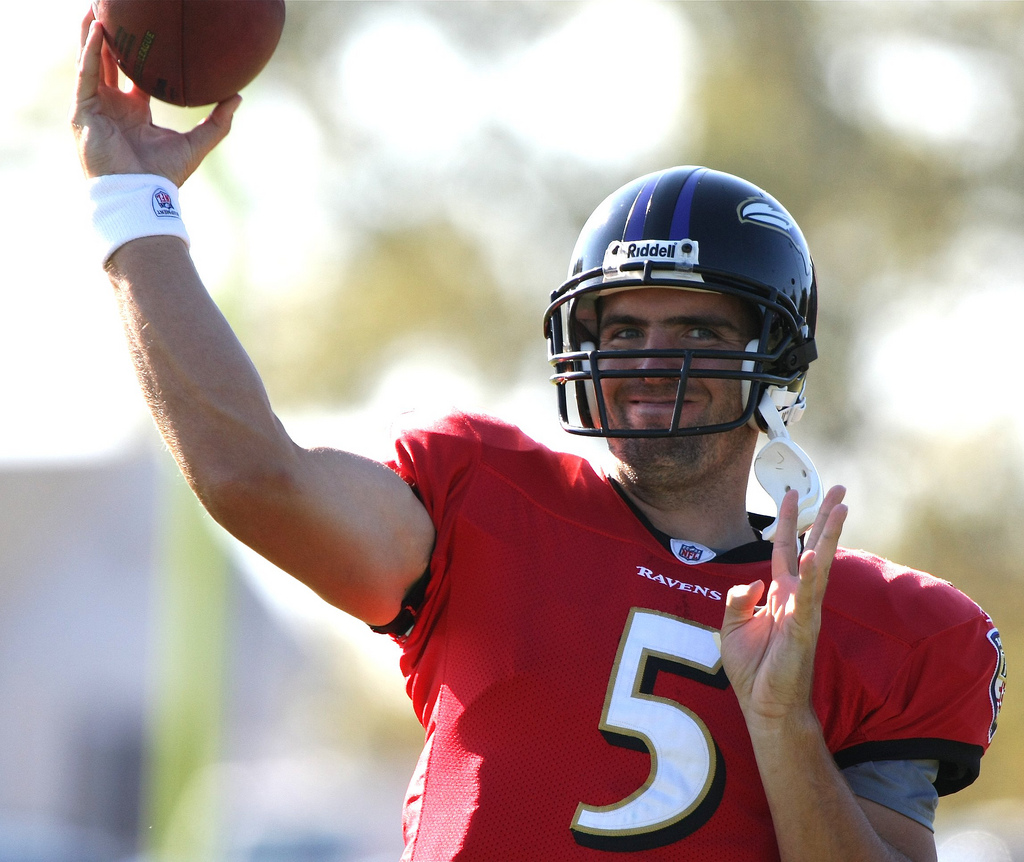 The NFL has been a complete whirlwind this offseason. A lot of interesting trades have gone down, with many teams surprisingly even getting rid of some of their most talented and impactful players. That being said, the recent NFL Draft proved to be a showcase of the immense amount of NFL-ready talent in the 2018 class, and any fan could see that. Some of these rookies will limit the touches and playing time of solid NFL players, as well as the new trade and free agent acquisitions that will cause immediate changes to their respective teams' depth charts.
These additions to certain teams will have a greater effect on the performance and touches that other players get. This will definitely lead to a plethora of players that will ultimately underperform next season and "disappoint" their respective teams and fans. Here are my top five NFL players that are destined to disappoint in the upcoming NFL season.
Joe Flacco
Joe Flacco had a mediocre 2017 season at best. With 18 TD's and 13 interceptions, he ranked 23rd in QBR by the end of the Week 17. Multiple news outlets suggest that Flacco will start the home opener vs. Buffalo on the 9th of September. However, this in no way means it will stay this way.
The Ravens' 1st round pick, Lamar Jackson, is in Baltimore to stay. "The Most Electrifying Player in College Football" for the past two years will constantly be contending Joe for that starting spot. Given Lamar's natural talent and undeniable quarterbacking ability, we could be seeing Jackson as the Ravens starter sooner than later.
If Flacco continues to put up mediocre statistics (this is if he starts), we'll be seeing an eager Jackson swoop right in and take that starting spot off his hands for good. Whether it's right off the bat or a couple of games into the season, I see Lamar Jackson jumping on the opportunity to take the QB1 spot from an "out of his prime" Flacco. Jackson will surely lead the Ravens soon enough and will probably be staying there once he gets the opportunity, leaving Flacco on the trade block or watching from the bench.
Ty Montgomery
The versatile back had a very solid first couple games of the 2017 season for the Green Bay Packers. Montgomery managed to rack up 446 all-purpose yards with three touchdowns in his first five starts for the Green Bay Packers. During Week 4, Ty suffered broken ribs and played sparingly before missing the final seven games of the season.
As a result of his injury, second-year backs Aaron Jones, and Jamaal Williams got their opportunities to start. They both emerged as very intriguing young players on the NFL stage, even putting the team on their back in certain Rodgers-less games after he snapped his collarbone. This led to an immediate change in the Packers' running-back depth chart.
From Week 5-15, Montgomery barely played. I fear that this might linger into the 2018 season, even with Aaron Jones' two-game suspension. The coaching staff has even made it clear that it will be a committee backfield for the upcoming season.
This means that second-year back Devante Mays might get into the mix, garnering even lesser touches for Montgomery. From the looks of it, Montgomery is in for a battle of touches week in and week out in an RB by committee system. This might lead to discouraged play and measly statistics for the fourth year back, unfortunately.
Dak Prescott
I know what you're all thinking. How? Dak Prescott had an excellent sophomore season, racking in 22 touchdowns to go with a 4th-best 66.3 QBR last season. He literally carried the Cowboys to victories when Zeke and Tyron Smith were sidelined. However, he lost his two best receiving targets during the offseason in Dez Bryant and Jason Witten.
Not only that but on paper, the Cowboys have the worst receiving corps in the NFL. Plain and simple. They have a lot to be desired, and you'll see why. Allen Hurns, Terrance Williams, Cole Beasley, and Michael Gallup. These guys have yet to really prove themselves as WR1's and are all WR2's at best until they prove different.
This doesn't mean that Dak won't have a good season. But I'm predicting his first sub-20 touchdown season of his career, and a QBR that isn't up to snuff to his past years. Cowboys fans may be let down with Dak throwing at a less than threatening receiving core, and Zeke, of course.
Sammy Watkins
Watkins had a mediocre 2017 season with his new LA Rams squad, hauling in 593 yards on 39 receptions. He also had his lowest receiving yards/game in his four-year career with 39.5 yards/game. His numbers have been trending in a downward direction since his sophomore season. To be honest, I feel like this year won't be any different and let me tell you why.
He'll be joining a Chiefs team that had just gotten rid of its star QB in Alex Smith, and now sporting its 5th offensive coordinator in 6 seasons. However, his deep threat ability should be able to make some plays for sophomore quarterback Patrick Mahomes II. It should also open up some lanes for the other receivers.
This being said, stud wideouts Travis Kelce and Tyreke Hill should absorb most of the targets. With a new young quarterback in Mahomes at the helm and an already established 1-2 receiving punch of Kelce and Hill, I don't see Watkins getting too many targets/opportunities this season.
Their fifth offensive coordinator in six seasons doesn't help either. Their new QB will have his woes, and this doesn't help Sammy's case at all. In conclusion, I see Watkins' receiving yards and touchdown numbers to continue trending down this upcoming season.
Mark Ingram
Mark Ingram is already suspended for the first four games of the upcoming NFL season for a PED violation. But last year,  he had a great season beside rookie standout Alvin Kamara. This means that for the first four games, Alvin Kamara will be the workhorse back for the Saints. Given his immense talent and slippery ability, I think this will work out good.
Almost too good. By the time Ingram gets back, Kamara might have performed so well that they might start excluding Ingram from that starting rotation. Ultimately just going with the second-year back as their full-time workhorse. It will also probably take Ingram a few games to get his game up to par.
However, Kamara will have already been in his mid-season form by the time that Ingram is back to his regular self. I really do hope that the Saints keep the running-back tandem of Ingram and Kamara intact once Mark's suspension is up. It just flat out works and puts up numbers and wins.
But Kamara has a great opportunity for these first four games, and he's too talented to let any go to waste. Watch the Tennessee Volunteer alum go off next season while his RB counterpart, Ingram, begins to take a backseat.