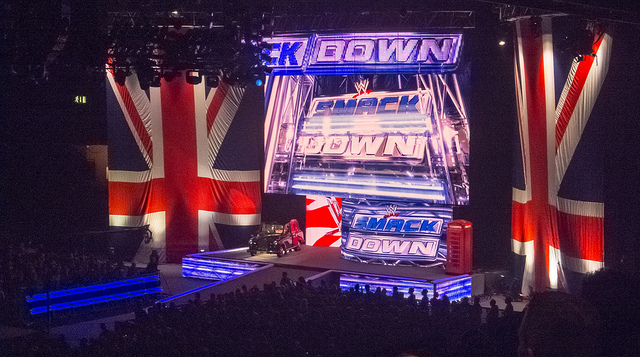 SmackDown Live Star Appears to Suffer Injury During Dark Match
This week's wrestling shows have been overseas, taping for the United States viewers from London. While it's hard to negate spoilers due to time differences online, one of them caught attention very quickly. It appears that during a dark match on SmackDown Live, current United States Champion, Jeff Hardy, has been injured.
The match was following both SmackDown and 205 Live, where Jeff Hardy took on The Miz for the fans. Jeff would defeat the former Intercontinental Champion by using his two go-to finishers, the Twist of Fate and Swanton Bomb. However, fans noted that both prior to and immediately after the match, Jeff was definitely limping and favoring his leg. Speculation is that the injury happened during his entrance.
He was checked out by WWE doctors, and no word has come out yet on what is going on.
This is extremely worrisome as the younger Hardy brother has only returned to the ring recently. Jeff Hardy was out due to a torn rotator cuff, where he underwent surgery earlier this year to repair it.
Ashley Sweetly Writes
Man, I hope this isn't true. I have been vocal in the past that the WWE really needs to consider rotating talent so that the injuries are far less. Sure, injuries can happen at any time. And if Jeff's happened during his entrance, that's just a bad stroke of luck. But the WWE is known to continually use the same talent over and over.
If it is anything, hopefully, he only just pulled something while coming down the ramp. It doesn't seem to be too serious if the doctors allowed him to wrestle prior to the match. Then again, he could have aggravated it in the match. Here's hoping he just stepped down too hard, and can be fixed with some ice and rest.
Social Media
You can follow us on Twitter:
You can also follow me, the writer!