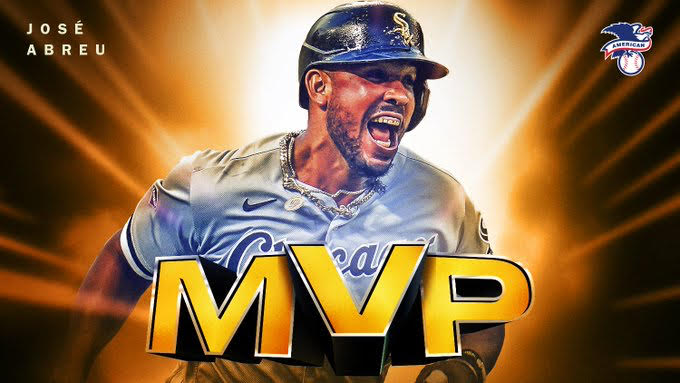 Jose Abreu Named American League MVP
Chicago White Sox first basemen Jose Abreu has been named MVP of the American League. Abreu is coming off a phenomenal season in 2020. Abreu slashed .317/.370/.617 with 19 homers, 60 RBIs, and 43 runs scored. He also led the league in games played (60), hits (76), RBIs (60), slugging (.617), and total bases (148). He beat out Indians third basemen Jose Ramirez and Yankees infielder DJ LeMahieu.
Since making his MLB debut back in 2014, Jose Abreu has quietly been one of the most consistent offensive forces in baseball. Abreu has had a 100 RBI season every year except this season and 2018 and has played in at least 154 games except his rookie year, 2018, and this year. He has earned a Rookie of the Year back in 2014, three Silver Sluggers, three All-Star game appearances, and now baseball's highest individual honor. Abreu is also the first White Sox to win MVP since Frank Thomas won it back in 1994.
In terms of voting, Abreu snagged 21 first-place votes. Ramirez earned 8 first-place votes and 17 second-place votes, and LeMahieu earned 1 first-place vote, and 15 third-place votes. Abreu out performed everyone in the American League this season and certainly earned to be recognized as such.
Written By Zach Nau
Follow Zach and TSJ: MLB on Twitter
Photo Credit to MLB via Twitter
Follow TSJ on Facebook and Twitter