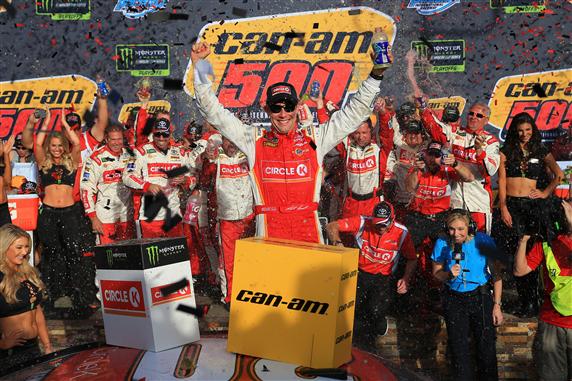 Will A Non-Playoff Driver Win ISM Raceway Again?
This weekend's race at Phoenix's ISM Raceway marks a unique anniversary. In this race two years ago, Matt Kenseth was the most recent non-Playoff winner. The desert mile has seen a driver outside of the title fight win on four separate occasions. With lots of hungry drivers no longer in the championship battle, can another non-Playoff team play spoiler?
For the fifteen years of the NASCAR postseason, ISM Raceway has held a spot as one of the ten venues. Since 2005, it has been the penultimate stop in the 36-week marathon season. In that first year of Phoenix as the next-to-last race, rookie Kyle Busch scored his second career win. That win made Kyle Busch NASCAR's fifth-ever non-Playoff winner in the second year of the postseason format. Besides then, Busch's only other Phoenix wins have been the last two trips to the Grand Canyon State.
During the classic 2011 title duel between Tony Stewart and Carl Edwards, one non-factor bested them at Phoenix. Driving the #4 Toyota for Red Bull Racing, Kasey Kahne took the checkers. This marked Kahne's first win since 2009, as well as the final win for Team Red Bull.
ISM Raceway's Most Recent Upsets Were Fan-Favorite's Final Wins
Four years after Kahne's underdog triumph, another spoiler would celebrate in Phoenix. Coming off elimination in the Round of 12, Dale Earnhardt, Jr. scored what would be his final career Cup Series win. This victory came in a rain-shortened event, completing just 219 of the 312 laps. With Earnhardt's win, drivers including Carl Edwards and Joey Logano were kicked out of the 2015 championship race.
After learning of his lame-duck status in the Joe Gibbs Racing #20 car, Matt Kenseth a technicality eliminated from the 2017 Playoffs. In the Round of 12 elimination race at Kansas, too many of Kenseth's crew members went over the wall to repair his damaged car. This led to Kenseth being parked.
Three weeks after that disappointing postseason exit, Matt Kenseth stunned the racing world. The veteran with the non-Playoff status passed contender Chase Elliott with only ten laps to go. Kenseth went on to earn his only win of 2017 at ISM Raceway. This ended up being his final career win, as well as Phoenix's fourth non-Playoff winner.
Non-Contenders to Watch Out For
While Playoff drivers are heavy favorites to win the final ten races every season, upsets do happen. With a history of spoilers at Phoenix, the odds of a surprise victory are high this weekend.
Stewart-Haas Riding High After Strong Texas Week
Last week at Texas, teammates Clint Bowyer, Aric Almirola, and Daniel Suarez led many laps, all looking for strong finishes for 2019. Bowyer has finished as high as second at Phoenix, while Almirola was fourth in this race a year ago. Suarez also earned his lone Truck Series win at Phoenix.
Hendrick's Young Guns Strong at Phoenix
Beyond the Stewart-Haas trio, hometown hero Alex Bowman enters ISM Raceway as a Cup Series winner for the first time. With the confidence of a win under his belt, Bowman could put together a full race at one of his stronger venues.
Another young driver who has been strong at Phoenix and this postseason is William Byron. Driver #24 has one Xfinity Series win on this track, as well as a top 10 in this race last year. The 2018 fall Phoenix race also saw Byron clinch Rookie of the Year honors. Byron has been red hot lately, despite exiting the Playoffs after the Round of 12. Two weeks ago at Martinsville, the 24 was running down the leader in the closing laps. Either of the two Hendrick drivers mentioned above could put together a strong showing this weekend.
Matty D Looking to End Best Season on Top
One final potential upset winner for this weekend is Matt Dibenedetto. The #95 Leavine Family Racing team has been stout on short tracks the second half of the year, placing seventh at Loudon and finishing runner-up at Bristol. In his final two starts in the #95, Matty D would love nothing more than to go out on top by becoming a Playoff spoiler.
With no drivers having the chance to be a Playoff spoiler for two years, Phoenix provides a unique opportunity for that to change. A majority of the focus Sunday will be on the final two teams making up the Championship 4. However, they all could be beaten by a driver looking to rectify their season.
Written by Peter Stratta
Be sure to follow us on Youtube and Twitter.
Be sure to follow the writer on Twitter.
Photo credit to NASCARMedia