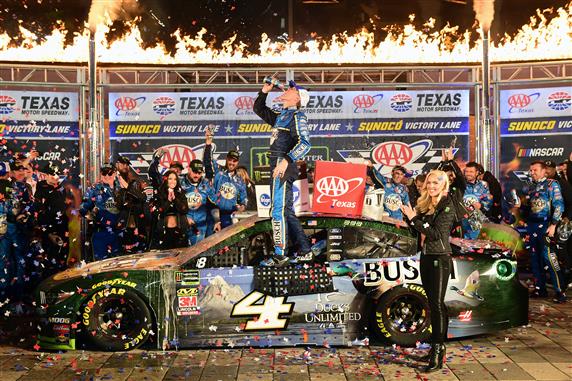 Harvick Heading to Homestead After Third-Straight Texas Win
As the NASCAR Playoffs rolled into Texas, another ticket to the championship race was on the line. After starting from the pole, Kevin Harvick would clinch a spot in Homestead by earning his third-straight Texas win. While the day was fairly easy sailing for Harvick, some other contenders had less-than-memorable performances in Texas.
While Harvick started from the pole, many of his Playoff competitors did not have track position at the green flag. In fact, Denny Hamlin in third was the only other Round of 8 contender to start Texas in the top 10. This led to a jockeying of positions early, as several teams made early rallies.
One of these early rallies would be made by Chase Elliott, who started in 14th. Entering the day eighth in points, the 9 team needed to score major points to stay in the title fight. Unfortunately for the three-time winner in 2019, he found the outside wall early. While trying to run the upper groove in turn 2, the Napa 9 Camaro slapped the wall hard. Repairs from this lap 9 crash would put Elliott six laps down. After a dismal 32nd place result, Elliott goes into next week needing a win at Phoenix to make the Championship 4.
This early run would quickly see the Stewart-Haas Racing cars assert themselves as the class of the field. While Harvick had the lead, teammates Aric Almirola and Daniel Suarez were running second and third. Both Almirola and Suarez were looking for their first wins of 2019, trying to spoil the postseason as a non-Playoff winner.
Bad Day for Brad K., Stenhouse Jr.
Not long after a lap 48 restart, a synchronized spin in turn 4 would end the days of both Brad Keselowski and Ricky Stenhouse, Jr. The 2 Mustang had attempted running the traction compound-treated second lane and spun out, while the 17 followed him to the wall. Keselowski and Stenhouse were each running inside the top 10 earlier. A promising day for both drivers ended after just 55 laps. This caution would be the fourth stoppage of the day. Stage 1 proved to be attrition-filled with lots of yellows.
With Harvick pitting, the front row for the restart would be Clint Bowyer now leading Erik Jones. The restart would see Harvick go three-wide for second, and easily clear the non-contenders. Harvick caught Bowyer's bumper with relative ease, but was unable to pass his teammate for the lead. Bowyer would hold the lead through the next caution.
Hard Day for Title Favorite
On lap 80, title favorite Denny Hamlin would trigger the sixth caution of the afternoon after spinning in turn 4 and taking a trip through the infield grass. The transition from the grass to the paved 1/4-mile track would tear up the 11 car's front splitter, leading to major damage. This yellow would set up a one-lap dash to close Stage 1, where Harvick would narrowly pass Bowyer in turn 2. Harvick would take the opening Stage after leading 43 laps from the pole.
Under the sprint to close Stage 1, Hamlin's car did meet the minimum speed requirement, so he could continue. Other than Hamlin, Chase Elliott, Martin Truex, Jr., and Joey Logano all failed to earn Stage 1 points.
Stage 1 also set a NASCAR record for most cautions in a single stage. The 85-lap opening Stage from Texas had seven yellow flags. These yellows included the aforementioned issues for contenders Elliott and Hamlin, the Keselowski/Stenhouse crash, and a few spins by Corey Lajoie.
Calm After the Storm in Stage 2
After the chaos that was Stage 1, the flow of the race dramatically changed for Stage 2. The entirety of the 85-lap distance ran without any yellows, but saw a variety of different leaders. Due to pit strategy, Alex Bowman restarted as the leader. But the 88 quickly got passed by teammate Jimmie Johnson. The 7-time Texas winning 48 car would lead 40 laps before pitting. Aric Almirola, Daniel Suarez, Erik Jones, William Byron, Kevin Harvick, and both Busch brothers all took turns up front.
After the longest green flag run of the day, Aric Almirola played pit strategy perfectly to win Stage 2 over Erik Jones and Jimmie Johnson. Only four Playoff drivers earned points in Stage 2: Kyle Larson, Joey Logano, Harvick, and Kyle Busch.
Rough End to Day for 7-Time, Penalty for the 4
After leading 40 laps earlier, Jimmie Johnson would end the final Stage after just nine laps. While running third, the 48 spun in turn 2 and slapped the outside wall. This caution would be a turning point in the race, as the dominant car had a setback in the pits.
Kevin Harvick would suffer an infraction for his crew having equipment over the wall too soon. Harvick initially came in for a fuel-only stop, but his pit crew was anticipating a tire change and rested the wheels against pit wall. This triggered a penalty that sent the 4 to the rear.
With Harvick buried in the field, Daniel Suarez and Aric Almirola took their turns leading. At this time, Kyle Larson was the highest-running Playoff driver and slowly picking off positions in the top 10. As green flag pit stops began to cycle out though, an untimely caution would put Larson's strategy on the losing end.
Questionable Spin by Wallace Brings Out Race-Changing Yellow
Right after Almirola pitted from the lead, the 11th caution flag of the afternoon would fly when Bubba Wallace spun in turn 1. The 43 had a flat left rear wheel, initially got going again under green, and a second spin by him triggered the yellow. Larson and others would question the validity of Wallace's issues post-race, as the 42, the 24, and other's chances at winning dissipated with this caution.
The yellow did allow Harvick to restart inside the top 10 and a lot closer to the front of the pack. On the restart Harvick easily got to third behind his teammates, and began to close in. He got by Suarez without issue, and set his sights on Almirola. Lap 255 would be when Harvick finally got by the 10, retaking the lead after his penalty.
Minus the final pit cycle on lap 307, Harvick led the remainder of the way to a commanding Texas win. Harvick has now won this event for the third-straight year, earning his fifth trip to Homestead in six years.
Significance of the Third-Straight Texas Win for Harvick
His fourth win of 2019 and first in the Playoffs is a momentous win for Harvick. This Texas win ties him with team owner Tony Stewart for 14th on the all-time Cup Series wins list at 49 victories. Stewart's record is a feat that Harvick has been eager to beat since his boss retired from racing. With four checkered flags in 2019, Harvick has achieved this win total four times in six years at Stewart-Haas Racing.
"We had a bad restart one time when we got buried back there," Harvick said. "but I think as we came in, we put another set of tires on, we were really able to make up some time.  Our car was just so fast through 3 and 4, as long as I could keep my momentum up, I could get up beside him. So it was definitely fast, and speed made up for our Ducks Unlimited Busch Beer Ford Mustang tonight what we lacked a little bit in handling."
Other Notables in the Top 10
Almirola, Suarez Earn Season-Best Results
Behind Harvick in the SHR 1-2-3 finish were Aric Almirola and Daniel Suarez. Both Ford drivers set or tied their best results of 2019. "I am really proud of the effort by everybody at Stewart-Haas Racing, Roush Yates Engines and Ford Motor Company," Almirola said. "Our cars were really, really good from the time we unloaded here and we all came with a little something different, just trying to learn and get ahead for next year. I think we learned some stuff.
I am really proud of all the guys on my team. We have had such a bad run of luck the last two months and it is so nice to come here and just execute all night and have a fast car, lead laps and win a stage and run up front. We had a great night on pit road. I did my part on restarts and on and off pit road and just an all-around solid night. We can build on that."
With the runner-up from Texas, Almirola's 2019 stats to date are three top 5s, 12 top 10s, and 180 laps led. While he was still in the Playoffs a year ago, Almirola nearly won at Phoenix. Can the 10 be up front again next week?
Suarez Fitting in at SHR
Daniel Suarez echoed Almirola's sentiments after his third place run. "That was a very solid night and I am very happy with the performance and speed that we brought from the shop," Suarez said. "Everyone back at the shop did a great job. We knew we would be fast here. All of us had a solid performance here last time. We did a good job. We had good execution and a good clean day. I am very happy for Stewart-Haas Racing and the 41 Ford Mustang was pretty sporty. I am very happy for Kevin (Harvick) getting his ticket for Homestead."
Oddly enough, both of Suarez's third place efforts this year came at Texas. With an uncertain 2020 looming, a performance this strong could do wonders for Suarez.
Logano with First Top 5 of Postseason
Shockingly until Texas, defending-champion Joey Logano had not scored a top 5 in the Playoffs. The 22 rounded out a quartet of Fords finishing in the top four spots. Despite the strong run, Logano is anything but safe for Homestead. "It is going to be a good battle for sure," Logano said. "We are definitely racing for that last spot just in case someone behind us outside of the top-four wins. Then it will come down to the 18 and the 22 to try to get for that last spot. It is going to be fun. I am looking forward to the battle. It will be a good time. Obviously the 18 team is good and Kyle is a good driver but I think we are a great team and they are beatable just like everybody else."
Heading into the Phoenix elimination race, Logano is fourth in the standings, with just 20 points separating him from the cut line. If anyone below Logano wins, then he will not have a chance to defend his title.
Blue-Collar Day for Bowman
An oddly quiet day for Alex Bowman saw the 88 rally towards the end to finish fifth. It appeared that the night time was the right time for Bowman, as his car came alive once the sun set. "We started really tight and we made good adjustments throughout the day," Bowman said. "Obviously, once the sun went down, the car got a lot better and we were pretty solid. I wish we could have had a little more track position and our strategy go our way a little more there at the end. But we definitely had a really good car today. It was just really tough to pass, but the guys did a good job. We came through the field a couple of times and had a good day."
Bowman led his teammates as the only Hendrick car to finish in the top 10. This comes in spite of both Byron and Johnson having strong runs that did not sustain. Bowman's record at his home track of ISM Raceway is stout, as he considers it one of his best venues. Be sure to watch out for the 88 to possibly pull off the upset next week.
Tough Day for Truex Ends on High
The only man who entered Texas care-free, Martin Truex, Jr. did not gain or lose anything with a sixth-place result. The 19 team did battle through some adversity though, as they made major adjustments on one pit stop where they raised the hood. "It was a tough day for us," Truex said. "We expected to run pretty well here after practice and then at the start of the race it was just extremely tight and it stayed that way most of the day. We gained some track position and we could hang on up towards the front. Lacking way too much front grip. We made more adjustments today than I think we have in two years combined.
We got it better at the end for sure, but it still wasn't right. Overall, fought hard and gave it our best to the bitter end there and we got a decent finish there. So, hopefully we learned some things out of what we did tonight for next year."
Truex Jr. was unable to earn his first career Texas win, but that does not change the fact that he is in the Championship 4. Truex will have one more week of care-free racing at Phoenix, another track he has yet to win on.
Kyle Busch Fades Late
After leading laps and being a constant in the top 10, Kyle Busch's #18 Toyota ended up in seventh. This result leaves Busch clear of the cut line by 22 points. "I was running wide open there and those guys were just driving away," Busch explained. "We got what we got out of our M&M's Camry tonight. Adam (Stevens, crew chief) made some good adjustments. The whole first set of tires was just ugly for us. Once we got past that and got some other tires on the car, it seemed to go a little bit better. It was hard battling some of them guys up there and up through traffic and what not. We should have run third and ran out of gas and starved the pump there at the end. Then I was stalled on pit road. That cost us four or five spots there."
Heading to a track where he has won the last two races, Kyle Busch should be feeling pretty good about ISM Raceway. With the 22-point cushion, it will take a major issue or outside winner to keep Busch from his fifth-straight Homestead appearance. However, teammate Denny Hamlin will enter Phoenix eyeing the win.
Blaney Still Battling
The Penske 12 car of Ryan Blaney was another constant fixture in the top 10, finishing eighth. In spite of opening the Round of 8 with two top 10s, Blaney still has an uphill climb to reach the Championship 4. However, his team appears to be peaking with their recent speed. "It was a long night," Blaney said. "We struggled really bad all night with track position and then I felt like even when we got a little bit of it we still weren't very good. We tried a lot of things tonight and they didn't really work. Unfortunately we didn't really get many stage points and the 4 winning didn't help our cause but we have to run better than that anyway."
Blaney enters elimination weekend at Phoenix 23 points below the cut line at the sixth rank. Although he was the polesitter at Phoenix in the spring and finished third, it may take a win to put the 12 through to Miami.
Kurt Busch Gets Another Top 10
Coming off the news of a two-year contract extension, Kurt Busch ended a top 10 day in ninth. Though he was much closer to the front of the pack at times, Busch remains positive about the Ganassi intermediate track program. "I think we just need to stay positive on this with our Monster Chevy and we finished ninth," Busch said.
"We were running second and had everything under control and the yellow came out right after we pitted and it locked us a lap down. It's just tough to be on the back side of that circumstance and to be locked back there in 20th with only 90 (laps) to go. It's tough to make that back up. Our car had really good speed. I was really happy with the balance the second half of the race. And all-in-all, it just wasn't the Top 5 effort that we needed but we'll take ninth."
Despite not advancing out of the Round of 16, Kurt Busch has been one of the most consistent drivers in the Playoffs. He has four top 10s in the last five weeks. If not for a disastrous opening round, Kurt could have been on the cusp of a Championship 4 spot like he was a year ago.
Quietly Strong Day for Jones
Rounding out the Texas top 10 was outside-polesitter Erik Jones. The #20 Toyota showed great speed all race long, contending for the lead early and racing in the top 10 for much of the day. If not for an untimely yellow, Jones could have finished higher. "It was okay, the car was alright," Jones said. "Got caught out there on pit road and had to restart pretty far back with 90 to go and just drive back to where we could. Kind of a tough day. The Sport Clips Camry fired off the race well and just kind of lost it through the race. We'll go on to Phoenix and hopefully be a little bit better."
Texas marked only the second top 10 finish for Erik Jones in the Playoffs. Mechanical issues plagued the 20 team in the Round of 16, leading to an early exit. With this recent speed though, the 20 is building a solid foundation for 2020.
How to Watch the Next Race
After 34 weeks of racing, the title fight comes down to the final two weeks. The remaining two spots in the Championship 4 will be decided next week at Phoenix's ISM Raceway. Coverage of the Bluegreen Vacations 500 will be on NBC, MRN, and SiriusXM NASCAR Radio Channel 90 on Sunday, November 10 at 2:30 PM EST. With the 1-mile track being Harvick and Busch's playground, can anyone beat them in the desert?
Written by Peter Stratta
Be sure to follow us on Youtube and Twitter.
Be sure to follow the writer on Twitter.
Photo credit to NASCARMedia