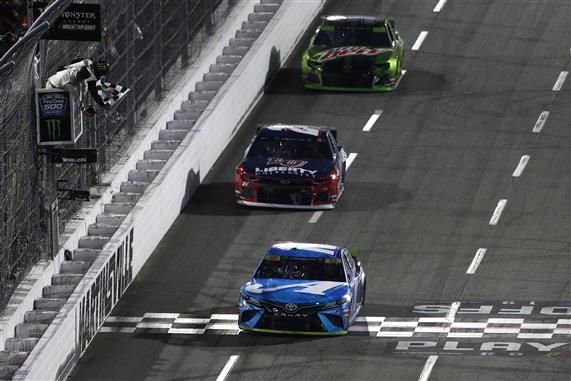 Martin Truex, Jr. Stomps the Field in First Data 500 Win, Tempers Flare Post-Race
For the third year in succession, the First Data 500 from Martinsville Speedway led to hurt feelings, bent up sheet metal, and a ticket to Homestead. While Martin Truex, Jr. put together one of the strongest performances in Martinsville history, drama was brewing behind him. The winningest team of 2019 is now locked into the championship race. However, few will remember that as the biggest takeaway from Martinsville. Rather the highlight of the night was the post-race discussion-turned-fisticuffs between Joey Logano and Denny Hamlin.
Contenders Rally Early
While polesitter Denny Hamlin got the jump on the start, another Playoff contender was digging out of a hole. Due to an engine change in final practice, Chase Elliott had to give up the second starting spot. The #9 Hendrick Chevrolet started from the tail of the field Sunday. However, Elliott cracked the top 20 by lap 22 and continued his march forward.
Another contender who had to make up spots early was Kevin Harvick. The #4 Ford started 22nd and was racing hard for 15th by lap 12. In spite of a lackluster history at Martinsville, Harvick was methodically moving upward.
Lead, Stage Win Changes Hands on Pit Road
Under the first caution of the day on lap 31, the race lead would go to Martin Truex, Jr. as Denny Hamlin's crew had a slow pit stop. For the remainder of Stage 1, it was the 19 leading the 11 by anywhere from one to 3+ seconds.
Roughly halfway through Stage 1, with Truex and Hamlin long gone, Chase Elliott broke into the top 10. As Truex put together another dominant Stage win, he would lap one of his championship rivals late. In the closing laps of Stage 1, Truex would get by 17th-place Kyle Larson, who was struggling early at a track he's not too keen on. Luckily for Larson though, he would be the free pass under the Stage break caution.
Day-Ending Issue for Elliott
Early in Stage 2 when he was in the top 10, Chase Elliott would suffer a catastrophe on pit road. Under a caution stop on lap 179, the #9 fell off the jack and broke a rear axle. As Truex, Ryan Blaney, and the field were back to green on the restart, Elliott was stuck in the pits and then the garage.
Even though Elliott would return to the track 52 laps down, his quest to gain a few points would be in vain. He would only improve two spots in the running order to 36th, thus failing to gain more than one point awarded to the top 35. This terrible start to the Round of 8 leaves the 9 team in a 44-point deficit to the cut line. If Elliott is to make the Championship 4, he will likely need to win at either Texas or Phoenix.
Late Caution Shakes Up Stage 2 Running Order
With just eight laps left in Stage 2, the caution would fly for debris from Clint Bowyer's flat tire. Most of the lead lap cars would pit, with one exception-Kyle Larson. The 42 would restart as the leader on older tires for the four-lap dash to end Stage 2.
The 42 got the initial jump on the restart, but Truex was hot on Larson's tail. Through turns 3 and 4 on the last lap, Truex muscled his way by Larson to sweep both Stages.
New Challenger Arises in Final Stage
As the final 240-lap run to the checkers went green, Truex maintained out front and quickly amassed a lead of several seconds. Behind him however, a new face would carve his way through the field and take over the second spot-William Byron. The second-year driver was gunning for the 24 car's tenth Martinsville win, as well as his first career win. Lap 326 was when the 24 took over second and began to chip away at Truex's lead.
Wreck Adds onto Tough Day for Busch
As they were both running for position inside the top 10, Kyle Busch and Aric Almirola traded some paint. Through turns 3 and 4, the 18 got to the 10's outside and tried to chop him off. This would send the 18 spinning on the front stretch. This incident would collect Almirola, Jimmie Johnson, and Ryan Preece, in addition to causing the field to scatter to avoid the melee.
Busch was clearly not happy with Almirola, as the 18 was able to continue while the 10 was not. At the infield care center, Almirola was also not happy with how he was raced. Aric said "(Kyle Busch) just turned left and ran me down over the curb." Aric went on to state that "We've got three more weeks, and I'm going to make it hell for him." This crash was also the end of the day for Jimmie Johnson, and only the second-ever Martinsville DNF (2002) for the 9-time winner.
The Straw that Broke the Camel's Back
The restart after the lap 450 yellow for Clint Bowyer's spin would prove to be a turning point for the race. Denny Hamlin ran Joey Logano wide out of turn 4. The wall contact would cause a tire rub on the #22, soon followed by Logano looping it in turn 1. This would bring out another yellow on lap 459.
Truex Vs. Byron for the Finish
Minus one final quick yellow for Daniel Hemric and Michael McDowell spinning, the race's finish was relatively clean. After the final restart with 24 to go, it was the 24 chasing down the 19's bumper. Byron would inch closer to Truex but was unable to make a clean pass and raced the Playoff driver respectfully. Even though Byron had a chance to boot Truex, the last-lap drama of 2018 would not repeat in 2019. Truex would win over Byron by three-tenths of a second.
Significance of the First Data 500 Win for Truex
In a season that rivals his championship year in terms of wins, consistency, and domination, Martin Truex, Jr. is in the midst of his best Playoff run to-date. Despite making three prior appearances in the Championship 4, this Martinsville win marks the first time where MTJ has won his way into the finale. With two extra weeks to prepare their Homestead car, the 19 Joe Gibbs Racing team could be unbeatable in south Florida. This win also marks Truex's first win at Martinsville. The elusive victory comes after last year's devastating last-lap defeat. In total, the 19 led 464 of the 500 laps, truly making it into Martin's-ville.
"Been trying to work on getting a Martinsville win for a long time," Truex said. "It's a tough track. It's one that, you know, everybody I think wants to win at, the history here, and it's such a big part of NASCAR. Really proud of everybody on our team for what they did and the car they brought, the pit stops today were incredible and the guys did a great job. So just all around a great day. To lead that many laps is pretty incredible here.
Big day, big win, and I think Homestead is the bonus. So here we go, we'll see if we can win another championship."
With two weeks and two races free of any Playoff pressure, Martin Truex, Jr. and the 19 team could be even more dangerous. With his first Martinsville win already secured, Truex hopes to erase similar losing streaks at both Texas and Phoenix.
Other Notables in the Top 10
Best Race to Date for Byron
With a runner-up result, William Byron ties his career best Cup Series finish. While Byron had more than ample opportunities to nudge Truex for the win, his decision to race the 19 cleanly and with respect should reap rewards in the sophomore driver's future.
"I wouldn't race him dirty, but I'm really hungry for my first win, so whatever it takes," Byron said. "But, he ran such a good race, I think he would have been able to drag the brake and do all he could to keep me behind him anyway. So, it was close."
If the Hendrick program can continue to regain lost speed and performance, then Byron should get multiple chances for his first career win in the coming year. The 21-year-old is maturing at a lightning rate and quickly becoming a force to be reckoned with.
Podium Effort for Brad Keselowski
Coming into Martinsville as the most recent winner on the half mile, Brad Keselowski was going for a season sweep. While third was not the win the 2 team wanted, it was the best their car ran. "I think that's about all we had or maybe a little more than what we had," Keselowski said. "We just kind of kept our head on our shoulders all day and made the most of what we had. I was really proud of our team for that effort."
Also coming into Martinsville as a non-Playoff driver, Keselowski was at the center of some team realignments within Penske. Keselowski's crew and Ryan Blaney's swapped, so a strong performance by the now-2-team is a positive. Only time will tell how they close out the season, as Keselowski is as hungry as ever for a victory.
Steady Day for Denny Hamlin
After starting on the pole, Denny Hamlin would lead the opening 31 laps until losing the top spot on pit road. The Fedex #11 would not be able to regain the lost track position and wound up fourth at the finish. Of course, Hamlin's highlights of the weekend will be his conversation-turned-brawl with Joey Logano.
In his own words, Hamlin described the altercation as "having a discussion and everything was civil and then like Joey (Logano) does, he gives a little push and runs away. That's Joey. I mean he said 'you want to go?' I said 'yes, I'm here,' but then he runs away."
With the strong performance, Hamlin finds himself above the Playoff cut line by 24 points. Heading into two venues where he has past success, it's hard to imagine that Hamlin will not be in Homestead. However, the reignited feud with Joey Logano could spill over.
Consistency is Key for Blaney
After running towards the front of the pack all day, Ryan Blaney brought the Menards #12 home in fifth.
"We were in the top five all day and I thought we had a good shot at second," Blaney said. "On short runs we weren't good. We were terrible for probably 30-40 laps and then we'd come alive and be great, but just didn't have the speed."
Despite the strong run, Blaney is still below the cut line by 15 points. He will need strong Stage results if not a win over the next two weeks if he wants to advance. Is Penske peaking late in the season? Having two of the final eight in the postseason would make one think that, but Blaney has lacked speed for much of the year.
Quiet Days for Kurt, Kevin
For the two most experienced veterans in the field, Martinsville was not a win but an under-the-radar run. Kurt Busch finished sixth, leading the Ganassi effort, while contender Kevin Harvick was seventh.
Starting way back in 22nd, Harvick had to rally early to avoid losing a lap to the leaders, which he did. Harvick was anything but happy in the first half of the race, but the 4 team methodically improved their Mustang.
"We got our car a lot better in the second half," Harvick said. "The team made some major adjustments when we got to the end of the second stage and made our car a lot better. We just didn't quite get back up there."
Harvick heads to Texas as the two-time defending winner of this race. He sits 14 points below the cut line at fifth in points, so he has some work to do. In recent years though, Harvick has been nearly unstoppable at Texas, and Phoenix is his best venue. Harvick has only missed Homestead once in five years, it will be interesting to see how the 4 fares over the next two weeks.
Logano Loses it Late
As the defending First Data 500 winner, many had predicted Joey Logano would repeat his 2018 success. That would not be the case however. The spinning 22 brought out the lap 459 yellow, then recovered to eighth. Much like Hamlin, Logano's highlight (or low-light) of the night was the post-checkers altercation. Logano was not pleased with how Denny raced him and voiced his displeasure before chaos ensued with both pit crews.
Logano had a regretful view on this altercation after tempers had cooled down. "I was frustrated about the situation, obviously," Logano said. "I really wanted to go over there and talk to him and get his side of the story on what happened and he just said, 'I ran you up in the wall, basically.'
He wasn't as apologetic as I was looking for and that probably escalated the situation too much. I shouldn't have shoved him. For all the kids watching that wasn't the best thing to do, but I was frustrated, tempers are high. It's the Playoffs, so that's what happens."
Joey Logano currently holds the final transfer position to Homestead by 14 points. With a target on his back though, Logano must tread carefully the next two weeks.
Larson Puts Together Breakout Martinsville Result
At his self-admitted worst track on the circuit, Kyle Larson fought back from one lap down to ninth at the end. This is only Larson's second top 20 at Martinsville, with his first coming in 2016.
After the race, Larson told me "I didn't expect to have a top 10 after how the day was going. To steal some Stage points like we did was great as well. We'll take it and move on to Texas."
The fact that Larson even started the race at Martinsville was a small miracle. Larson suffered a fractured lower rib in his Talladega crash, which he has been nursing ever since. Surprisingly Martinsville was relatively easy on his ribs due to a lack of G-forces.
As the first man to lock up a Round of 8 spot, Kyle Larson still has some work to do. He enters Texas ranked seventh, 24 points below the cut line. While it's not must-win territory yet, the 42 must perform well to ward off elimination. Surviving Martinsville with a top 10 was a welcome surprise for Kyle, we'll see if he can build on this momentum.
Nonchalant Night for Newman
Coming home in the tenth position was Ryan Newman, who fought off a late tire rub after contact with Kyle Busch. Newman's team lacked fresher tires at the end, causing the 6 Mustang to fade a bit.
"We just got out-tired there at the end," Newman explained. "Those other guys had tires and we didn't and it didn't work out the best for us. It was a challenge. They did a good job. Our pit stops were awesome today. That made a big difference and just came up short."
Tenth at Martinsville marks Newman's fourth top 10 in the Playoffs, despite elimination after the Round of 16. With this late season surge of consistency, Roush-Fenway is improving upon their program for 2020.
How to Watch the Next Race
The next stop for the NASCAR Cup Series will be the 1.5-mile Texas Motor Speedway. Be sure to tune in Sunday, November 2 to the AAA Texas 500. Coverage begins at 3 PM EST on NBCSN, PRN, and SiriusXM NASCAR Radio Channel 90. The spring race at Texas went to Denny Hamlin, but the Hendrick cars were dominant. However, with traction compound added to the surface, the racing product at TMS could be vastly different.
Written by Peter Stratta
Be sure to follow us on Youtube and Twitter.
Be sure to follow the writer on Twitter.
Photo credit to NASCARMedia