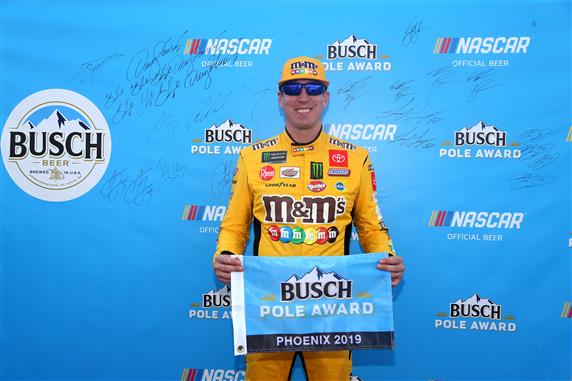 Can Kyle Busch Advance into Homestead Finale for 5th-Straight Year?
This weekend the Monster Energy NASCAR Cup Series makes its way to ISM Raceway in Arizona. This marks the second race of the year in Phoenix. Heading back to ISM can only mean one thing for the eight remaining Playoff drivers. Sunday is that is their final opportunity to lock themselves into the Championship 4 at Homestead. There are six drivers battling for two spots remaining at the finale. So this weekend should be interesting especially, as Kyle Busch is looking to advance to Homestead for the fifth-straight season.
Busch Looking to Advance by Continuing Recent ISM Success
For Busch there possibly isn't a better track for him to attempt to advance than ISM Raceway. Over the last four years it has been one of Busch's best venues. Over the last four years Busch has spectacular results in the eight races at the one-mile desert oval. Busch has finished outside of the top 5 just once in those races-a 7th place in November of 2017. In the three Phoenix races since then, Busch has not finished outside of the top 2. This streak includes winning the last two races that have been run at ISM Raceway.
Busch's Outlook on Sunday
"It's obviously a really good starting spot for us and track position is a big deal here," Busch said after winning the Phoenix pole. "Obviously, it gives us number one pit selection as well, so lots of things that can certainly help us to fire off here to start. Those guys behind us, we know are going to be awfully hungry as well. We just have to see how the race plays out. It puts us in the best possible spot to start off and we've got 312 laps to figure it out.
You just play it one race at a time and when you're in the race, one lap at a time, one stage at a time and just try to figure out where you're at and when it all comes down to the end, just figure out from there what you have to do." With the best starting spot for Sunday, Busch may be hard to beat for a third-consecutive Phoenix win. If Busch does pull off this win, it would be his first victory since June at Pocono, a span of 20 races.
Not a Time to Rest on Past Laurels
However, past success does not guarantee anything in the NASCAR Playoffs. The #18 team can not become complacent and just bring back the same exact car and setup. Each passing race, teams are going to catch up slightly to Busch. This weekend though may not be the time in which they become complacent though. It appears Kyle will once again be hard to beat at what is possibly his best track. On Saturday Busch put himself on the pole for Sunday's race. This puts him in prime position to maximize stage points to send himself to the championship finale. Busch is 22 points above the cutoff line could realistically lock himself into Homestead before the race ends. So with Kyle Busch looking to advance, watch for him to be dominant early.
Written by Conor Borus
Be sure to follow us on Youtube and Twitter.
Photo credit to NASCARMedia