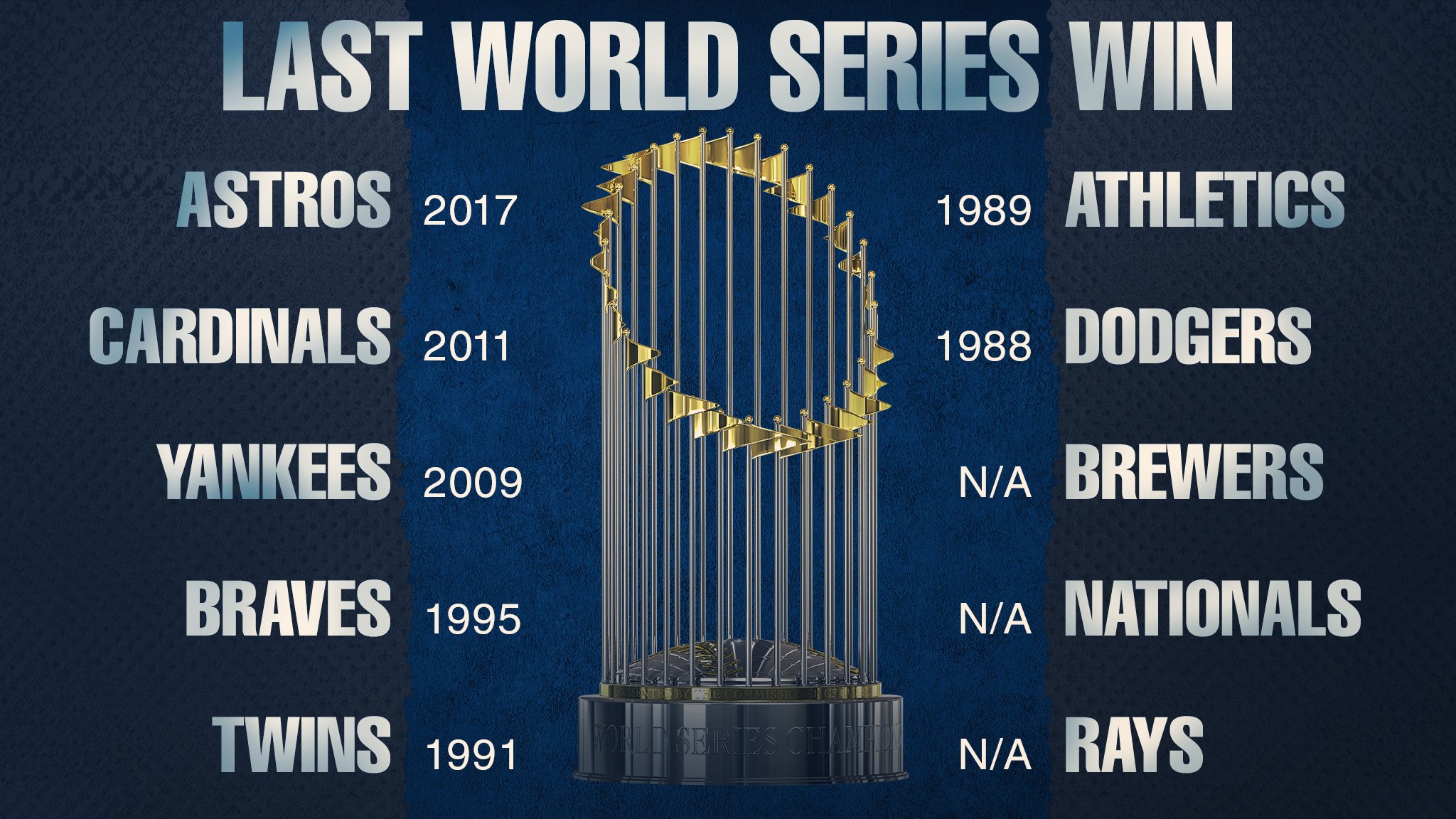 2019 MLB Playoff Predictions
After six long months, the MLB's regular season has finally come to an end. With the Boston Red Sox missing the playoffs, there will be a new champion in 2019. There's a lot of anticipation heading into this postseason. Will the Houston Astros establish themselves as a dynasty by taking home their second title in just three years? Can the Los Angeles Dodgers finally get over the hump and win their first championship since 1988? Can teams like the Oakland Athletics and Washington Nationals shock the world? Welcome to October.
NL Wild Card Game: Milwaukee Brewers @ Washington Nationals
It's impressive that the Brewers were able to make it this far despite the season-ending injury of Christian Yelich. On paper, the Nationals are the huge favorites to win this game. After all, they have the better overall offense and Max Scherzer is on the mound. With Stephen Strasburg and Patrick Corbin available in relief, it's tough to bet against Washington. The Nationals ended off their regular season with an eight-game winning streak, as opposed to the Brewers, who ended off their regular season with a three-game losing streak. Great pitching, better offense, and more momentum. Washington should be able to win this one.
Winner: Washington Nationals
AL Wild Card Game: Tampa Bay Rays @ Oakland Athletics
Once again, the Athletics were able to make it to the postseason when nobody was expecting it prior to the season starting. This time around, they have home-field advantage as that is a pretty big factor. This game could go either way, however, the Athletics might have the slight edge in this one. The Rays have been known to have outstanding pitching this entire season. Led by Charlie Morton, it's tough to bet against Tampa Bay. Despite the fact these two teams are pretty even, the team that would have the advantage is a team that can produce runs at an efficient rate. With more than 250 home runs this season, the A's are more than capable of producing runs. It may be a low-scoring affair, however, expect the A's to pull this one out.
Winner: Oakland Athletics 
NLDS: Washington Nationals vs. Los Angeles Dodgers
Despite how well of a jump the Nationals made this season, the Dodgers have just been completely dominant in the National League. The Dodgers are too good and too deep to allow themselves to lose to Washington in the divisional round. Out of the six games these two teams have faced each other, the Dodgers have won four of the match-ups. Washington may be able to get one game in this series, but realistically, don't be surprised if the Dodgers sweep. Their mentality is in the right place at the right time and with them being more motivated than ever to capture their first championship since 1988, Washington is just another team in their way.
Winner: Dodgers win series 3-1
NLDS: St. Louis Cardinals vs. Atlanta Braves
In all reality, there isn't much that separates these two ball-clubs. This series could go either way, however, Atlanta has been playing as the better team throughout the season. Ever since their divisional-round loss to the Dodgers last year, they're looking to prove that they're the next NL powerhouse team. The favorites in the National League are the Dodgers, but don't overlook Atlanta. The Braves' lineup is top-heavy as they have four of the top-35 hitters in all of baseball. The combination of Acuña, Albies, Freeman, and Donaldson averages more than 110 home runs and 100 RBIs apiece. The Cardinals definitely have the potential to win this series. They could even take it to a fifth game perhaps. Despite that, Atlanta's looking like the better team currently and will probably get past St. Louis this time around.
Winner: Braves win series 3-2
ALDS: Oakland Athletics vs. Houston Astros
Out of the six times these two teams have faced each other, the A's have won four of those match-ups. Just because the Astros are the huge favorites to not only win this series, but the entire post-season, it doesn't mean that the A's are a joke. Oakland's all-around excellence gives the A's a better chance to upset, especially in a five-game series. As much as we would like to see the A's possibly upset the Astros, it's not going to happen. Houston's pitching has been extraordinary this year, led by Cole and Verlander. Overall, it just seems that Houston has no weakness. When you can say that this Houston team is better than their championship team in 2017, it's just scary.
Winner: Astros win series 3-1
ALDS: Minnesota Twins vs. New York Yankees
This division series has the chance to be the best one. They're the two home run-hittingest teams of all time. The Twins were able to surprise many as they were able to win 101 games. Other than hitting the most home runs, the Twins don't do much better than the Yankees. One thing for Minnesota is that no team has played better away from home than them. They weren't able to do much in Houston and New York, however, they should be comfortable playing in hostile territories. This series could go either way, but the Yankees are still the favorites. As good as the Twins are offensively, the Yankees' offense is slightly more lethal.
Winner: Yankees win series 3-1
NLCS: Atlanta Braves vs. Los Angeles Dodgers
A rematch from the division series last year, when the Dodgers basically disposed of the Braves. This time around, the Braves are one year older, better, and closer. But we can say the same about the Dodgers. Despite the lineups being similar from last year, the Dodgers are just on another level. Everything the Braves do, the Dodgers just do better, period. It's not exactly by a small margin either. Los Angeles is the team to beat, and with them being on a mission to win the championship this year, don't expect Atlanta to upset them this year. If we can say that this Dodger team is better than the ones from the past two years, that's just scary.  Motivation, depth, and home-field advantage is why the Dodgers will win.
Winner: Dodgers win series 4-1
ALCS: New York Yankees vs. Houston Astros
Astros-Yankees has been a match-up that we've been waiting to see for months now. Entering the season, we knew that these two teams would eventually face off in the playoffs once again. Despite the fact that these two teams are elite, it seems that whichever team has home-field advantage throughout, wins the series. This time around, it's the Astros that has home-field advantage. This won't be an easy match-up for Houston, but if you bet against Justin Verlander, Gerrit Cole, Zack Greinke, Alex Bregman, Yordan Alvarez, Jose Altuve, Michael Brantley, George Springer, and Yuli Gurriel, then you're lost. Houston should be able to take care of New York.
Winner: Astros win series 4-2
World Series: Los Angeles Dodgers vs. Houston Astros
This match-up comes down to the names and their production. With both teams having a ton of talent on their team, it's tough to say who will win this match-up. Despite the fact that the Astros are the huge favorites to win it all, we shouldn't count out the Dodgers. They're the team that's being made fun of as they're referred as the "Buffalo Bills of the '90s". Just because they lost back-to-back world series, it doesn't mean that they're not contenders. Don't be surprised if the Dodgers were able to get over their world series drought. Unfortunately for the Dodgers, the Astros are the overwhelming favorites. They haven't given any reason to pick against them. It is a team without flaws, and with them entering October healthier then ever, watch out. Anything can happen in baseball, but expect Houston to win once again.
Winner: Astros win series 4-2
Written by Shreyas Kar
Follow Shreyas and TSJ: MLB on Twitter!
Photo credit to MLB via Twitter
Follow TSJ on YouTube and Twitter