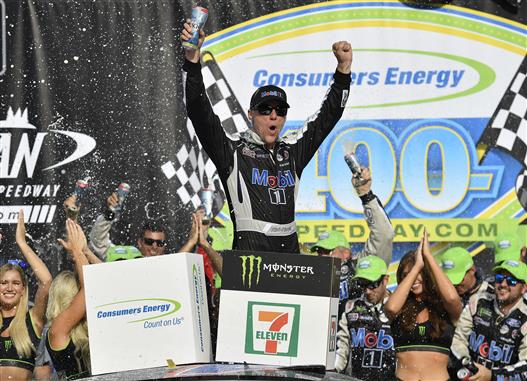 Kevin Harvick Scores Back to Back Victories in August Michigan Race
For the second year in a row, it was Kevin Harvick piloting the 4 to victory lane in Michigan. Harvick's win in the black and silver Mobil1 Mustang came after a fuel mileage race that went in the veteran's favor. For Harvick, this is win number 2 of the year, and his third career win on the 2 mile oval. Kevin was not the only Harvick to put on a show at Michigan however. In a repeat of last year, 7-year-old son Keelan got to take the checkered flag and rode along with his father to victory lane. "I know how much Mobil1 likes to beat that Shell car," said Kevin Harvick after the win. Harvick made the winning pass over Joey Logano with just 18 laps remaining.
Despite Harvick holding serve at the finish, many drivers had strong days. Conversely, a couple teams on the Playoff bubble had forgettable performances in Michigan.
Inspection Failures Put Teams in Early Hole
As has become typical in 2019, a few cars were sent to the rear for the start. In his 500th career Cup Series start, Martin Truex, Jr. would have to rally from deep in the field. The 19 team had failed inspection twice, thus sending MTJ to the rear. One other unusual penalty afflicted both cars from the Richard Childress Racing camp in post-qualifying inspection. Both the number 3 and number 8 Chevrolets were found to have illegally modified alternators. As a result, Austin Dillon and Daniel Hemric had their time trials disallowed, putting them in the back as well. Other cars sent to the rear for Michigan included Corey Lajoie and Matt Tifft for transmission changes, and the 77 of Garrett Smithley for a driver change.
Home State Hero Puts on Show Early
After stealing the pole away from Kevin Harvick on Friday, Brad Keselowski was determined to score the win. Michigan is the 2012 champ's home track, and he has said for years that a win here would be as big as a Daytona 500 win. The 2 Discount Tire Ford looked flawless early on, as Keselowski had a 1-second lead by lap 10. In the same duration, the 19 of Truex was knifing his way up the leader board. Truex was up to 16th in just 5 laps.
Early Troubles End Promising Day for the 48
On lap 13, the 48 of Jimmie Johnson ran wide on the exit of turn 2 and found the outside wall. Johnson immediately had a flat tire, forcing the 48 to pit under green. Under this unfortunate sequence, the 48 lost 2 laps to the leader. Just a few laps later Johnson would pit again with another flat tire, putting him even further back. The Ally 48 was running just outside of the top 10 when initial contact was made with the wall. Johnson entered Michigan as the last man in the Playoffs on a tiebreaker, and finishing 8 laps behind in 34th cost him dearly. Johnson would leave Michigan 18th in the standings, 12 points outside of the Playoffs.
Another Tire Issue For a Contender
With Stage 1 just past halfway on lap 33, another front running car had a tire issue. After reporting that he ran over something on the backstretch, Kevin Harvick forgave 2nd place to come to pit road. The 4 did have a right front flat, as they went a lap down due to the off-cycle stop. This would hand 2nd place to Denny Hamlin.
Hamlin would stalk Keselowski down for the lead and finally take the top spot on lap 40. Hamlin would hold the lead until his first pit stop of the day on lap 44. This sequence would hand the lead to Hamlin's teammate Martin Truex, Jr., who had charged through the field in just over 40 laps to take the lead. After this round of green flag pit stops, the race for the Stage 1 win was on between Hamlin and Truex.
Tight Racing to End Stage 1
With green flag pit stops complete, the 19 of Truex led the 11 of Hamlin by a wide margin. As the better long-run car though, Hamlin quickly erased his deficit. When 5 laps remained in Stage 1, the 11 caught and passed the 19 in heavy lapped traffic. However, the 19 did not give up, as Truex motored his way back by the 11 on the next lap. Despite more lapped traffic, Truex was able to hold on for the Stage 1 win. In a span of less than 60 laps, Truex went from worst to first. Amazingly, this is only Stage win number 3 of 2019 for Truex, Jr.
Keselowski Back Out Front For Stage 2
By taking just 2 tires, Hamlin maintained the lead coming out of the pits. However, just behind him in a close 2nd position was the 2 of Keselowski, also with just 2 fresh tires. On the restart, the 2 cleared the 11 for the lead down the backstretch and began to pull away. On shorter runs Hamlin's car lacked takeoff speed, as was evident when Truex took over 2nd. With 4 fresh tires, Truex was seemingly at an advantage in chasing down Keselowski. However, the 2 held the lead while Hamlin and Truex again battled it out for 2nd.
On lap 89 however, Truex had regained the 2nd position and had a huge run coming for the lead. Keselowski blocked Truex going down the backstretch, but Truex still went on by the 2 passing him on the apron. It appeared to be clean sailing for the 19, but the 11 came to life again just past lap 100. On lap 104, Hamlin had again chased down Truex for the lead. The race for the Stage 2 win would again be decided on pit road as another cycle of green flag stops began on lap 107.
Caution After Pit Stops Shake Up Stage 2 Results
With Alex Bowman's 88 being the first to pit, much of the field came in over the next 2 laps. Truex, Jr. pitted from the lead on lap 110, and shockingly took no new tires, just fuel. Contrarily, Hamlin had taken tires under his pit stop. This gamble by crew chief Cole Pearn allowed the 19 to remain ahead of the 11.  Without any caution, Stage 2 would likely go in favor of the 19. That would change on lap 116 however, as Truex had an 8-second lead.
Going into turn 3, the caution was brought out when Brad Keselowski entered a 4 wheel drift triggered by a flat right rear tire. Amazingly Keselowski stayed out of the wall and only clipped the inside grass. Besides the flat tire, the 2 suffered no further damages. This caution would bunch the field up for a restart however. It would be a 1-lap dash to conclude Stage 2, with Truex starting alongside teammate Kyle Busch.
1-Lap Shootout to End Stage 2 Goes Haywire
On the restart, Truex and Busch were dead even into turn 1. With a big push from Erik Jones though, Kyle Busch cleared Truex through turn 2 and down the backstretch. 'Rowdy' would win Stage 2 after leading just the last lap. This would mark a series-leading 9th Stage win of 2019 for the 18. Behind him though, 3 drivers made contact coming out of turn 4.
Coming to the end of Stage 2, the 10 of Aric Almirola drifted wide out of turn 4. Almirola thought he had cleared the 8 of Daniel Hemric when he had not, so Hemric clipped Almirola into the outside wall. To add insult to injury for RCR, the 10 clipped Austin Dillon's 3 car and sent him sliding through the grass. Both Dillon and Hemric were able to continue, but Almirola suffered heavy damages. The 10 team was able to get Aric's car repaired, but lost several laps in the process.
June Michigan Winner Starts Final Stage Up Front
With Busch, Truex, and a few others pitting for tires, the lead for the start of the final Stage was inherited by Joey Logano. After a dominating performance at Michigan in the spring, Logano was going for a season sweep at MIS. He would easily clear Kurt Busch for the lead on the restart and the 22 set sail. After restarting on lap 128, this run would be cut short when Spencer Boyd hit the wall on lap 133.
Another Playoff Bubble Driver Faces Adversity
On the lap 137 restart, Logano held serve over the field again, but it was a hornet's nest behind him. Three and four wide racing was seen throughout the pack, and only lasted 1 lap. Lap 141 would be an early end to the day for Clint Bowyer. The 14 found the turn 3 wall as a result of contact from Paul Menard. Entering the day with just a 12-point cushion, Bowyer's Playoff chances took a big hit. The 14 Stewart-Haas Racing team left Michigan with a 37th-place result. This leaves Bowyer just 6 points above the cut line in 16th.
Untimely Caution Sets Up Fuel Mileage Race
On the ensuing restart, Logano and Kurt Busch were again battling hard for the lead. The 1 of Busch would lead the first lap under green, until the 22 cleared him in turn 2. This run would again be cut short by a caution, when Ricky Stenhouse, Jr. spun on lap 149. With this yellow falling just outside of everyone's fuel window, everyone made their way into the pits to top off. The final 50 laps would be defined by whoever could save enough fuel. With the already-intense pressure of a fuel mileage race, new-leader Ryan Blaney was far from being comfortable. The 12 team was unable to get their fuel tank full before Blaney sped out of the pits. Restarting up front, Blaney would have to aggressively save fuel.
Restarting right behind Blaney were his two teammates, as well as the corporate-alliance 21 car of Paul Menard. None of the 4 Penske Fords were good to go on fuel, with Brad Keselowski being 10 laps short. Over a 48-lap run, nobody could save that much fuel, so Brad would have to eventually pit again. After restarting in 3rd, Logano quickly took back the lead despite the 22 team's own fuel concerns.
Right behind the 4 Penske cars in 5th place was Kevin Harvick, who was told by his team that he was good to go on fuel. With this in mind, the 4 started methodically creeping forward. By lap 180, Harvick was in 2nd and quickly catching Logano. Lap 183 would see Harvick make the pass for the lead over Logano, as the 22 was about to run dry.
Strategy Gamble Folds in For Keselowski
Lap 188 would see Keselowski pit from 3rd, as his team's fuel strategy gamble was far from paying off. Although he led a race-high 66 laps, the hometown hero would have to settle for a lackluster 19th place finish.
With no further cautions, the 4 cruised to another win at Michigan well ahead of 2nd place Denny Hamlin. The closing laps would see many drivers run out of fuel, shaking up the finishing order. For Harvick though, he had enough fuel to do a burnout as well as drive into victory lane with his son Keelan.
Significance of the Michigan Win for Harvick
For Kevin Harvick, this is his second win of 2019 and this is his third win at Michigan. For 2-straight years now Harvick has won the August Michigan race, including last year's domination. 3 wins at Michigan for Harvick ties him with Kyle Larson and Kurt Busch for most among active drivers. Michigan is career win number 47 for Harvick, which ties his win total in the Xfinity Series. Stewart-Haas Racing also hit a milestone with this win, as they are now 12th on the list of all-time winningest race teams. Harvick's victory broke a tie with the Carl Kiekhaefer Racing Team.
Other Notables in the Top 10
Finishing 1 second behind Harvick in 2nd place was Denny Hamlin. Hamlin was also 2nd in Harvick's other win this year at New Hampshire. For 5-straight races now, Hamlin has scored a top 5 finish. This streak also includes a career-long 4-straight top 3 finishes. While Hamlin was quick at times, he was fairly blunt in saying "the fastest car won the race." With this consistency though, Hamlin is placing his team ever so higher in the Playoff seeding.
In 3rd was Kyle Larson, the 3-time Michigan winner. Larson was able to use many cars running out of fuel to his advantage, as he climbed several spots in the running order. "The last thing I knew I was running like ninth and I passed a couple guys," Larson told NBCSN. "I guess more people ran out of fuel than I thought. I don't really know what happened there. But yeah, it worked out." Larson now finds himself comfortably inside the Playoffs, 71 points above the cut line.
From Worst to Stage win, Top 10 for Truex
Coming home in 4th for his 500th race was Martin Truex, Jr. Although he was fast in the first half of the race, the 19 did fade. "It was a hot rod early," said Truex after scoring his 15th top 10 finish of the year.
"We were able to drive by everybody. The first couple runs of the race were really sporty. To get up there and win stage 1 was a big deal. I felt through the middle of the race we had the best car. Just those last couple restarts, we got off sequence and lost all of our track position and restarted 19th. Just could not get in the right spot. Every restart we were in the wrong lane, we lost spots. Then we would just have to pick them off one at a time. Amazing race car. Auto Owners Camry was a rocket ship today, just didn't get to show it at the end."
Rounding out the top 5 was Daniel Suarez. With the troubles faced by Johnson and Bowyer, a top 5 result was huge for Suarez in his quest to make his first Playoff appearance. "We just have to be calm and do our thing, hopefully we can be mistake free the next few weeks," Suarez told NBCSN. "I really want to do that soon," he said watching Harvick's burnout. "This team deserves it, and we will be doing that very soon." Suarez leaves Michigan 6 points behind his teammate Clint Bowyer for the last Playoff spot.
Bittersweet Michigan Result for Rowdy
6th place at Michigan would go to Kyle Busch, who rallied forward after starting 22nd. A win in Stage 2 would make it seem like a solid day for the 18, but he only led 3 laps and did not have a good handle on his car throughout the day. "After winning Stage 2 we got back in traffic, I got up to 5th on another restart but got shuffled back," Busch told NBCSN. "We just could not ever get going right with the balance of the car, it never felt in the racetrack all day long, just sliding all around. We persevered, some guys had to pit or ran out, and we finished 6th." Busch has to be considered a strong favorite heading into next week's race at Bristol, as he maintains his Regular Season Championship lead.
Rookie Upset in the Top 10
In 7th was rookie Ryan Preece, scoring his third top 10 result of 2019. "It was a good day," Preece said following the race. "Expectations-wise, it was a top 20 or 15 would be fantastic. Well, we ended up with a top 10 and we made the car better and better every lap. It was good. We had a good race car. Track position, like fuel helped, but we were still going to end up anywhere from 12th to 10th, so it was a good day." Preece now sits second in Rookie of the Year standings, just 53 points behind Daniel Hemric.
For his eighth top 10 of the year in 8th place was William Byron. The 21-year-old had a solid day and saw his Playoff points cushion extend. He is now 12th in the Playoffs, 89 points above the cut line. This is young Byron's best Michigan result, and it all but locks him into his first Playoffs. Byron's crew chief Chad Knaus told PRN's Garage Pass that "He's still pretty young, he's a great racecar driver but he's still got a lot of experience to gain. At least he's doing that weekly."
Leaving Michigan in 9th was the 9 car of Chase Elliott, one week removed from his Watkins Glen win. Elliott's 9th place result makes it 9 top 10s in 2019 for the Hendrick driver.
Lastly in the top 10 right behind 2 of his teammates was Alex Bowman. The 88 made it 3 Hendrick Motorsports Chevrolets in the top 10, earning his seventh top 10 of 2019.
How to Watch the Next Race
Race 24 of the 2019 NASCAR Cup Series season is a fan favorite, the Bristol night race. TSJ101Sports will be there covering all 500 laps of action, so be sure to stay tuned in on Twitter. Coverage of the Bass Pro Shops/NRA Night Race will be on Saturday, August 17th at 7:30 PM on NBCSN, PRN, and SiriusXM NASCAR Radio Channel 90. Just 3 races remain until the Playoffs, can an upset winner stun the racing world on the famed half-mile?
Written by Peter Stratta
Be sure to follow us on Youtube and Twitter.
Be sure to follow the writer on Twitter.
Photo credit to NASCARMedia