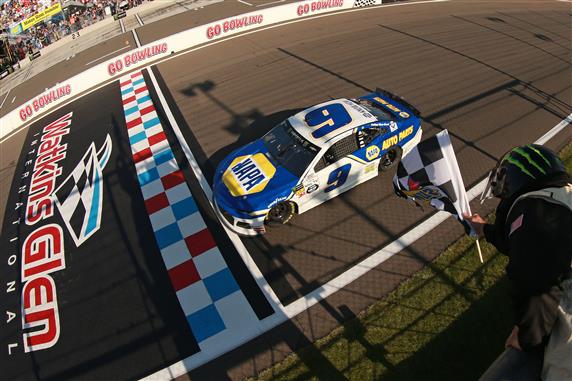 Chase Elliott Holds Off Martin Truex, Jr. for Second Straight Year at Watkins Glen
"I've never been so far from home and felt like I was at my house," Chase Elliott said after winning again at Watkins Glen. Watkins Glen in 2019 was a near-perfect recreation of the road course race in 2018, as Chase Elliott held off Martin Truex, Jr. for the win. For the 9 car, this is the second straight win at The Glen. Elliott led for much of the day after starting on the pole. While it was a relatively clean day for Elliott, many drivers behind him had days they would rather forget.
Another Hendrick Car Cruises to Dominant Stage 1 Win
Much like teammate William Byron at Sonoma earlier this season, Chase Elliott went for max points in Stage 1. After starting from the pole, the number 9 Napa Chevrolet quickly got out to an early lead over Byron's 24. By lap 4, Elliott's advantage was over 2 seconds. Though some drivers would take off-track excursions, Stage 1 was completed without any cautions. Chase Elliott would record his third Stage win of 2019 in Stage 1.
Early Setback for Busch
While battling hard against William Byron on lap 2, the 18 of Kyle Busch went around in turn 1. Amazingly, Busch did not suffer any damage, and only fell back to 10th place. By the lap-20 conclusion of Stage 1, the 18 was already back up to 4th. Under the Stage break however, drama unfolded between Byron and Busch.
On the final lap of Stage 1, William Byron's 24 machine went into the grass through the bus stop. Kyle Busch had shoved him into the grass, in a display of retaliation for the lap 2 spin. Under caution, Byron's crew chief Chad Knaus was very animated and displeased with the 18. Knaus instructed Byron to run into the 18 car in revenge. The 21-year-old driver obliged, but the payback backfired. After Byron rammed into Busch, the nose of the 24 Chevy was caved in, damage the pit crew would need to fix. Meanwhile, the 18 hardly had a scratch on him. Due to a pit road speeding penalty however, both Busch and Byron would start Stage 2 near each other in the back.
Elliott Edges Ahead in Stage 2
When Stage 2 began, the top 4 drivers had stayed out ahead of Chase Elliott. Kyle Larson initially got the jump on the restart, but the 9 was looming in his rear view mirror. It would likely not be long until the 9 was leading the way yet again at The Glen. Others who restarted ahead of Elliott included Kevin Harvick and Clint Bowyer. The 2 SHR teammates were utilizing an alternate pit strategy, as they had stopped prior to the Stage break on lap 17. Larson had yet to pit however, so he was restarting up front on the oldest tires in the field. The 42 would finally make his first pit stop on lap 28, handing the lead back to Elliott.
Lap 36 would see the second caution flag of the day for an engine expiration from Reed Sorenson. This would set up a 4-lap dash to close out Stage 2. Elliott nailed the restart, easily clearing Harvick into turn 1. Behind him however, the 19 of Martin Truex, Jr. was charging hard, trying to get this Stage win. Truex's surge would be cut short by a Stage-ending caution on lap 39, when the 43 of Bubba Wallace pounded the turn 5 tire barrier. This would result in a Stage sweep for Elliott, the man who had not scored a top 10 in the past 7 races. This Stage sweep also came on the 1 year anniversary of Elliott's first career win, as he was going for a second straight Watkins Glen victory.
Elliott-Versus-Truex Again on Restart
For the final Stage restart on lap 44, it was Elliott lining up as the leader alongside the 19 of Truex. These 2 drivers battled it out until the very end in last year's Watkins Glen race, and it appeared that round 2 was brewing. The 2 of them would easily gap the rest of the field, with the 9 out front. However, the 19 was right on his rear tailgate for the opening laps of this run. The 9 and 19 would run like this until Elliott came in for his final pit stop on lap 59. Truex would stay out to lead 1 lap, then also made his way in for his final pit stop. At the end of the cycle, the 9 was still just ahead of the 19.
Simultaneous Incidents Bring Out Final Yellow
Just as the last round of green flag pit stops were cycling out, 2 concurrent spins would trigger a caution. In turn 5, Jimmie Johnson spun after contact from Ryan Blaney. At the same time on the front stretch, Bubba Wallace and Kyle Busch were beating and banging doors. This resulted in Bubba turning the 18 into turn 1. Both veteran drivers would be more than a little upset at their younger counterparts for the contact, as Busch and Johnson were both put in deep holes.
Truex Gets Rough on Restart
Little did anyone know at the time, but the ensuing restart would be the final one of the day on lap 65. By the way the 2 leaders raced, one would figure it was an overtime restart. Elliott got another great jump, but this time Truex did as well. The 9 and 19 were door to door through turn 1 and up the esses. Elliott only cleared Truex out of turn 4, after some heavy contact from the 19. Elliott initially thought the contact cut one of his tires, but he was able to continue without issue.
Over the course of the final 20 laps, it was a stretched out battle between the 9 and 19. Elliott would build a gap in some corners, while Truex would gain in others. Truex's car had an apparent aero deficiency, which allowed him to catch but not pass Elliott. Without any yellows, the laps ticked off quickly, Truex not letting Elliott slip away. By the white flag, the 2 were nose-to-tail. Despite being weaker in the bus stop, Elliott held off Truex to win again.
Watkins Glen 2019 marked Chase Elliott's 5th career Cup Series win, as he won the road course race for the second straight year. In total, Chase Elliott led 80 of 90 laps at The Glen in a dominant win from the pole. This is also his second win of 2019, after the April Talladega victory. Unlike last year however, Elliott had enough fuel to do a burnout in front of his father as well as the fans in attendance. The 9 would only sputter dry after the third victory celebration.
Other Notables in the Top 10
For a second straight year, Martin Truex, Jr. has to settle for 2nd at Watkins Glen. He described his inability to pass as a "wall of air" whenever he caught the 9. For 3-straight years now, Truex has finished 1st or 2nd at The Glen. He has also won or been in contention for each of the last 6 road course races.
Coming home 3rd at Watkins Glen was Denny Hamlin, on the heels of his Pocono win last week. Hamlin was one of three Toyotas in the top 5, as they raced for the win against the Chevrolets. The 11 team has now scored top 5s in 4 straight races this year, as well as in 3 of the last 4 at The Glen.
Padding his points cushion even more with a 4th place result was Erik Jones. The Michigan native now sits 54 points above the cut line with 4 races remaining, as he also has 4 consecutive top 5s.
Rounding out the top 5 at Watkins Glen was Ryan Blaney, who recovered nicely from starting 37th. Blaney was confronted by Jimmie Johnson post race, as the 7-time champion believes that Blaney dumped him and voiced his displeasure. After winning last year at the Charlotte Roval and finishing 3rd in Sonoma, Blaney is becoming a sleeper on road courses.
Newfound Consistency for Dibenedetto
In 6th place was Matt Dibenedetto, as he turned in another strong run for Leavine Family Racing. Watkins Glen marks his 4th top 10 of 2019, all of which have come in the last 7 weeks. The 95 was a prerace favorite due to his strong result at Sonoma, as he now has 2 straight road course top 10s.
Putting together a quiet race in 7th was Kevin Harvick. Though the alternate pit strategy gained him track position early on, the 4 was unable to stay up front, as the Fords were slower all weekend.
In 8th place was Kyle Larson, who remained consistent after starting in 5th. Other than Elliott's 80 laps led, Larson's 6 circuits out front was more than anyone else. Larson wanted to escape this weekend without any major issues, which is precisely what he did.
After saying that the Penske cars on road courses need some work, Brad Keselowski called himself a 7th-9th place car, and that's where he ran all day. The 2 would come home in 9th, far from the contender many expect him to be.
Lastly in the top 10 from Watkins Glen was Kurt Busch. While a 10th place run is far from what Busch would have wanted, it was a clean race and a solid birthday present for the now 41-year-old.
How to Watch the Next Race
With just 4 races left until the Playoffs, the Cup Series will return to Michigan International Speedway for the Consumers Energy 400. Coverage will be on Sunday, August 11 at 3 PM EST on NBCSN, MRN, and SiriusXM NASCAR Radio Channel 90. Despite being non-factors at The Glen, Fords have been unbeaten in recent history at Michigan, can another blue oval win a 4th straight race in their backyard?
Written by Peter Stratta
Be sure to follow us on Youtube and Twitter.
Be sure to follow the writer on Twitter.
Photo credit to NASCARMedia