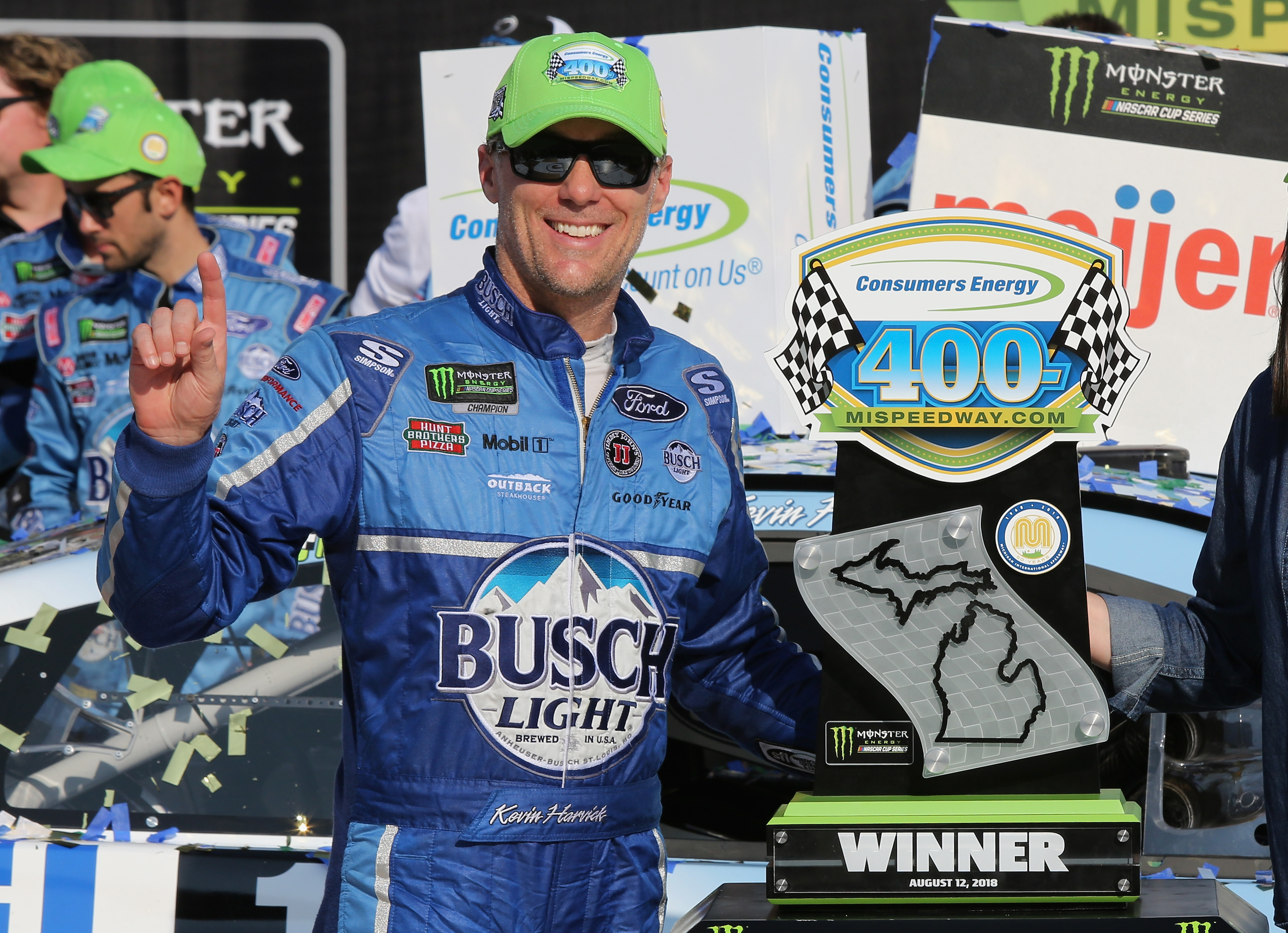 Kevin Harvick Leads 108 Laps in Dominating Win at Michigan, a Championship Caliber Run for the 4
In a near-perfect performance at Michigan, Kevin Harvick sent a message throughout the garage. His 4 team is the title favorite for 2018. Leading 108 laps, sweeping both stages, and winning by 3 seconds are nothing short of a championship caliber performance.
Aggression Starts Early in 400 Mile Race
Much like last week's race at Watkins Glen, the intensity ratcheted up from the start at Michigan. Also similar to last week were the top 2 in qualifying. Joe Gibbs Racing teammates Denny Hamlin and Kyle Busch were the fastest on Friday. As a result, the Toyota teammates had the best track position from the start.
Another driver from Joe Gibbs Racing had a day far from expectations, considering that Michigan is his home track. Erik Jones would bring out the 1st caution of the race when he spun on lap 10. Being a native Michigan driver, Erik was hoping for a strong run in front of his family and friends. Unfortunately this would not be the case for Jones, who would finish the day in 13th.
In another instance of hard racing early on, William Byron got loose under Martin Truex Jr in turn 1 on lap 17. Both drivers would spin, bringing out another caution. Miraculously, Truex downshifted while sideways and kept his car out of the wall. After the race, Truex cited the incident as "a rookie mistake. He just drove in too deep and thought I would give him the line."
The opening stage halted a 3rd time with a competition caution 25 laps into the race. At this point, Kyle Busch was leading over Kevin Harvick. This first round of pit stops would see Truex make a big gain. He made up 12 spots with a fuel-only stop.
After going back to racing, Harvick was able to take the top spot from Busch on lap 28. From that point on, it was smooth sailing for the 4 team. Harvick cruised to his 11th Stage win of the season.
Pit Strategy Shakes Up Mid-Race Running Order
For the start of Stage 2, it was Jimmie Johnson who had the lead with his 48 Chevrolet. Johnson lost the lead almost immediately to Kyle Busch, as Busch had fresh tires. However, Jimmie was benefited by a caution on lap 76. When the leaders once again chose to pit, Chad Knaus kept the 48 out front. On this restart, with Truex to his inside, Jimmie held serve, leading 9 laps. It wasn't until lap 85 where Truex took the lead as Jimmie was forced to pit.
The 'Big 3' Flex Their Muscles at Michigan
Without any doubt, the focus of 2018 has been on the 'Big 3' drivers. Harvick, Busch, and Truex have all taken their turns at putting together championship caliber races and visiting victory lane. Michigan was no exception to this trend, as the 'Big 3' were all running inside the top 10 for much of the race.
Fuel Gambling Proves Costly for Stage Points
For Stage 2, Martin Truex Jr was trying to stretch his fuel mileage for all 60 laps. This was in spite of the fuel window being less than 45 laps. On a similar strategy was Daniel Suarez, who started the race in the rear. Aggressive fuel savings meant Truex had to cede the race lead to Harvick. With 3 laps left in the Stage, Suarez finally made a pit stop from the 5th position. After pit road had closed a lap later, the 78 ran out of gas on the backstretch. Truex was forced to pit on the last lap of Stage 2. Since pit road was closed, this led to a penalty for the 78 team.
Truex lost the lead with 10 laps left in Stage 2. As a result, Kevin Harvick went on to sweep both stages. By winning Stage 2, Harvick gained his 35th Playoff bonus point of 2018. This is a tie for the most bonus points with Kyle Busch.
A Sign of Things to Come for RCR?
Since winning the Daytona 500 in February, Richard Childress Racing has been marred by inconsistency and a lack of speed. All weekend long, both cars from RCR had a significant uptick in speed and performance. Both Austin Dillon and Ryan Newman qualified in the top 6. They also raced in the top 10 for much of the day. Due to some strong restarts, Dillon was racing hard against Harvick for the lead late in the day. With 2 laps to go, Dillon was running 2nd when he had a flat tire. He was able to finish 4th, while Newman finished 15th after another tire issue.
Freak Accident for Ty Dillon
The only caution flag during the final stage occurred on lap 134. In a scary incident, Ty Dillon went straight into the turn 3 wall. He was forced into the wall after the 13 car ran over a large piece of debris. This debris knocked the front of the 13 car up into the air before disintegrating. With no flat tires, Dillon's 13 car was forced into the wall at a hard angle. The debris was speculated to be either a backup battery, or a piece of tungsten. It is unknown who this debris came from, as Ty Dillon was curious who caused him to finish 38th.
Late Race Pit Stop Cycle Puts Harvick at a Deficit
With 30 laps to go, Rodney Childers called Kevin Harvick to pit road for his final scheduled stop. This put Harvick behind several other cars who had yet to pit, and were staying out hoping for a caution. During the final stint, leaders included Austin Dillon, Joey Logano, Ryan Newman, and Jamie McMurray. Harvick retook the lead on lap 190, despite Dillon and others trying to leapfrog him with shorter pit stops.
For the remaining 10 laps, it was Harvick just maintaining a gap ahead of Austin Dillon. This advantage was stabilized at over 3 seconds, giving Harvick plenty of breathing room. After Dillon's flat tire, Brad Keselowski took over P2 for the finish.
The top 10 finishers from Michigan were Harvick, Keselowski, Kyle Busch, Dillon, Ryan Blaney, Kurt Busch, Aric Almirola, Denny Hamlin, Chase Elliott, and Joey Logano.
How Michigan Affects the Playoff Picture
With his 7th win of 2018, Kevin Harvick is now ahead of Kyle Busch in the Playoff seeding. Harvick has 40 bonus points to Busch's 35. In spite of this championship caliber run, Busch still leads the Regular Season standings by 62 points over Harvick. If Busch can hold his lead over Harvick, that will mean 15 more bonus points for him.
Michigan race weekend saw several drivers clinch a Playoff spot based on points. In addition to Kurt Busch, who clinched last week, Brad Keselowski, Ryan Blaney, Denny Hamlin, and Kyle Larson all secured postseason spots.
The Playoff bubble picture did not change at all, since neither Alex Bowman or Ricky Stenhouse Jr had breakout performances. Stenhouse still trails Bowman by 62 points. Stenhouse was 18th at MIS while Bowman was 19th.
How to Watch the Next Race
After a championship caliber execution from Kevin Harvick at Michigan, the next race will be Bristol. The 'Big 3' drivers have taken turns with having title caliber races so far in 2018. Can one of them win at the famed Bristol Night Race? Full coverage of the Bass Pro/NRA Night Race from Bristol is next Saturday, August 18th at 7:30 PM EST on NBCSN, PRN, and SiriusXM NASCAR Radio Channel 90. The regular season is nearing the end, so who can put together a Playoff caliber run at the Tennessee short track?