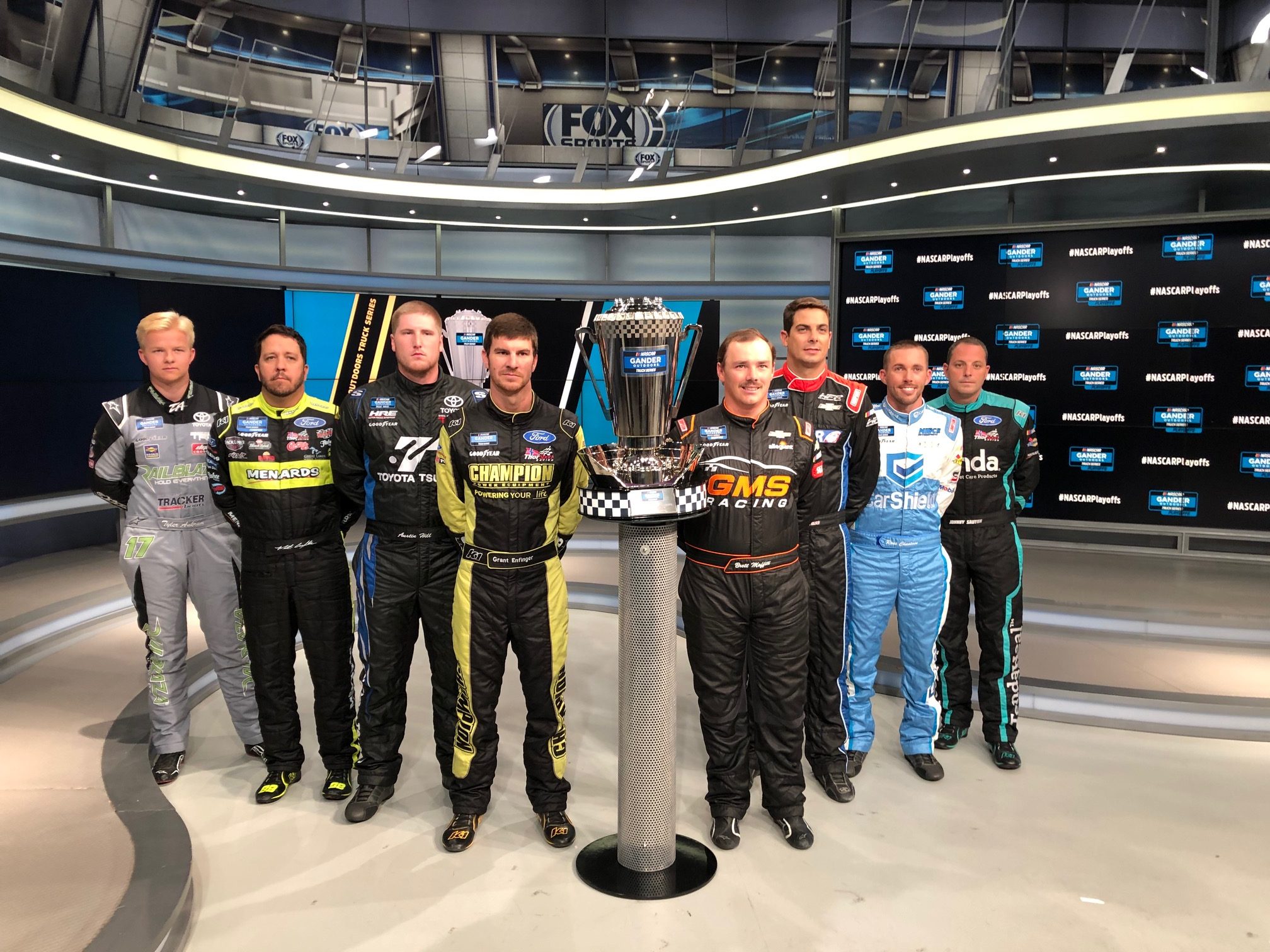 Previewing the 2019 Gander Outdoors Truck Series Playoffs
After 6 months and 16 races, the field of 8 is set for the 2019 Gander Outdoors Truck Series Playoffs. This year's Playoff field in particular is especially diverse in terms of each driver's age, experience, and racing background. TSJ101Sports had exclusive access to all 8 drivers ahead of the Playoff opener. With the Playoffs set to start this Thursday at Bristol, who's hot and who's not?
Tyler Ankrum
The youngest man in the 2019 Gander Outdoors Truck Series Playoffs is also the number 8 seed. 18-year-old Tyler Ankrum earned his Playoff spot by winning at Kentucky in July. Ankrum is the youngest winner in NASCAR national series competition, as well as the youngest to ever make the Playoffs. He is the first NASCAR race winner born after the turn of the millennium. Some of his Playoff competitors have been racing longer than he has been alive. With experience lacking for the DGR-Crosley Racing driver, his mindset heading into the postseason is to have fun.
"No matter the experience I have, we seem to run pretty good everywhere we go," said Ankrum. "We have really fast equipment, it's just about closing races out. I don't want to treat this like a job, I want to treat this like it's my passion, which it is. I think we're capable of making it to Homestead as an underdog. We got some racetracks coming up, like Martinsville, where I struggle. But having good finishes to start the Playoffs will be huge. Staying out of trouble, running up front, and getting Stage points will be key."
Despite his strong confidence, Ankrum will have an uphill battle to make it out of the first round of the Playoffs. Without the Kentucky win, Ankrum was not going to make the postseason field of 8. The 17 team's lack of consistency would have kept them out of the postseason. The San Bernardino, California native who is the defending K&N East Champion has already locked up Rookie of the Year honors. However, he will need an uptick in performance and speed if he is to advance out of the opening round of the 2019 Playoffs.
Johnny Sauter
The only driver to make the Championship 4 in each of the 3 prior years under this Playoff format, Johnny Sauter is trying to make it 4-for-4. 2018 was a career year for Sauter. The 2016 Truck Series champion won a record 6 races and set a career-high for laps led 1 season ago. However, his 2018 campaign took place driving for GMS Racing, and Sauter returned to Thorsport over the off season. 2019 has not been nearly as successful for Sauter, but he is still one of the elite 8 thanks to a win at Dover in May. Since then however, Sauter has seen a bit of a slump. The 13 truck only has 2 top 10s since the Dover win. Sauter attributes this to his usually less-than-stellar summer stretch.
With the points reset, Sauter finds himself seeded 7th for the Playoffs, only 13 points out of the lead. While Thorsport has lacked speed in 2019, Sauter is still determined for a favorable outcome in the Playoffs. "There's no reason we can't repeat the 2018 consistency again this year," said Sauter. "Obviously the last couple of months have not gone as we expected. But I've been racing long enough to know that some weeks it just doesn't work out for you. Duke and Rhonda Thorson give us everything we need to win. Along with Ford's support we just need to go execute, keep our nose to the grindstone, and keep working."
Don't Count Out Sauter Yet
While the 13 team's performance so far this year has been a bit underwhelming, expect Johnny Sauter's experience to prevail. Sauter will likely need to win a race in one of the first 2 rounds if consistency is still lacking. Sauter has won a Playoff race in each of the past 3 years, so expect his usual postseason surge to return.
Matt Crafton
The last man in the 2019 Playoffs on points, 2-time champion Matt Crafton has done everything this year except win. His 14 top 10 finishes lead all Truck Series competitors, but he is lacking in laps led. The 88 Menards Ford F-150 has only been out front for 34 laps all season. Crafton sees this as the biggest obstacle between himself and victory lane. "We haven't finished where we've started all year long, said Crafton. "We aren't leading laps, we've been good but not great, we'll get there."
While Crafton has 2 championships, neither came under a Playoff format. Rather his 2013 and 2014 crowns came under a season-long championship fight, which awarded consistency over winning. When asked if the 88 is capable of winning Homestead, Crafton said "Absolutely. It's a place that's going to wear the tires out a lot. It's one of the only places where tire falloff and management is a key to winning. That's what we strive on."
Crafton's superb level of consistency may be enough to carry him through Round 1. However, staying out of trouble and surviving will be at a premium in Round 2. Wildcard races at Talladega and Martinsville will shake up the standings. If Crafton can continue his hot streak of top 10s, he should have no issues getting to Homestead. But, the 88 will have to put forth a race winning effort if they are to win the 2019 championship.
Ross Chastain
The man who has won the hearts of fans for his signature watermelon smash, Ross Chastain's 3 wins have him seeded 5th in the Playoffs. Perhaps nobody in Truck Series history would have a more unique path to the title than Chastain. He was not even competing for Truck Series points until June. In the 8 races since switching over from Xfinity Series points, Ross has had a roller coaster of results. He won in his second race at Iowa, only to have his truck disqualified for failing to meet ride height requirements. The very next week at Gateway, Ross would win again. However, he was not Playoff eligible until cracking the top 20 in points, which he did at Kentucky.
Chastain would go on to a dominating win at Pocono, a 12th place run at Eldora, and suffer a pit road crash at Michigan to close out his regular season. Despite the 2 lackluster results in back-to-back weeks, confidence is at an all-time high for the watermelon farmer. "We're business as usual from here on out," said Chastain. "We just want to put together good races. But if you have races like we did at Michigan where you get taken out on pit road, then you're not going to win a championship. Stuff like that can happen at any race, even Homestead, so we just have to keep winning."
Will There be a Miami Melon Smash?
Chastain is by all accounts one of if not the lone championship favorite heading into the Playoffs. The speed and execution shown by the Niece Motorsports 45 team has been nearly flawless all year long, leaving the competition scratching their heads. If Chastain can in fact stay "business as usual" throughout the postseason, he will be racing for a title in south Florida. From the start of Homestead, it's anyone's guess as to how the race will play out and who will be celebrating big. If their first 6 races can go without any hiccups or troubles, anticipate the 45 team to be one of the final 4.
Austin Hill
The driver who book-ended the regular season with wins has the benefit of racing for the defending championship-winning team. Austin Hill hopes to make it back-to-back Homestead appearances as well as titles for the 16 Toyota Tundra at Hattori Racing Enterprises. A year ago with driver Brett Moffitt, the 16 team under the leadership of Scott Zipadelli won the last 2 Playoff races en route to the title.
A year removed, Hill believes that another championship effort from Hattori is possible. "We've had a rough go at it here the last few races," said Hill. "But this team just has no quit. You can see that with the performance we had in Michigan. To come out there with a brand new truck, and do what we did winning the race shows our momentum and potential. It makes everyone in the shop dig that much deeper and try that much harder to make this truck even faster. Winning is always good, but our biggest focus is on making sure we stay consistent."
Austin Hill and the 16 team were the first ones locked into the 2019 Gander Outdoors Truck Series Playoffs with their season-opening Daytona win. Over the next 14 races though, Hill only mustered 6 top 10s as well as 5 DNFs. Coming into the regular season finale at Michigan, the 16 desperately needed a strong run after 3-straight races finishing 30th or worse. Hill was able to lead 26 laps en route to a second win of 2019 at Michigan, giving this team much needed momentum heading into the postseason. Currently seeded 4th, Hill is in position to survive Round 1 and begin Round 2 at an advantage. Staying trouble-free and building up consistency is what Hattori needs if they are to make Homestead again.
Stewart Friesen
Finally breaking through for his first career win 2 weeks ago at Eldora, Stewart Friesen is in the Playoffs for his second-straight appearance. Friesen made the 2018 postseason on points, and is now in the 2019 Gander Outdoors Truck Series Playoffs due to the big win on the dirt. For the dirt track ringer, winning at Eldora was the greatest moment of his NASCAR career. However, his closing weeks of the regular season were anything but great. "The last few weeks were a lot more stressful than last year," said Friesen. "We left Pocono down in the dumps, thinking 'alright we have 2 races to recover.' Then we were lucky enough to have a good enough truck at Eldora to make something happen. Then we went to Michigan and struggled. Hopefully we got our struggles out of the way now."
"I feel confident that we can win outside of the dirt," Friesen went on to say. "On so many other occasions we were close. We had a really fast truck at Pocono, until I pushed it to hard and tried to make something happen early. We were good at Michigan, a bad set of tires threw us for a loop, but now going ahead we have a good notebook. I feel confident at Bristol, Mosport, and Las Vegas. I like the whole Playoff picture."
With a year of experience in these Playoffs under their belts, the 52 Halmar-Friesen Racing team might just be sleepers. Stewart Friesen is far from lacking in confidence, as he sees more wins forthcoming in the 2019 Gander Outdoors Truck Series Playoffs.
Grant Enfinger
In spite of still being winless, Grant Enfinger is the 2019 Gander Outdoors Truck Series Regular Season Champion. The 98 Thorsport team was able to utilize consistency to their benefit, by scoring 13 top 10s in the first 16 races. Enfinger's best result so far in 2019 has been 2nd, which came at Daytona in February. Much like his teammate Matt Crafton, Enfinger hopes to keep his streak of solid finishes alive. "I'm definitely confident in our team, but I feel like we're going to have to win before Homestead to ensure we're there," Enfinger said. "I think we can probably point our way through the first round if needed. But that's not the goal at Thorsport Racing, the goal is to win races."
In a very similar manner to Matt Crafton, Grant Enfinger's run of consistent top 10 finishes could pay off big. A year ago Enfinger made the Playoffs in comparable fashion on points. He was able to finally win in Round 1 at Las Vegas, propelling him on to Round 2. Enfinger has done everything but win this year, so the elusive victory may be forthcoming. If the 98 can reel off strong performances again like last year, he is a major threat for a Championship 4 spot.
Brett Moffitt
Defending champion Brett Moffitt enters the 2019 Gander Outdoors Truck Series Playoffs as the highest seed. Now with GMS Racing, Moffitt has scored 2 wins, 9 top 5s, and 11 top 10s so far in 2019. Moffitt's first win with the 24 team was on technicality after Chastain was disqualified from Iowa. Their second win came 2 races later in Chicago. Despite the 2 wins, Moffitt still felt as if his team lacked in their regular season efforts. "I think we've definitely fallen short on the amount of wins we could have gotten so far," said Moffitt. "That's just due to not executing how we need to, but in the past couple of races we've really been cleaning that up and making progress. I feel good about our chances, we just need to go win again."
With the depth of GMS Racing and strength in numbers with teammates and alliance trucks, Moffitt has the support around him for another title run. Expect the 24 to be up front over the next few races and contending for wins. As the number 1 seed, Moffitt has a comfortable points cushion at his advantage. It would take a disaster of a Playoffs to keep the 24 out of Homestead as a title fighter.
Looking Ahead at the Playoff Schedule
Round 1 of the 2019 Gander Outdoors Truck Series Playoffs is just hours away from kicking off. The 22nd annual UNOH 200 at Bristol Motor Speedway on Thursday night is the opening postseason event. Following Bristol in Round 1 is Canadian Tire Motorsports Park, then the elimination race at Las Vegas. The round leading into Homestead will be defined by wildcard races at Talladega and Martinsville, before its finale at Phoenix. The 2019 season will then come to a close on Friday, November 15th in south Florida. Homestead-Miami Speedway will be the site of the 4-man championship fight. 7 races remain, and lots of drama will unfold. Any of these 8 drivers has a shot at the 2019 Gander Outdoors Truck Series championship.
Written by Peter Stratta
Be sure to follow us on Youtube and Twitter.
Be sure to follow the writer on Twitter.
Photo credit to TSJ101Sports