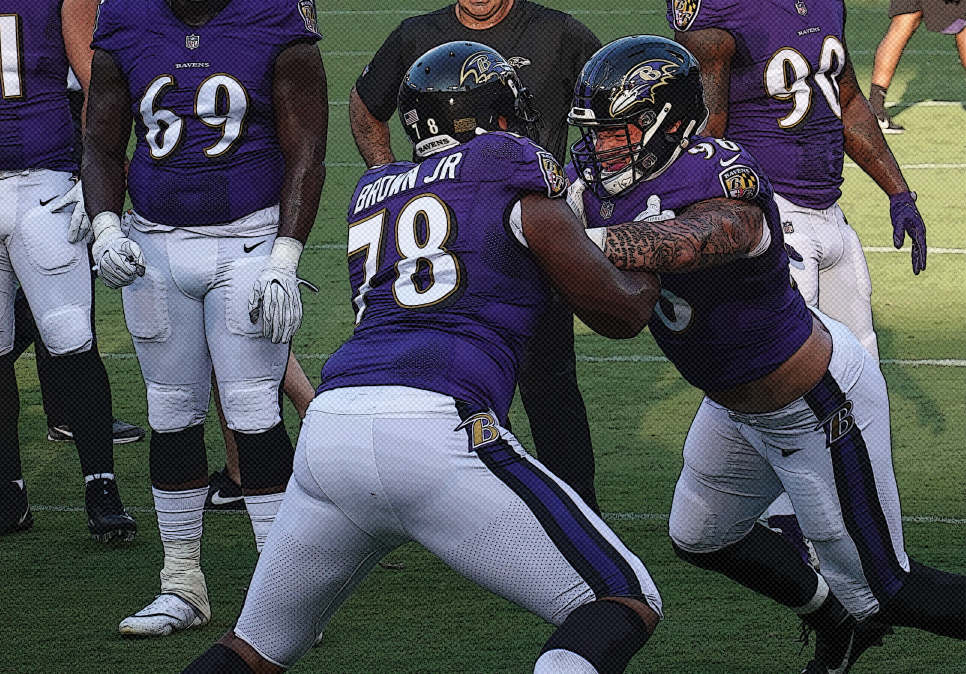 Orlando Brown Jr: Like Zeus, Like Son
Orlando Brown. Lil' Zeus. Number 78. No matter how you acknowledge him, the Baltimore Ravens starting right tackle is the most important piece of the Ravens' offense. No, we haven't forgotten about fellow offensive tackle Ronnie Stanley after his extraordinary 2018 season. Baltimore's offensive line production just reached new heights when Brown became a full-time starter in Week 7. While Brown has already made a huge impact on the Baltimore Ravens, the Baltimore Ravens have had even more of an impact on him.
Brown was tied to the Ravens organization at a very early age. He is the son of Orlando Brown Sr., who unfortunately passed away when Brown was only 15. Orlando Brown Sr. was an undrafted free agent who played 9 seasons in the NFL, notably spending six of them with the Baltimore Ravens.
Brown Sr. was on top of the world in 1999, going into the season having signed a six-year, $27 million deal, making him the highest paid NFL lineman at the time. However, an infamous penalty flag incident forced Brown to be sidelined for three seasons due to complications with temporary blindness in one of his eyes. Despite the incident, Brown Sr. was an elite tackle in his prime. While it's easy to make comparisons, Orlando Brown Jr. has showcased himself as more than just the son of a legend. Instead, he's building a name of his own. Here's why Orlando Brown will be the catalyst for the Ravens offense in 2019.
Orlando Brown Came Into the League "Pro-Ready"
As an offensive tackle at Oklahoma, Orlando Brown had the tough task of protecting the blindside of quarterback Baker Mayfield. The Heisman winner and first overall pick in the 2018 NFL Draft had great success at Oklahoma thanks to the behemoth offensive tackle. Brown Jr. protected Mayfield every year the quarterback played at Oklahoma.
Orlando Brown Jr. was named starting left tackle for the Oklahoma Sooners in 2015. After a year of starting under his belt, Brown really shined in his final two seasons as a Sooner. Brown was named Big 12 Offensive Lineman of the year in both 2016 and 2017. His 2017 season was highlighted by an outstanding performance against Nick Bosa and the Ohio State Buckeyes, leading the charge for a huge upset victory.
Brown finished his final season as a unanimous All-American and declared for the NFL Draft. Scouts considered Brown as a first-round talent prior to the NFL Combine. Brown then delivered with a historic combine performance. Unfortunately, the outing was historic for all the wrong reasons.
NFL Analyst Mike Mayock deemed Brown's combine performance as "historically bad." Brown was shoddy all across the board, with only slight improvements at his Pro Day. Fortunately for Brown, football is played on the field with pads. If NFL draft scouts recognized that, maybe Brown wouldn't have been the ninth offensive tackle drafted. The Brown situation serves as a lesson to Mr. Mayock and all other scouts that great film will always hold merit over a great combine.
The OL position isn't easy to evaluate…it's easy to turn to numbers because typically your best blockers are your best Athletes. In my opinion it's simple, OL is like a form of art. We all have different tools and abilities..

— Orlando Brown (Zeus) (@ZEUS__78) February 26, 2019
Brown is a Mauler in the Run Game
Along with teammate Ronnie Stanley, Brown is one-half of a top-notch offensive tackle duo in Baltimore. The Baltimore Ravens rushing attack led the league in rushing yards with 229.6 yards per game since Week 11. A huge reason for the dynamic shift in this rushing attack was that Lamar Jackson became the starter.
However, another equally important reason why the offense was so successful is that the offensive line bought into the ground-and-pound philosophy. Whether it was down-blocking or setting the edge, Baltimore demanded physicality from the offensive lineman in this offense. This played right into the hands of Brown, given his freakishly large stature.
Similarly to the way his father played, Brown engulfs defenders on the field with his 6'8" frame. He's a technician with extremely long arms. Simply put, once Brown grabs a hold of you, drives, and extends his arms, grab the syrup because he's handing out pancakes. With the Ravens drafting rookie running back Justice Hill, the outside run is something that Baltimore will embrace more in 2019. Surely, new offensive coordinator Greg Roman will dial up tons of creative run designs for the quarterbacks as well, just like he did for quarterback Colin Kaepernick in San Francisco. This will allow Brown to shine and open lanes for Baltimore's shifty weapons.
Brown Jr. Allowed Zero Sacks In 2018
While Orlando Brown Jr. and the Ravens run game dominated, Brown was especially impressive in the passing game. How impressive? Brown allowed zero sacks in his rookie season. That is especially impressive as Brown appeared in all 16 games and he accumulated 342 pass-blocking snaps in his first year.
His performance was solid enough to rank him in the top 10 in pass-blocking efficiency according to PFF. Lamar Jackson acknowledged that the offense will look "completely different" this upcoming season. With so many young weapons, the offense will be extremely dynamic in 2019.
One thing's for certain: Jackson will be asked to grow as a passer. That means both Orlando Brown and Ronnie Stanley will be put to the test at the offensive tackle positions. Brown has the opportunity to solidify himself as one of the best pass-blockers in the league.
Recap
Orlando Brown falling in the lap of the Baltimore Ravens was a dream come true for both parties. Baltimore ended up with one of the biggest steals of the 2018 NFL Draft. Brown landed exactly where his late father said he would, playing for the same franchise his father did–same jersey number and all. The offensive tackle is still writing this story let's not get ahead of ourselves. However, his impressive rookie season is surely the first step in an incredible one.
That's not a slight against offensive tackle James Hurst, who was serviceable at the right tackle spot, Brown just brought a more dominating presence in the trenches. As efficient as the Ravens offensive line was last season, with Brown coming in as a starter this season, the unit can be elite in 2019. The offense is gonna revolve around speed, speed, and even more speed. With Baltimore having an opportunity to involve players like Marquise "Hollywood" Brown and quarterback Trace McSorley in the run game, expect Brown to be the locomotive which powers the offense.
Written by Khadeem Dennis
Follow Khadeem and TSJ: NFL on Twitter!
Photo Credit to Keith Allison via Flickr
Follow TSJ on YouTube and Twitter