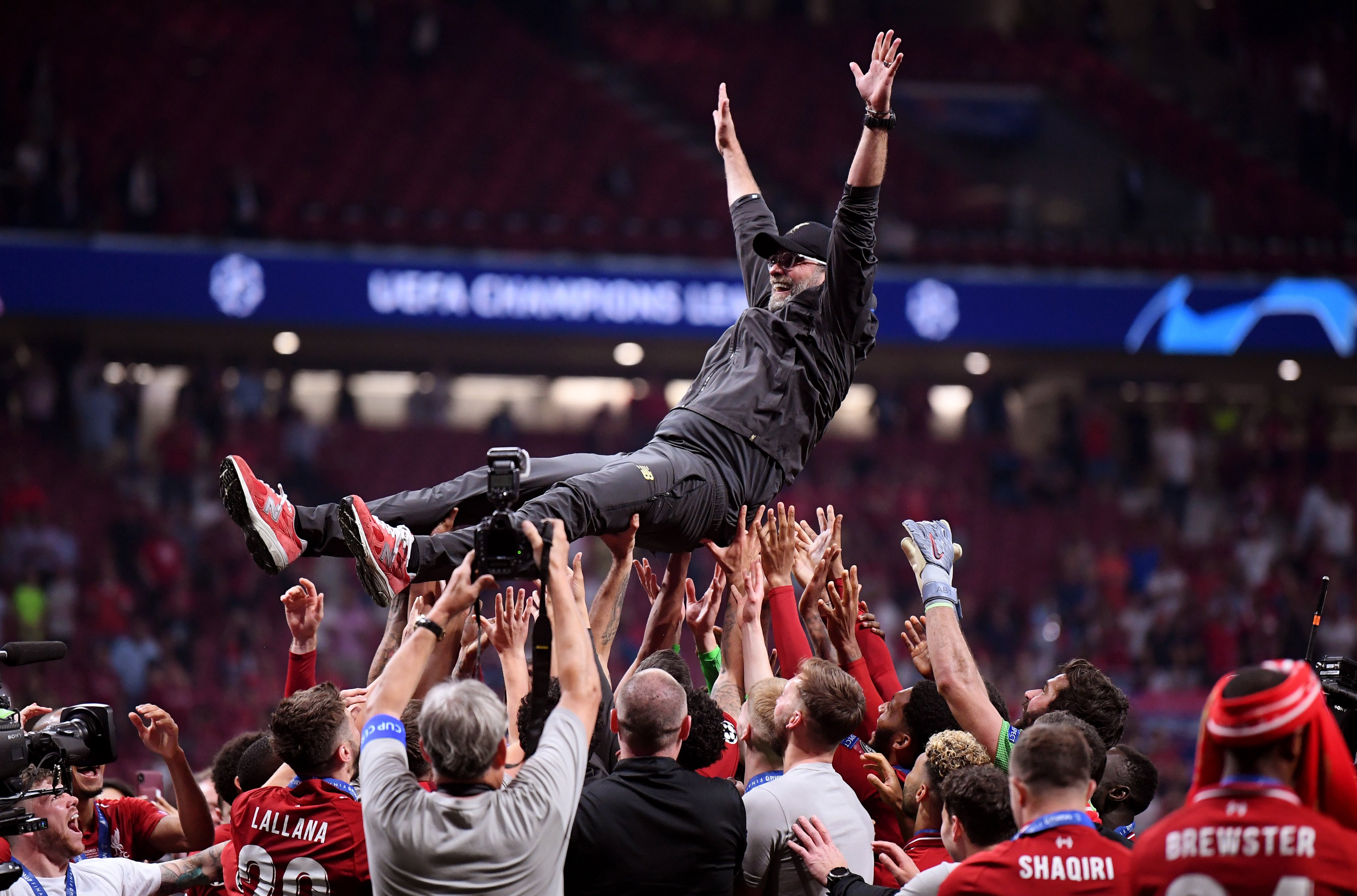 Divock Origi Helps Liverpool Win Champions League
A penalty from Mo Salah and a late strike from Divock Origi helped Liverpool become champions of Europe for a sixth time, as they defeated Tottenham at the Wanda Metropolitano.
An early penalty from Mo Salah and fine strike from substitute Divock Origi sealed the victory.
It is the first time Liverpool have won the Champions League since their famous comeback against AC Milan in 2005.
Also, it is the first trophy won under Jurgen Klopp who ended a run of six major cup final defeats.
In truth, it was a poor final with both sides looking rusty after a three week break. Arguably, this was Liverpool's worst display in a while but Tottenham were unable to take advantage.
This will feel like an opportunity missed for Mauricio Pochettino's side who are still looking for their first silverware under the Argentine.
For Liverpool, they will feel this is just reward for a season, which saw them miss out on the Premier League title by just one point to Manchester City, despite losing just one game.
It was also third time lucky for Jurgen Klopp, who lost his previous two Champions League finals, one with Liverpool and one with Borussia Dortmund.
Reyes Remembered
Mauricio Pochettino decided to start Harry Kane, despite missing the last seven weeks of the season due to an ankle injury.
The unlucky man to miss out was Lucas Moura. He will have felt hard done by given he scored a hat-trick in the semi-final victory against Ajax.
Meanwhile, Liverpool were at full strength with Roberto Firmino returning from injury.
Before the match there was a minutes applause in memory of former Arsenal, Real Madrid and Sevilla midfielder Jose Antonio Reyes who tragically passed away after being involved in car accident.
Dream Start For Liverpool
Liverpool were awarded a penalty after just 28 seconds. Tottenham midfielder Moussa Sissoko was adjudged to have handled the ball inside the penalty area.
Up stepped Mo Salah who fired the ball past Hugo Lloris in the Tottenham goal to give Liverpool the dream start.
On 17 minutes, Liverpool went close to doubling their lead. Trent-Alexander Arnold hit a shot from 25-yards-out, which zipped just wide of goal.
Neither side were able to get any sort of rhythm going forward. Both sides being guilty of giving the ball away too often in the first 35 minutes.
With seven minutes before half time, Andy Robertson injected some life into the game.
The Scottish left-back drove forward and unleashed a powerful shot from just outside the box, which was tipped over the bar by Hugo Lloris.
Tottenham were struggling to create any chances and test Alisson in the Liverpool goal. Harry Kane in particular, barely had a touch in the first half.
Divock Origi The Unlikely Hero For Liverpool
The second half begun very much like the first, both sides unable to keep the ball and real lack of quality going forward.
On 68 minutes, Liverpool almost made it two. Substitute James Milner dragged a shot just wide from the edge of the penalty box.
Tottenham were dominating possession but were struggling to create any clear cut chances.
With ten minutes to go, Spurs had their best chances of the final. First Son Heung-Min from 20 yards out was palmed away by Alisson in the Liverpool.
Then seconds later, Lucas Moura had a shot from close range but failed to get enough power on the shot and it was comfortably saved by Alisson.
Tottenham were starting to put pressure on Liverpool's goal, as they desperately looked for an equalizer.
A free kick from Christian Eriksen from just outside the box was acrobatically tipped over the bar by Alisson.
On 87 minutes, Liverpool doubled their lead. Tottenham were unable to deal with a corner, the ball eventually made it's way to Divock Origi who smashed the ball into the bottom corner of the net to win the Champions League for Liverpool.
Third Time Lucky For Klopp
This was third time lucky for Jurgen Klopp after losing his previous two Champions League finals.
In fact, going into this game, he had incredibly lost his last six major cup finals.
However, this was arguably Liverpool's worst performance over the last few months. They gave the ball away far too often and weren't able to play at a fast tempo given the heat in Madrid.
They were fortunate with the penalty decision, which was coolly dispatched by Mo Salah. Tottenham had the better chances in the second half but Liverpool were more clinical.
Divock Origi took his goal well and sealed the victory. After agonisingly missing out on the Premier League title, this was just rewards for Liverpool.
The big question now can Jurgen Klopp build on this success and end their wait to be crowned champions of England.
Missed Opportunity For Spurs
This will be a big disappointment for Tottenham and feel like a missed opportunity. Liverpool were far away from their best.
Spurs though failed to take advantage. It was always a gamble starting Harry Kane and he was largely ineffective throughout the match.
That was the only big difference between the sides. When the chance fell for Liverpool to put the game safe, they took it.
Tottenham had chances in the second half but too often weren't able to take them or made the wrong decision.
It will be tougher next season for Spurs to reach the Champions League final once again and this will feel like a once in a lifetime opportunity missed.
Mauricio Pochettino has done superbly to get Tottenham into the final, given they didn't spend any money last summer.
If they are to get back there however, Tottenham's owners and the board will have to provide Pochettino with funds to add some quality acquisitions.
Follow us on YouTube and Twitter
Written by David Coates

Follow me on Twitter
Photo credit to Liverpool via Twitter