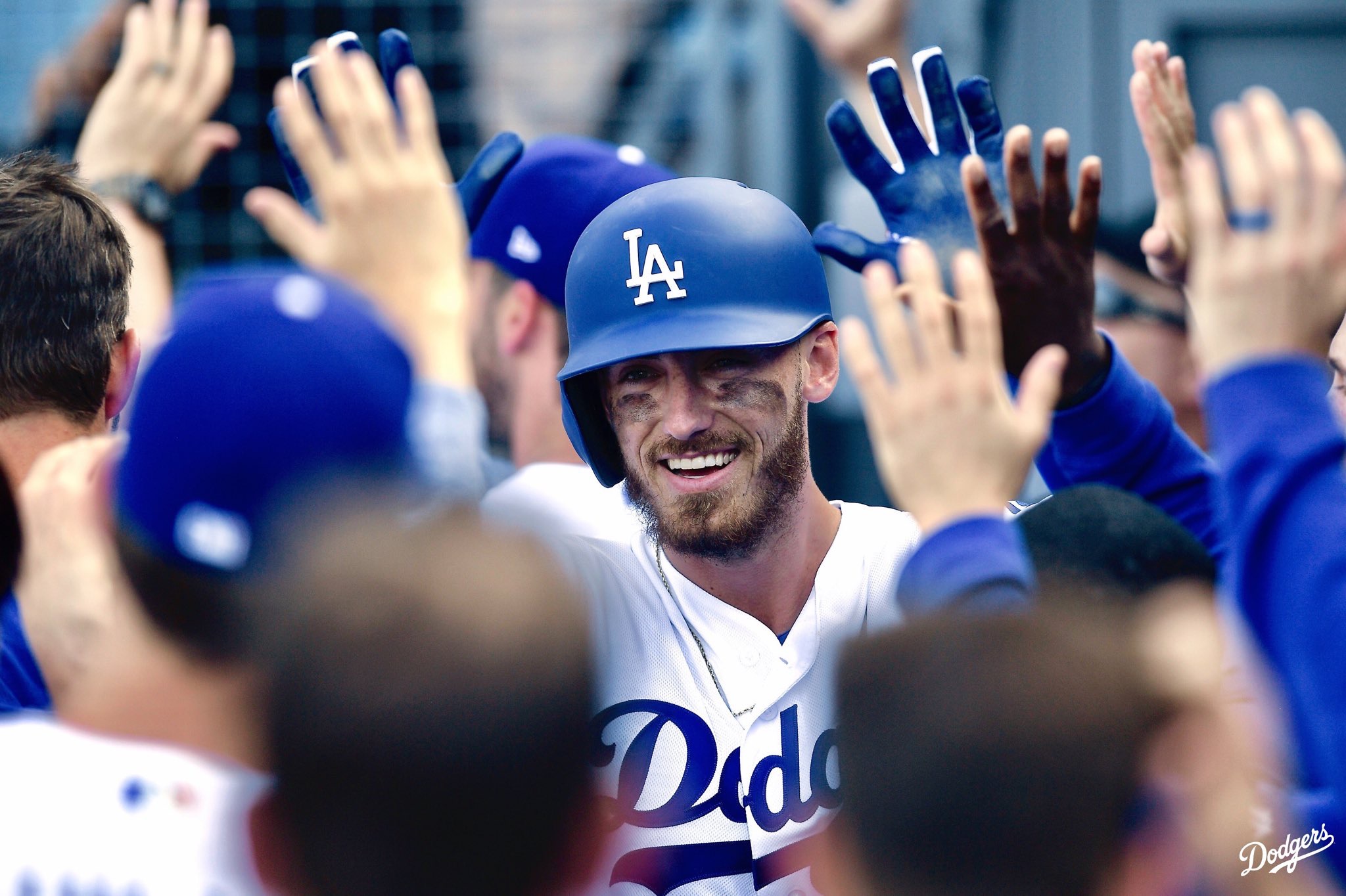 Dodgers Offense Does It Again With Rockies Sweep!
Last night, the Los Angeles Dodgers offense did it again and completed a three-game sweep of the Colorado Rockies. Let's be honest, the Dodgers controlled the entire series and ended up outscoring the Rockies 29-14! Add that to the previous two series this season and the Dodgers have outscored their opponents 84-48 and are batting an MLB leading .307 as a team! The Dodgers are definitely off to a red hot start offensively and their 12-6 win yesterday was no different. Let's take a look at who contributed most.
Bellinger is a Beast
The first Dodger we have to talk about is Cody Bellinger! Bellinger has been a straight up beast this season! Last night, Bellinger contributed going 3-4 with a double, home run, RBI and 4 runs scored! Belli is leading all of MLB in slugging % (1.023), runs scored (17), hits (20), total bases (45), runs created (20), adjusted batting runs (20), extra base hits (10) RBIs (18) and home runs (7). Plus, he's second in the MLB (first in the NL) for batting average with .455 and on base plus slugging with 1.512. Those numbers are insane! Even more insane is that Belli is on pace for 113 Belli Bombs and 292 RBIs! Could you imagine if he somehow kept pace? Either way, Bellinger is off to an incredible start this season!
Other Offensive Notables in the Win
Besides Bellinger going off, there were some other offensive Dodger notables to help get the win last night. Kiké Hernández is one of them. Kiké went 1-3 with a double, 2 RBIs, and 2 runs scored. Kiké has started off the season hot as well and is batting .367 with 3 home runs, 8 RBIs, and 10 runs scored. Known as the super utility man because he has literally played everywhere except catcher, Kiké is finally getting his chance at being the everyday second baseman. Thus far, more consistent playing time and at-bats seem to be working out well for him and the Dodgers!
Another Dodger that came thru last night was Max Muncy. Muncy started off the season slow going only 2-20 and batting .100. However, Muncy seems to be turning things around with his performance in the Rockies series. Last night, Muncy went 1-2 with a Muncy Mash, run scored and 2 RBIs.  Muncy's batting average has now improved to .250, with 3 home runs and 10 RBIs. Hopefully, the trend will continue and Muncy will continue what he did against the Rockies.
Pitching
The Dodger starters have been looking great to start off the year. They have combined for 5 wins, 0 losses, and 4 no decisions. Last night, twenty-two-year-old Julio Urías got his second no decision of the season. Although he gave up a few runs, his stuff looked great. Urías has a 3.12 ERA in his first two games. Joe Kelly came in for relief and gave up a couple of runs. Kelly has definitely struggled this season with a 14.40 ERA. He grew up in Southern California, so loves being back home. It's as if he's trying to do too much since he's living his dream right now. Once Kelly gets out of his head hopefully things will turn around for him. Caleb Ferguson came in for an inning of relief and gave up nothing, followed by Dennis Santana who gave up a run that didn't matter.
With the exception of Kenley Jansen, who is a perfect 4-4 in save opportunities this year, the bullpen has struggled so far this season. Thankfully, the Dodgers' offense has been killing it. The bullpen did arguably cost them their only two losses this season. However, this shouldn't last for too long. When Clayton Kershaw and Rich Hill return, that will move Urías and Ross Stripling to the bullpen. Adding those two to the pen, who can both more than handle long relief, will definitely boost the effectiveness of the bullpen, to make the Dodgers even scarier than they currently are!
Photo credit to Los Angeles Dodgers via Twitter